All Elite Wrestling has announced that a new one-hour long show, "AEW Rampage" will debut on TNT in August. The show will be broadcast on Friday nights at 10 pm ET directly after the conclusion of Friday Night Smackdown on FOX.
The new deal also means that Dynamite will move over to TBS in January 2022.
Owner Tony Khan has long spoken of his desire to produce the third hour of AEW television content, however, has always maintained his lack of willingness to make Dynamite a three-hour show. These desires are clearly matched by WarnerMedia, with executive Sam Linsky saying: "It's a pleasure to be able to help Tony Khan expand his wrestling fiefdom across our networks and bring more content to our fans that fit the thrill ride brand of TNT and a good time of TBS."
It should also be noted that Khan has specified that AEW Rampage will not be the B-show of AEW, rather an equal to Dynamite in terms of importance and relevancy. With that said, let's take a look at 5 things that we want to see from AEW Rampage.
---
5: A New Set
One aspect of WWE's programming that's drawn a lot of stick over the past few years is the complete lack of energy and creativity that goes into sets, be it on TV or PPV. Wrestling fans love to reminisce about the glory days of the SmackDown fist and the exclusive sets that WWE would create for each PPV event. Nowadays, Raw and SmackDown look and feel almost identical. This criticism also extends to PPV's, with only WrestleMania being given any aesthetic attention.
AEW has bucked that trend. Their Revolution and Full Gear PPV's for example have very different looks and motifs, as do the various special editions of Dynamite – Bash at the Beach was held on an actual cruise ship!
Us fans love each show feeling different and unique which is why a totally new set, stage, colour scheme and ringside layout would instantly endear viewers to AEW Rampage.
4: Women's Tag Team Championships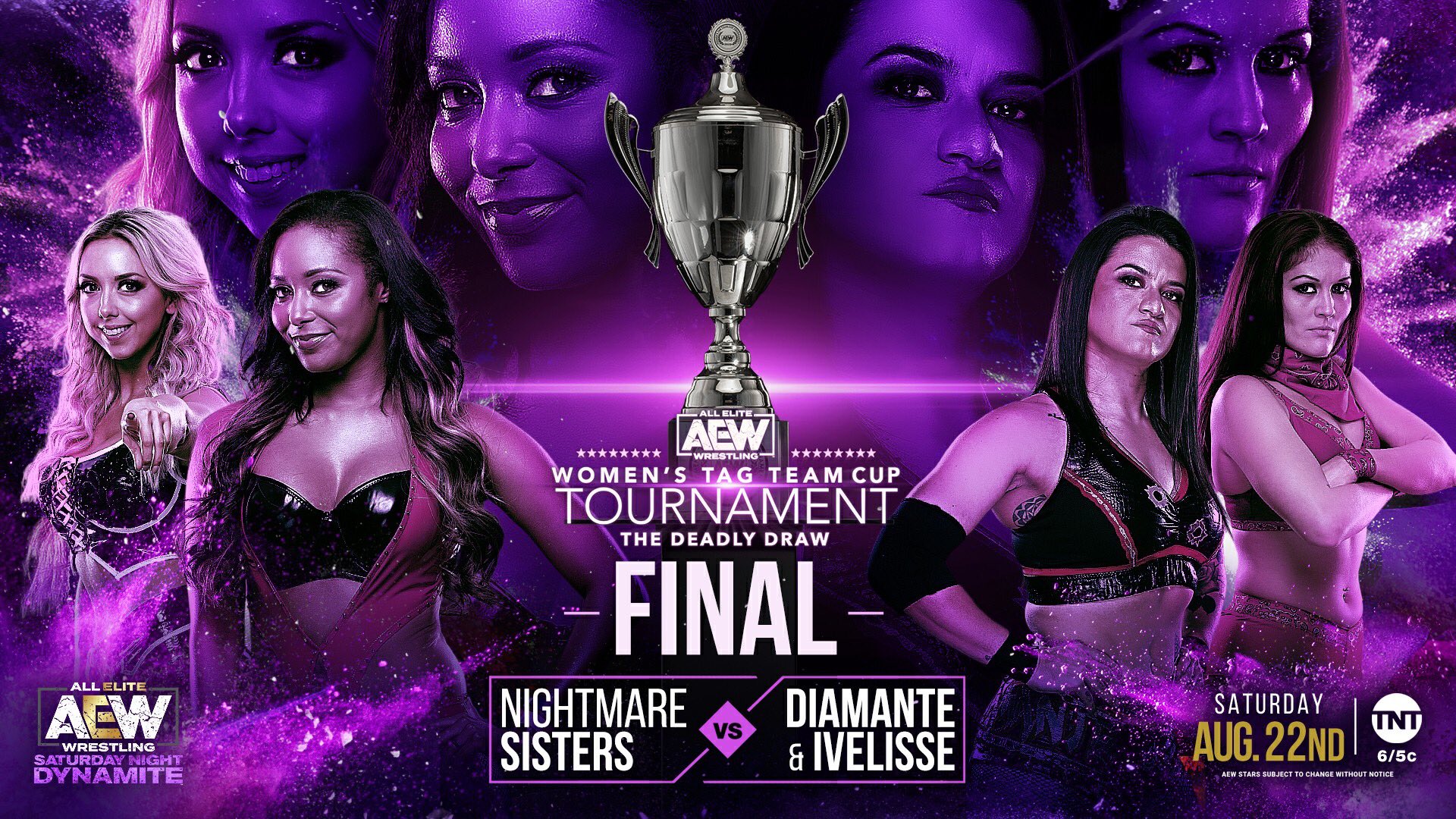 Simply put, an extra hour of weekly content means more opportunities for different talent to appear on TV. It also allows for a greater showcase of AEW's champions who, except for PPV's, seldom all appear on the same night. Speaking of championships, back in March I wrote an article detailing possible new titles that AEW could sanction to create more opportunities.
Included on that list was an idea for a Women's Tag Team Championship because, at that time, women were really languishing in AEW. Since then, however, they have had a much greater presence on Dynamite with at least two women's matches on each show as well as backstage segments with the likes of Jade Cargill and Dr Britt Baker. Whilst this argument isn't enough, AEW Rampage could help solve this issue. With just two hours of TV a week, it would be so easy for a new title like this to be lost in the shuffle but with an extra hour right around the corner, this could be the perfect opportunity to give this idea life.
3: A Different Commentary Team
The three-man line-up of Jim Ross, Tony Schiavone and Excalibur has welcomed viewers to Dynamite since the very first broadcast. The dynamic of J.R as the former voice of WWE, Schiavone as the former voice of WCW and Excalibur as the voice of the independent scene has been an enjoyable blend. However, similarly to the desire for a new look and feel, a new announce team for AEW Rampage would be yet another way to give the show individuality.
So, who could helm this possible new announcing booth? As far as play-by-play commentators go, very few are able to conjure the infectious enthusiasm that Mauro Ranallo has for wrestling. Known for signature catchphrases like "Mama Mia!", Ranallo has experience as the voice of Smackdown, NXT and has notably guest commentated for Impact since leaving WWE. The working relationship between Impact and AEW is well known which suggests that bringing Ranallo on board isn't a farfetched possibility.
In terms of a colour commentator role, a woman's touch would be a welcomed addition with Mickie James a very logical choice. Her wrestling CV speaks for itself with memorable title reigns across her time in both WWE and the formerly named TNA. Not to mention that James does have broadcast experience, with WWE giving her a run as a commentator on Main Event prior to her controversial release.
I'd also include Alex Mendez aka Goldenboy, who contributed to early AEW PPV's, to complete a fresh and dynamic announce team.
2: Grittier storylines
With a TV-14 TV rating, AEW has answered the calls of fans yearning for an edgier product with storylines to match. Blood and Guts for example was a type of wrestling match that hasn't been seen on a major network for quite some time what with WWE's shift to a PG rating in 2008. Having said that, most of AEW's grittiest matches are saved for PPV's with some feeling that they wouldn't be appropriate for a television audience. AEW Rampage may be able to change that with a start time of 10 pm which could be used to cater towards the all-important 18-49 demographic. This was a key winning point for Dynamite during the Wednesday Night Wars with NXT.
The later start and finish time create more freedom for AEW to push the boat out and present a grittier product that just hasn't been seen on television for more than a decade. Top players like Jon Moxley and MJF, known for their non-PG characters, could really benefit from such freedoms.
1: An Authority Figure
Authority figures have long been a trope in wrestling with titles such as General Manager and Commissioner regularly used in WWE, Impact and formerly WCW.
One of AEW's more refreshing decisions has been the omission of an on-screen authority figure for their programming. Most decisions are announced via graphic, social media post or by Tony Schiavone receiving word via headset from Tony Khan. The audience knows that Khan pulls all the strings, meaning there is less necessity to see him. This decision allows the product to breathe and reduces the risk of seeing the heavily overplayed 'heel authority figure' which was perfected, and exhausted, by the likes of Mr McMahon, Eric Bischoff and Vickie Guerrero.
Having said that, what fan doesn't love a massive match announcement by an authority figure to close a show? Linda McMahon was a great example of an authority figure who always turned heads when she entered an arena. She received huge reactions because whenever she appeared, you knew that she would announce something massive. That's what AEW could do with Rampage. It's an easily told story, Tony Khan is so stretched by his numerous business ventures that he needs a seldom seen Commissioner at the helm of Rampage to keep things in order.