In May 2019, AEW presented their first-ever pay-per-view titled Double or Nothing. This Sunday, AEW presents the third edition of Double or Nothing on May 30, 2021. It was recently clarified by Tony Khan that this is the marquee event for AEW considering that it was the first-ever event that we saw in the company's history.
For fans in the UK, AEW Double or Nothing is available to order via Fite TV. Meanwhile, those in the United States can get in on the action through either B/R Live or traditional pay-per-view.
The card features ten matches, each one having high stakes with anticipation filled to the brim. As per custom, all titles are on the line (apart from the FTW belt) and AEW has pulled out all its big guns for this event, so without further ado, let's dive into the matches themselves and how they got to be.
BUY IN – NWA WOMEN'S CHAMPIONSHIP MATCH: SERENA DEEB (C) VS. RIHO
The NWA Women's Championship has become a title that has been very frequently featured on AEW. So have a few notable names from NWA's women's division like Thunder Rosa and Serena Deeb who is currently the NWA Women's Champion. The match was announced only a few days before the event and was placed on the buy-in. Considering that it hasn't had any proper build, there isn't much to the match apart from the fact that its two outstanding professional wrestlers set out to prove why they are the masters of their craft. Even though there isn't any story to it, the match will be a must-watch for many purely because of the in-ring work that we can expect from these two.
---
DOUBLE OR NOTHING:
STING AND DARBY ALLIN VS. SCORPIO SKY AND ETHAN PAGE
Ever since his arrival to AEW, Sting has been the emo face painted Dad that Darby Allin never had. With both of them together, it has resulted in interesting storylines for the two. For weeks on end, Sting would be scheduled for an interview with Tony Schiavone but he never seemed to get anything noteworthy out because he would always be interrupted by a heel demanding his spotlight. First, that was the case with Team Taz but after defeating Ricky Starks and Brian Cage at Revolution, it then transitioned into Lance Archer disrupting Sting's promos.
Tired of not being able to complete his sentences, Sting decided that he was better off staying ringside for Darby's matches rather than being interrupted week in and week out. However, the ringside wasn't safe for him either. A few weeks after Revolution, Ethan Page decided to reinvigorate his past feud with Darby Allin dating back to the time before AEW was even formed. Thus set into motion was a series of attacks from Ethan Page and his new partner, Scorpio Sky on the facepaint boys. These gang wars would take place after every single Dynamite match that Darby had. Page and Sky would then take it to the next step after they sent Darby rolling down a concrete staircase, consequently costing Darby his TNT Title to Miro the following week. Sting and Darby had had enough and thus are now set to face Ethan Page and Scorpio Sky, in what would be Sting's first in-ring match in almost six years.
The match has left fans across the world undecided and there isn't one clear winner that fans can unanimously agree upon. Page and Sky need this win since it's their first major match as a tag team while on the other hand, it would be a bit questionable to have Sting lose in a jam-packed arena on his first match back in the ring. I feel like this could go either way since a solid argument can be made for each team but if I had to bet, I'd say that Page and Sky are taking this one.
---
DOUBLE OR NOTHING:
AEW WORLD TAG TEAM CHAMPIONSHIP – THE YOUNG BUCKS VS. EDDIE KINGSTON AND JON MOXLEY
Earlier this year, The Golden Elite was formed which had split the pure babyfaces in the bucks from the rest of the group who were sticking to their heelish roots of using underhanded tactics to win matches. The tensions between them reached an all-time high when The Young Bucks, alongside Jon Moxley, were booked in a match against Kenny Omega and The Good Brothers. At the end of the match, The Bucks couldn't stay on the opposite end from their lifelong friend Kenny Omega and thus they turned on Jon Moxley by super-kicking him towards the end of the match.
This sent Moxley into rage mode. After Kingston had been taken out by the Good Brothers and he had been betrayed by the Bucks, Moxley set out for revenge and decided that it was time for a change. Kingston and Moxley started to make the Young Bucks life a living hell, be it through attacking them post-match or wrecking their locker rooms. The Bucks had had enough and challenged Kingston and Moxley to a match at Double or Nothing for the AEW World Tag Team Championship. In preparation for the match, Kingston and Mox started racking up wins on AEW Dark Elevation and Dynamite to build momentum heading into their clash with the AEW Tag Team Champions.
---
DOUBLE OR NOTHING: CASINO BATTLE ROYALE
The Casino Battle Royale is a yearly tradition that takes place in AEW. It provides wrestlers lower in the rankings with a chance to get a shot at the AEW World Championship. Working up the rankings would be hard for certain wrestlers when you've got guys like Moxley, Hangman, MJF, Darby, Orange Cassidy and PAC hogging up all the top spots. It logically provides the lesser-known talent to make a mark and get a one-on-one with the World Champion and maybe they'll get lucky.
The participants so far announced for the Battle Royal are Christian Cage, Matt Sydal, Powerhouse Hobbs, Penta El Zero M, Jungle Boy, Matt Hardy, Isaiah Cassidy, Marq Quen, The Blade, Evil Uno, Colt Cabana, Preston Vance, Griff Garrison, Brain Pillman Jr, Max Caster, Anthony Bowens, QT Marshall, Nick Comoroto, Dustin Rhodes, Lee Johnson and T.B.A.
Obviously, the question that is the most important over here apart from who's gonna win is who is The Joker card this year around. Last year it was Matt Sydal. This time, fans have raised their expectations a lot more. Names like Daniel Bryan and Andrade have popped up in people's predictions. Even someone out of the left-field like Nick Gage is also an idea that has been entertained a lot. However, the leading prediction going into the battle royale as to who the joker is going to be is Paul Wight. Wight has been announced to commentate for the match specifically. It would be an interesting addition to see Paul Wight, a normal big guy that would fit into the role of an enforcer into the match.
Moving onto the question of who's going to win the match, there is one obvious pick for the winner and that is Christian Cage. Making his first AEW appearance at Revolution, Cage was hyped up as a Hall of Fame-worthy talent. Soon after arriving at AEW, Cage had a staredown with Kenny Omega and he even went for a Kill Switch on the current AEW World Champion. It is rare for AEW to not deliver on a promise after they've teased such a big match. Moreover, Cage and Omega could easily headline a special Dynamite that takes place between Double or Nothing and All Out.
---
DOUBLE OR NOTHING:
ANTHONY OGOGO VS. CODY RHODES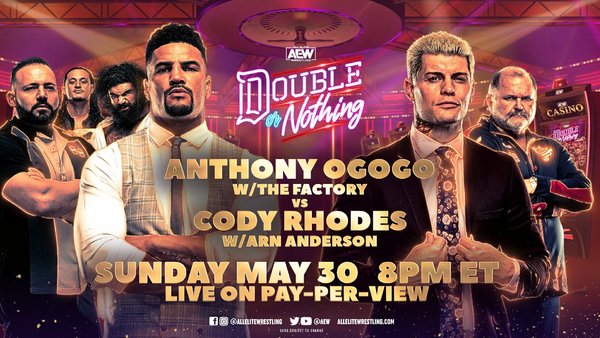 Cody Rhodes' Nightmare Factory is home to several aspiring professional wrestlers who hope to make it to the big leagues someday. In specific cases, some wrestlers are bound to make their way to the top and it's only a matter of time. One of those Nightmare Factory recruits was Anthony Ogogo. The Olympic bronze medalist is a former boxer and a damn good one too.
His future looked promising as part of the Nightmare Factory. However, as tensions rose between Cody and his right-hand man QT Marshall, things started to become complicated. QT and Cody were booked in a friendly exhibition match on Dynamite but things didn't go as planned. The match abruptly ended when QT initiated an organized attack on Cody. The attack was orchestrated by QT and carried out by members of the Nightmare Factory. One of those attackers happened to Anthony Ogogo who delivered a liver punch to Cody which left him writhing in pain on the mat.
Hungry for revenge, Rhodes came after QT Marshall and challenged him to a singles match which the American Nightmare won. The post-match angle saw an interesting development. Anthony Ogogo came out and delivered yet another liver punch to Cody before laying a Union Jack over Cody as he was bundled up in the centre of the ring. So far, the story seemed to be going as a simple mentor vs protege narrative until Cody came out the next week and delivered an intriguing promo. The whole plot for this rivalry was turned into U.S.A vs U.K. Patriotism often doesn't work in wrestling especially nowadays but it seems like AEW has chosen this path so now they'll try to make this work.
---
DOUBLE OR NOTHING:
ADAM "HANGMAN" PAGE VS. BRIAN CAGE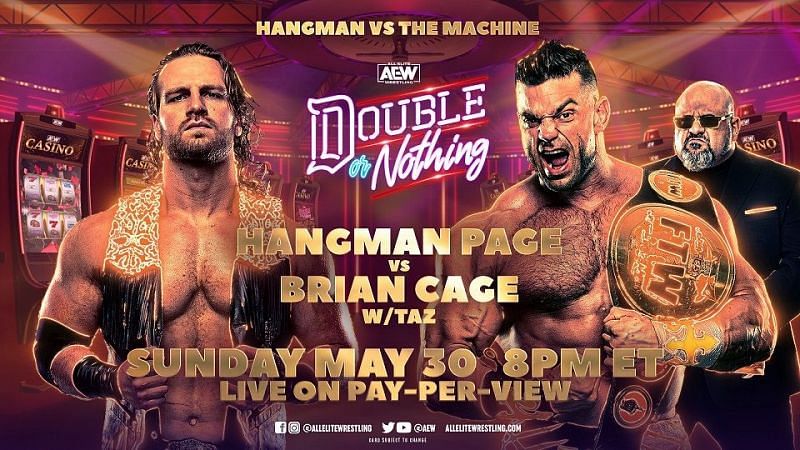 After recovering from the loss of a group, Hangman Page found solace with The Dark Order who provided him with a better place to be. This led Hangman to go on a tear and start racking up wins making him number one in the rankings. However, Hangman always avoided and evaded the question as to when he would challenge for the World Title because he still doesn't want to confront his former partner Kenny Omega. However, Page started to run into some trouble with Team Taz who hoped to possibly recruit him. This led to him facing Ricky Starks in a one-on-one where Hangman outwrestled the Team Taz member. The next opponent in line was Brian Cage but before the match even started, Page was attacked by Team Taz and powerbombed outside the ring. Page was never able to recover from that ambush which resulted in him getting pinned by The Machine after a while. Page had now been defeated and his streak had ended. Looking for redemption, Adam Page challenged Brian Cage to a match at Double or Nothing which Cage accepted.
Now, filled with rage, both Page and Cage will take it to the stage where they'll engage in today's day and age to boost their percentage in the rankings gauge and increase their wage. (You're welcome)
---
DOUBLE OR NOTHING:
AEW TNT CHAMPIONSHIP – MIRO VS. LANCE ARCHER
Initially in AEW, Miro was a friendly video game enthusiast who sometimes let out small packets of anger hinting at a much darker monster inside. However, after losing to the Best Friends in the Arcade Anarchy match, something changed inside Miro and he switched into Beast mode. For the next few weeks, Miro went looking for his former partner Kip Sabian saying that he "just wanted to talk". We soon found out that it was not the case as Miro absolutely destroyed Sabian backstage and proceeded to close the door on his arm. This attack was followed by Miro saying "I forgive you"
Now that this darker side of Miro was unleashed, he decided to do more in AEW and set out to win gold. For a few weeks he cut promos saying that he wanted championship gold around his waist and he made good on his promise when he came out on AEW: Dynamite Blood & Guts special with a contract to face Darby Allin the following week. The match was set and despite having been thrown down a staircase the previous week, Darby showed up to the match. As expected, Miro completely crushed him and choked out Darby Allin with a modified Camel Clutch, adding extra torque to Darby's neck as he wrenched his back even further.
---
DOUBLE OR NOTHING:
AEW WOMEN'S CHAMPIONSHIP – HIKARU SHIDA (C) VS. DR. BRITT BAKER D.M.D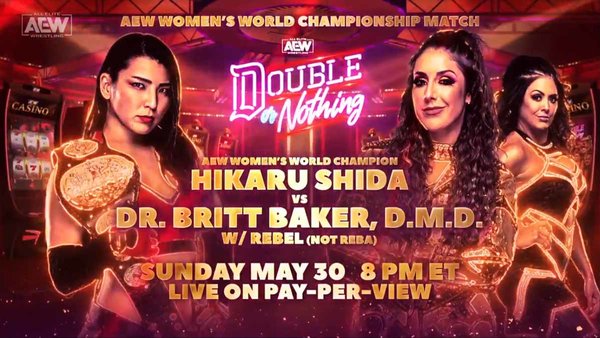 At the start of AEW's pandemic era Britt Baker faced Hikaru Shida in a match where Shida broke Baker's nose. This put the doctor on the shelf for a while before she returned better than ever. Britt Baker rapidly rose to the top as she proved to be a great performer inside and outside the squared circle as a heel. In the meanwhile, Hikaru Shida was defeating opponent after opponent and made her name as the most dominant champion in AEW history.
In November of last year, Britt Baker started a rivalry with Thunder Rosa which is one of the best feuds in the history of the company. The rivalry ended in a lights out match which took Britt Baker to the next level as a professional wrestler. Baker had now set her eyes on gold and was coming after Hikaru Shida but to lay her claim for the AEW Women's Championship she had to climb up the rankings and that is precisely what she did.
After finally being ranked number 1 in the women's division, Britt Baker came out and officially challenged Hikaru Shida to a match for the AEW Women's Championship at Double or Nothing. This Friday on AEW Dynamite, AEW celebrated Shida's one year anniversary as Women's Champion and gifted her a brand new, bigger and flashier Championship. The celebration was cut short by AEW's resident D.M.D who cut a brilliant promo hinting at the start of a brand new era in wrestling soon.
---
AEW WORLD CHAMPIONSHIP – KENNY OMEGA (C) VS. ORANGE CASSIDY VS. PAC
Omega is currently running wild with his Belt Collector run. He seems unstoppable and now he faces a tough challenge in the form of a triple threat match. The match was scheduled after a number one contender's match took place between the top two ranked wrestlers PAC and Orange Cassidy. The match had an abrupt finish after Kenny Omega attacked both competitors causing a no contest.
This led to both of the two contenders finding their way into the World Championship match and they share some history together.
PAC and Orange Cassidy have had bitter feelings for each other since 2020. Their match at Revolution was one of the most entertaining matches in the history of AEW. PAC also has been feuding with Omega ever since after Revolution and he even picked up the win over The Elite in a tag team match at the recent AEW House Show.
Orange Cassidy and Kenny Omega, however, have never shared the ring. This will be an interesting combination of characters as Omega has been mocking Cassidy because he sees his former self in him. Omega was also a wrestler early on in his career who was unique but wasn't taken seriously and shut the critics up with his amazing performances and great wrestling. The same is the case with Orange Cassidy. He has turned his biggest critics into his biggest fans over the last few years and now he is finally going to be in a World Championship match on pay-per-view.
---
DOUBLE OR NOTHING:
THE STADIUM STAMPEDE – THE PINNACLE VS. THE INNER CIRCLE
On November 13, 2019, Chris Jericho and MJF met in the ring as they both catered to the idea of MJF joining the Inner Circle. However, either man was unable to swallow his ego and admit that they wanted to work alongside the other. Nonetheless, there was one particular line that Jericho said a year and a half ago in that promo which holds great relevance now:
"It's funny because I think that you might want to be a little bit like Chris Jericho. Is that true hmm?"
This little teaser was put on hold as they went their own ways in AEW. MJF achieved great success on his own while the Inner Circle had its ups and downs. Following his loss to Jon Moxley at All Out last year, MJF decided that he wanted to be a part of a faction because he thought that it was his only way back to the top. The faction he chose to be a part of was, of course, the Inner Circle. After the same debate that took place a year prior, MJF decided to swallow his pride and admit that he wanted to join the Inner Circle. Thus, Chris Jericho set a condition for MJF. If MJF could beat Chris Jericho at AEW: Full Gear, then MJF would get to be a part of The Inner Circle. The Salt of the Earth was able to outsmart Jericho during their match and won his way into the Inner Circle where some members weren't too keen on MJF joining their group.
After MJF proved to be more of a problem than a solution for The Inner Circle, things reached the boiling point. Following their loss to the Young Bucks at AEW Revolution, MJF was able to turn the Inner Circle on Chris Jericho and as they were about to attack Jericho, the fans were swerved and The Inner Circle collectively grouped on MJF who had been cornered. However, there was one more swerve waiting for us. MJF was one step ahead of The Inner Circle and had formed his own faction. FTR, Wardlow, Shawn Spears and Tully Blanchard all showed up and attacked the Inner Circle and thus, The Pinnacle was formed.
Seeking revenge, Chris Jericho challenged The Pinnacle to a Blood and Guts match which truly brought out the best in both teams. Leading up to the Blood and Guts match, MJF said something that ran parallel to what Jericho had said to him a year and a half ago.
"I am a mark, but I'm not a mark for you. No. I'm a mark for your spot"
At Blood and Guts, MJF took Jericho's spot on top in a crowning moment as he launched Le Champion off the top of the cage before taking in the moment drenched in blood, with arms outstretched.
The Inner Circle responded by asking for a rematch and upon being denied, they showered The Pinnacle with a lot of the Bubbly before MJF accepted the offer but this time it would be a Stadium Stampede match and if The Inner Circle lost, they would have to disband.
The Inner Circle promptly accepted the challenge and the following week celebrated their time together as a group. The celebration was interrupted by MJF who, on the titantron, had Dean Malenko tied up in the Stadium. The Inner Circle rushed to the rescue but were once again outsmarted by The Pinnacle who battered the Inner Circle once more leaving them lying flat on the grass on the Go-Home show for AEW Double or Nothing.