As the return to Professional Wrestling begins in the United Kingdom and more specifically England in this instance, one of the most hyped and anticipated promotions of the summer has been CATCH Pro-Wrestling. CATCH started last year in Manchester, England but the jubilation of their first show was quickly cut short due to the Coronavirus Pandemic hitting hardest just 6 weeks after their first CATCH The Great British Heritage Tournament show on January 26th 2020. 78 WEEKS LATER; We find ourselves on the eve of their 2nd show; CATCH2 – The Great British Heritage Tournament 2021, with a card that features 8 of the Best Women's Wrestlers in the country…
We had the pleasure of being invited to the show by the CATCH Pro-Wrestling team, they treated us with nothing but respect and it was the perfect way to start our return to British Wrestling.
---
RESULTS:
Pre-Show/Warm-Up/Might Not Be On The VOD Match;
Kevin Lloyd def. Tom Thelwell via Small Package
The GBH Tournament 2021
The Four Winners will advance to a Fatal Four Way, 30 Minute Iron-Woman Match for the CATCH Pro-Wrestling Women's Championship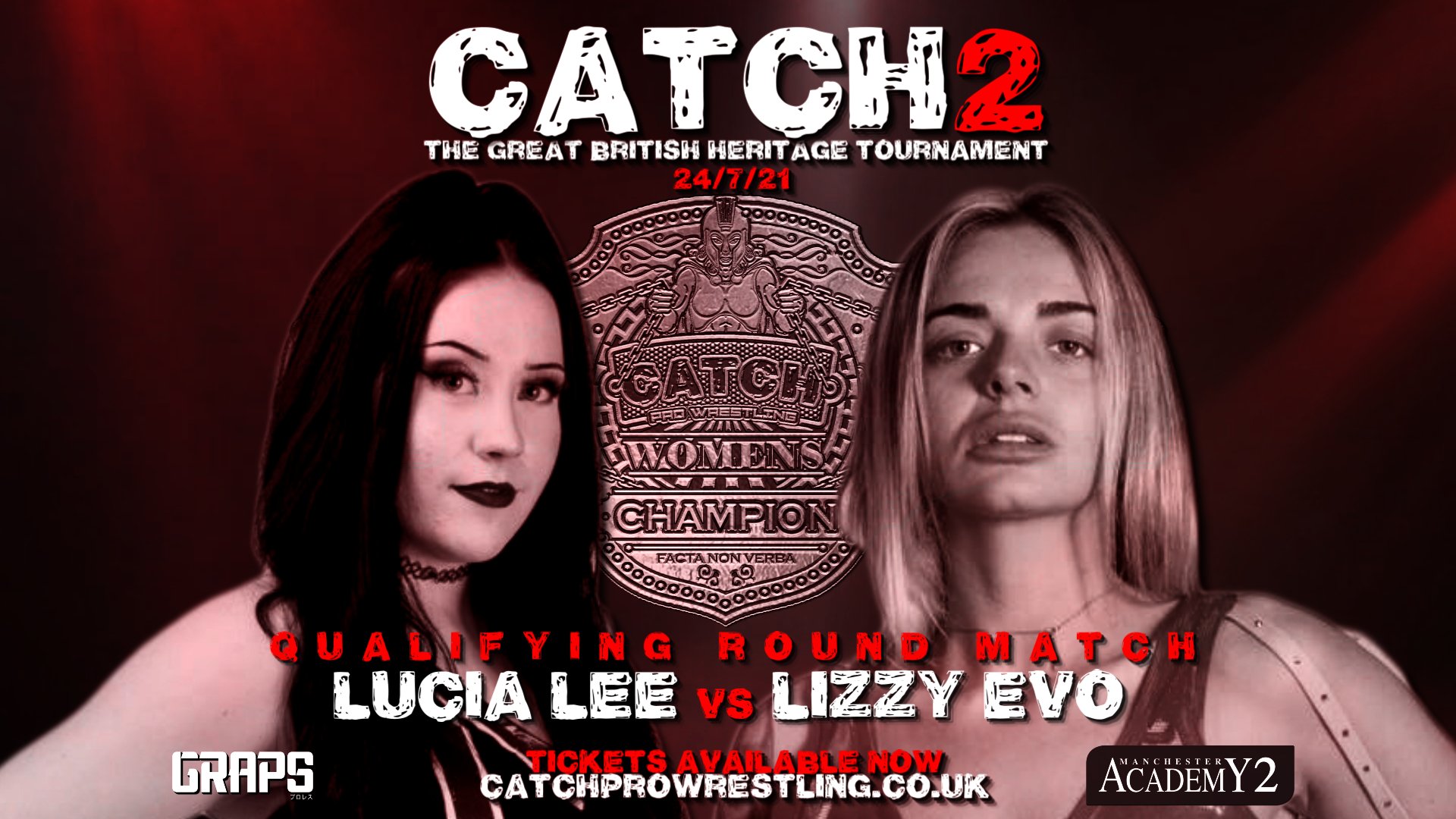 GBH Qualifying Match:
Lizzy Evo (Apparently pronounced Ev-o and not Ee-vo) def. TWM's Favourite Fallen Angel, "The Cancellation" Lucia Lee via Virgil Van Stryke.
Incredible action. Welcome Back BritWres! It's worth mentioning that we've worked with a few of the girls on this show in the past, but Lucia became a true part of our team last year and we're ridiculously proud of her to A) Make it to this point in her career where she's facing off with Lizzy Evo(!) and B) Arguably put on the match of the show.
If you read this Lucia, we love you and we're so so proud.
---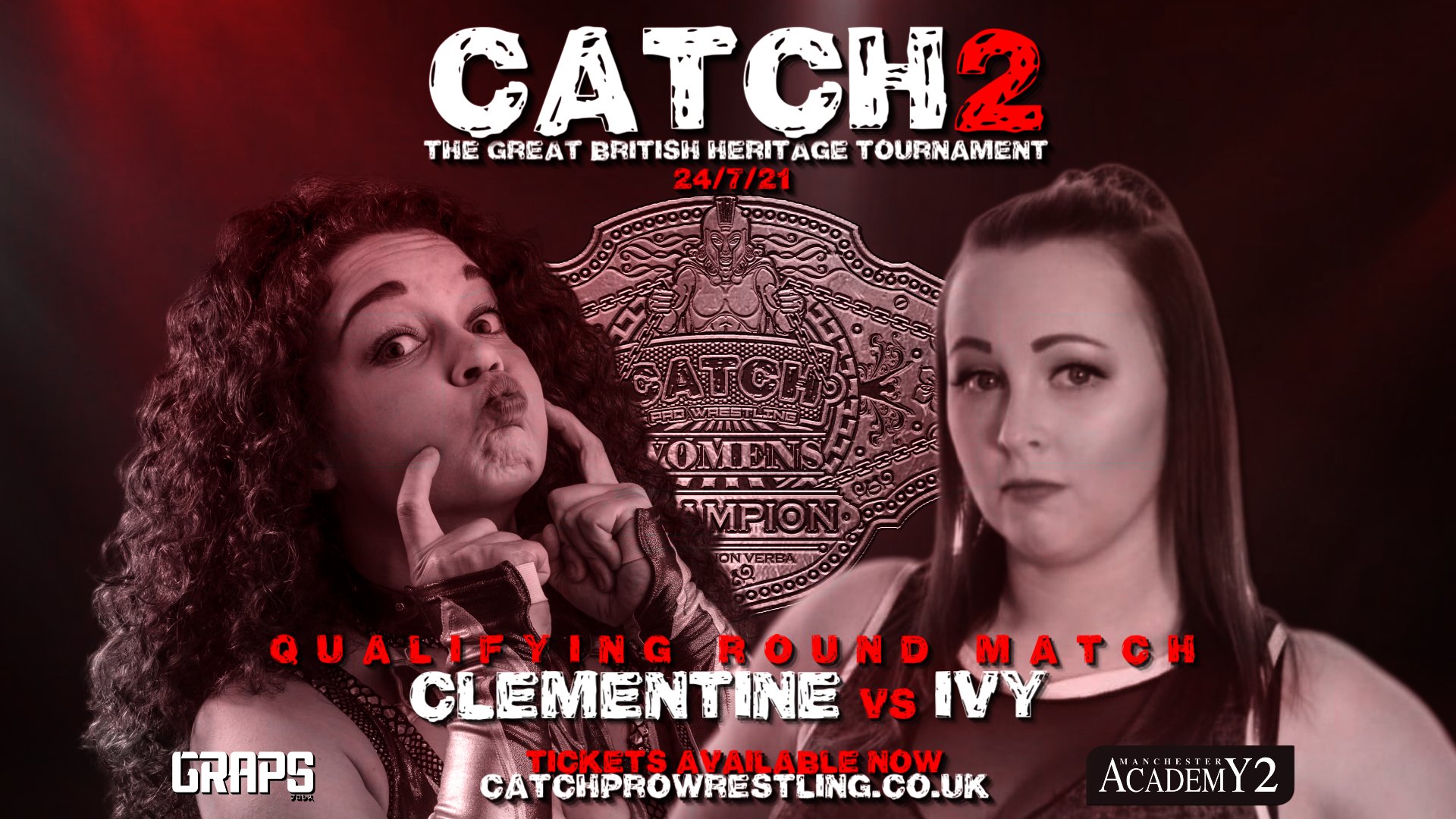 GBH Qualifying Match:
Clementine def. Ivy via Counter-To-Canadian Destoryer.
The Zesty-One had the crowd on her side and danced. Lots. Both girls had a really good match, Ivy seemingly played a more heel-ish role and she would attack Clem after the match with her bat. (How do you even hold a bat in your mouth? Impressive)
---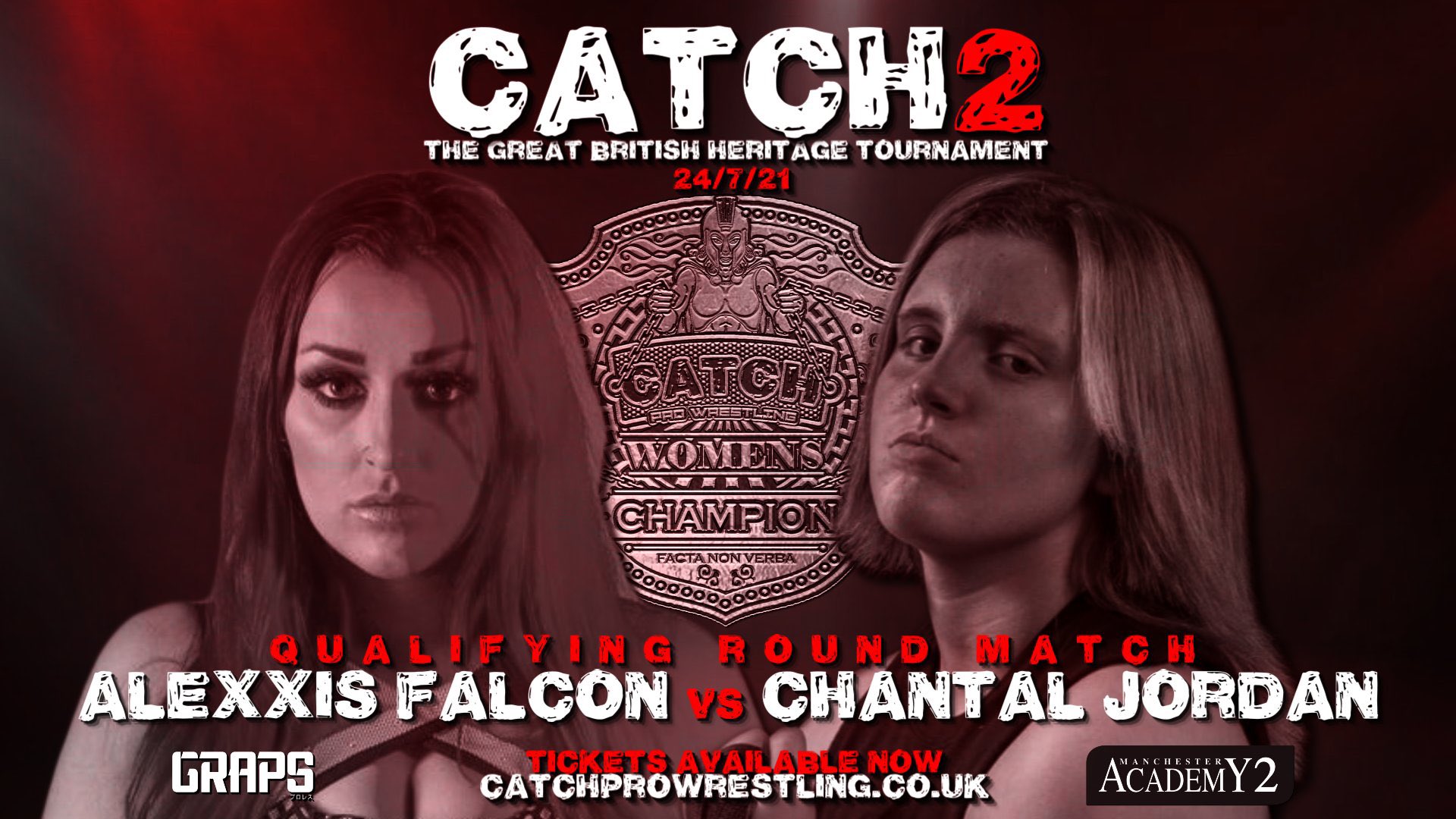 GBH Qualifying Match:
Alexxis Falcon def. Chantal Jordan after faking an ankle injury, to the point where the medical personnel went to the ring, only for JJ Webb to interfere, and earn Alexxis the win.
Alexxis wins the TWM "GOTCHA" Award. Fans around the arena thought it was a shoot and that Alexxis genuinely hurt her ankle, and the heat was nuclear for poor JJ.
---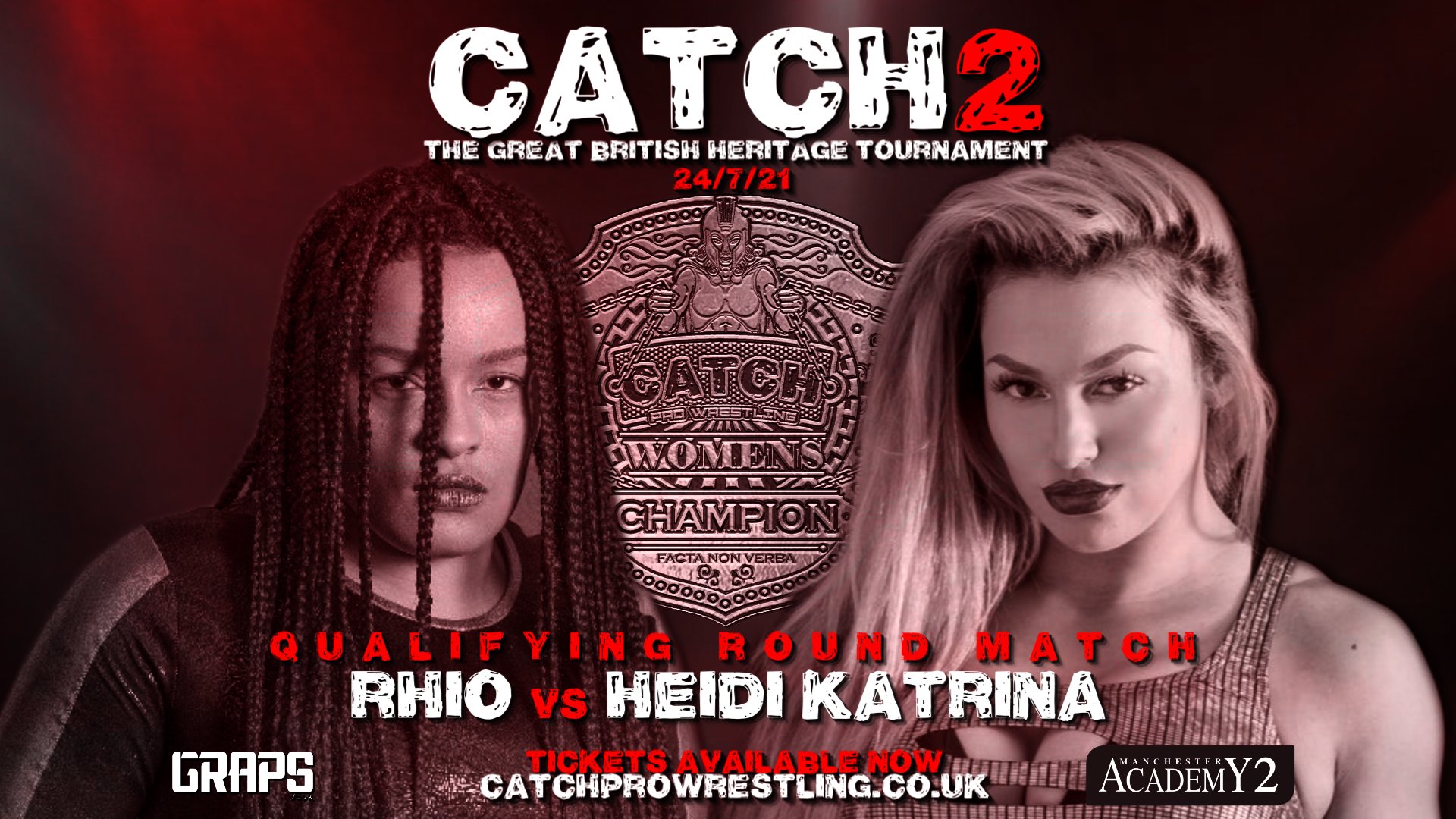 GBH Qualifying Match:
Rhio def. Heidi Katrina
The crowd was definitely flaking out at this point, after 3 high-intensity matches and the 'gotcha' moment in the Alexxis match, Rhio & Heidi had a tough act to follow but they did well. A hard-hitting, almost strong-style type match as Rhio gets the W and advances.
---
We had a lovely interval after this. The bar was pretty good prices actually (Considering we're in the middle of Manchester Academy). We had a chance to meet some friends throughout the show, current writers and former ones too and of course, the wrestlers themselves who we've only ever seen on a screen or in a group chat. After each match too, CATCH had a sanitisation team who whipped down the ropes, sprayed the ring, and the turnbuckles, which is an important part of any wrestling going forward. For full clarity too, CATCH had planned to give us 10ish minutes each with some of the talent involved in the show, but due to things out of CATCH's and our control, it wasn't to be.
Final note, before we move on, Lucia actually bust her lip on her braces during the match after Lizzy but she was a trooper and still spoke to loads of fans at the merch stand. Her white shirt is lovely. Go buy it. ANYWAY back to the show.
---
The Heritage (Jody Fleisch & Dean Allmark) def. Lykos Gym (Kid Lykos & Kid Lykos II) via DQ after Jody pretended her got hit by a trophy, and the ref DQ's the Lykos's
First time seeing the Lykos's and Jody, whilst Deano has been up north a few times now. A Cruiserweight Team Vs. A Heavyweight Team and it was full of action. Hard to believe that Jody has just turned 41 whilst the Lykos' are much younger. A really good match, and on a show which was based around a Women's Championship Tournament, this was a nice palette cleanser.
---
Three Way Dance; Elimination Match (Not a Handicap Match)
Mr Charles Crowley def. Big Guns Joe & Gene Munny
After some high-quality comedy from the 3 men, the fight to be the alpha-male came down to Gene hitting a ridiculous Lariat to Joe and eliminating in, and Crowley taking advantage of Gene and locking in a type of Mandible Claw. Very good Three Way. All 3 men took time after the show to thank fans, and Crowley is a lovable rogue.
---
30-Minute Iron-Woman match for the CATCH Women's Championship. Lizzy Evo (2) def. Rhio (1), Alexxis Falcon (1) and Clementine (1) by way of more falls.
Lizzy Evo stands tall as she was Boo'ed and Jeer'ed from the opening minute of the show. Alexxis was an honour Scouser for this match, but the team of Falcon & Evo wouldn't last long. Lizzy takes the first 2 falls and played defence for some time. Alexxis would get the 3rd fall, after pinning Lizzy and Rhio would get the 4th after forcing a tap-out on Alexxis (Who again, sold her Ankle but it wasn't played up as much as the bait & switch earlier). Clementine would get the 5th, and as it goes, final fall. Lizzy would play defence from here on, forcing the other girls to stay out of the ring and making sure no one would score any other falls. Clementine would lock in a Fujiwara armbar on Lizzy with around 30s to go, but the determined scouse goddess hung on and didn't tap out.
Making Lizzy Evo the 1st Ever Catch-Pro Wrestling Women's Champion and the winner of the Great British Heritage Tournament 2021!