As the Deadman hangs up his trench coat and hat for the last time in the WWE Network's Undertaker: The Last Ride documentary series, we look back on what this first-of-its-kind series taught us about the Deadman.
1. First and foremost, the Undertaker is an artist
Rounding out thirty years as the most iconic and mysterious character in professional wrestling, or sports entertainment if you prefer, is a tricky thing to do, especially given that Mark Calaway, the man behind the Phenom, wanted to do it right.
Much of the series is dedicated to Calaway grappling with when the right time was to hang up his boots and ride off into the sunset. The answer depended on whether Calaway felt satisfied and, given the hit-and-miss nature of pro wrestling, this was a difficult ask.
What became clear as the series went on was that the legends matches that Taker was booked in at WWE's Super Showdown events in Saudi Arabia were more miss than hit, with Calaway narrowly avoiding a broken neck when Goldberg's Jackhammer finisher didn't go according to plan.
The dawning realisation that time was catching up with Calaway prompted a more considered approach to his booking in subsequent events.
2. Undertaker works best with smaller wrestlers and younger wrestlers
Given the popularity of his feud with Shawn Michaels and matches with the likes of Rey Mysterio, it's probably no secret that Taker works really well with smaller guys. That the Undertaker is six-feet-eight and 300 pounds, it's just as well there are a fair few smaller guys for him to work with, then.
Taker's own agility, his flying clothesline and 'old school' walking of the top rope, are reminiscent of the style of a person part of his size. Maybe it's this propensity towards busting out the acrobatics, especially earlier in his tenure as the Undertaker character, that meant that Calaway understood how they worked and was able to play off against that.
As I alluded to in my review of episode 4, Taker seemed to really enjoy his Extreme Rules tag match with Roman Reigns against Drew McIntyre and Shane McMahon, a group characterised by either their hunger to make an impact and their love of pro wrestling, more than anything else he'd done in the last few years.
3. The Undertaker commands the respect of the entire locker room
While it may sound a bit like a cliche, it's something that was patently obvious since episode one of the series. The talking heads interviews with Shawn Michaels, Edge, Dave Batista, Triple H and Mick Foley in particular really show their admiration for Calaway. It also quickly became clear how much Calaway gave back to his peers in terms of advice, pep talks and generally being a leader in the locker room.
His protection of the Undertaker character above all else in an industry where the demarcation between 'shoot' and 'kayfabe', basically reality and storyline, for such a sustained period is incredible when you think about it.
The moments that capture his relationship with his wife Michelle McCool and his children also show his wry sense of humour which is, in its own way, quite touching.
4. No one knew what a Boneyard match was
In a moment that inspired true confidence in WWE's heavily over-produced creative process, Triple H revealed that when it was announced that AJ Styles would face the Undertaker in a Boneyard match at WrestleMania 36, no one knew what it was.
It wasn't until pulling up at an abandoned site at the end of a residential street about an hour outside of Orlando, Florida that it started to coalesce. With the crew working hard to dress the set, essentially an abandoned barn, so it looked like a graveyard, Triple H and Michael Hayes thought that they had an insurmountable task in front of them.
Luckily, with input from all involved it worked out just fine or, if it wasn't your thing, it at least provided something a bit different.
However, the week in which the match was filmed was certainly a tumultuous one for Mark Calaway personally with the tragic passing of his brother in the middle of filming and the untimely death of Michelle McCool's nephew in a car accident after just graduating high school.
Calaway's work ethic is incredible, putting his own grief aside to carry on filming shows his loyalty to WWE and, ultimately, Vince McMahon. Whether it was misplaced or not is up to the viewer to decide but, given Taker's willingness to come back if Vince found himself in need, it's certainly a strong bond that goes beyond what you might expect from an employer-employee relationship.
5. The final shot of the Boneyard match was a specific choice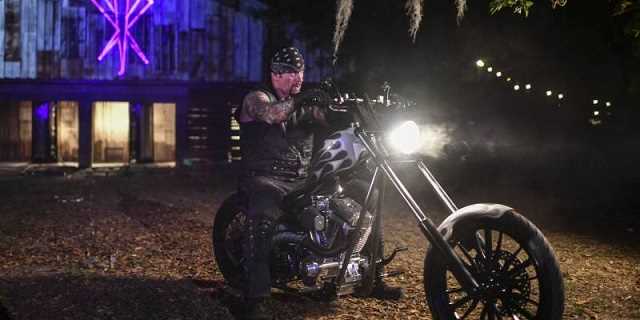 This probably comes as no surprise given the series is called The Last Ride and the frequent allusions to Calaway as an 'aging gunfighter' hanging up his boots for the last time, but the shot of Taker riding off into the darkness is about as symbolic as it gets.
The build to the match was also unprecedented in terms of symbolically breaking down the walls between the Undertaker, his 'American Bad Ass' persona and Mark Calaway, something which was attempted almost 20 years ago with the much-maligned DDP stalker angle.
As an artist looking to find the right way to finish off his 30 year tenure, breaking down these barriers between the man and the character so that he could finally retire gave the series and, more importantly the Undertaker's career, the send-off he wanted and deserved.
After 30 years and a list of accomplishments longer than your arm, the Undertaker has retired.
How appropriate that one of the final images in the Last Ride is Steve Austin and the Undertaker raising a glass on the legacy of the Deadman, a legacy defined by an unyielding commitment to the Undertaker character and, ultimately, making bold choices and blazing a trail through professional wrestling.