The last few years have been tough and thanks to the many restrictions that countries all over the world have faced, very few people have been able to travel the world. Yes, that illness has a lot to answer for, but there are still ways to see the sights in far off countries and places.

In the last few weeks, I've managed to visit the USA, Southern France and Northern Italy, Australia and then finished my journey with a quick blast thru parts of England and Scotland. All for the comfort of my living room.

With the recent announcement of Forza Horizon 5 at E3, I thought now would be a great time to revisit the previous games in the series and see why they are so highly thought of and what we should expect, come the 9th of November 2021.
---
The first game was released in 2012 for the Xbox 360 and used many of the physics which had been featured in Forza Motorsport 4, albeit with a few tweaks to change the game to have a more arcade feel. However, the spin-off changed the format of its more simulation brother. Working around a fictional car/music festival called Horizon.
You progress through the game by winning races and earning Cred. This could be earned in many ways, from drifting and overtaking to getting massive air. The game also featured speed traps throughout the open world. You could get your favourite car, upgrade it to the max and then try and beat your friends quickest runs. This was something to keep you coming back to the game, giving it that "one more try" element that a lot of games lack.
As you progress through the game and earn enough reputation, this unlocks more races, from point to points sprints and circuit races. All of this had a background of earning new coloured wristbands to let you know what level you had reached. As you progressed you would also get hints of areas to search, for unicorn cars known as "Barns finds". These are some of the rarest cars on the planet and you can earn them for free.
Alongside this, the game also featured special events that allowed you to win cars and cash prizes in races against vehicles like biplanes and helicopters. Going forward this would become something of a signature of the Horizon series.
I've not played the first game in at least 6 years but due to the Xbox One X enhancements it received, the game still looks fantastic. It's amazing to see a game made well before consoles could target 4K (or even dream of 4K) looking so clean and sharp.
Just in case you feel like giving this one a try, you'll need to hunt down a disk on the second-hand market, as the game is no longer available to buy digitally. It reached "End of Life" status in 2016, which meant, unfortunately, I was unable to give the rally DLC a try.
---
Next up, a sun-kissed drive through Southern France and Northern Italy. Forza Horizon 2 was released on both the 360 and the Xbox One. The open-world of the second game was a huge jump in size with around three times as much drivable area.
The two versions are quite different and the 360 missed out on destructible environments, dynamic weather and Drivatar AI. These features weren't possible on the ageing 360 and this would be the last time Horizon would come to the console.
Alongside this, the game doubled down on another late DLC additional to the first game in the fashion of the 1000 Club add on pack. These were challenges to be completed in set cars. In the first game, every car got a handful to complete, but here they were featured as events that could be found on the map. The "Bucket List" challenges were a great addition and could even be completed in Co-op mode with a random or friend.
Furthering the multiplayer experience, car meets were also added. This was an online version of the Forzavista mode in Forza 5. It was a place for like-minded players to meet up and share tunes for cars and liveries.
This was one of the first games I got alongside my Xbox One and I thought it was a powerhouse for graphics. My revisit of the game did show one flaw, it lacks the update that the original received to allow it to output a 4K image. Unfortunately, this does show now due to its age and it's a real shame they weren't able to add this before it once again was taken off stores like the first game, in 2018.
Horizon 2 did have some great examples of DLC. The first is "Storm Island". This turned the weather system up to 11 and was a blast to slide cars around tight rocky mountains while the rain came down so hard you could barely see where you were going.
Then came Forza Horizon 2 Presents Fast & Furious (not technically DLC as it was a standalone experience). Although it was a short experience, it was a great taster of what the games had offered so far. It featured amazing showcase events against crazy vehicles and the mash-up of the two series was a great match.
---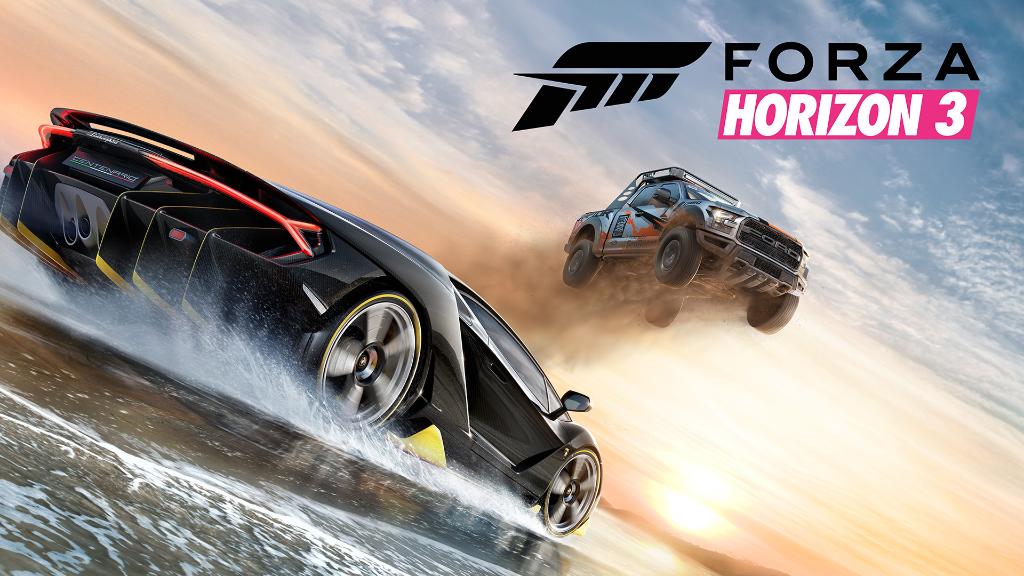 Forza Horizon 3 took the game down under to Australia and was also the Horizon game to come to PC. It's clear to see that the team worked hard to advance the game. The world created here is outstanding to experience and drive through.
Switching out the games already solid soundtrack and getting AC/DC, Airbourne and Jet (sorry to any Aussie rock bands I've missed) blasting through my headphones is one of my favourite ways to enjoy the game. The cars look better and everything feels tighter and more focused than what came before.
Although it was the second game that first introduced destructible environments, this game is pretty much, going where you want and how you want. This also meant there were more 4x4s and buggies featured in the game to make this feel more natural.
There was also a renewed focus on implementing multiplayer into the game. As it featured a four-player cooperative campaign. This allowed players to jump in and out of the online game world and continue racing. All while progress in the main campaign would continue.
The great showing on DLC would also continue, with both "Blizzard Mountain" and "Forza Horizon 3 Hot Wheels". Blizzard took the player from the sunny beaches of the base game and placed them on top of a snowy peak with very little traction and lots of downforces. The Hot Wheels add on built real size versions of the orange tracks that we all loved so much as kids and blasted us round loops and speed boosts.
Both add ons were worth the additional cost, but with both earlier games, it's hard to experience if you haven't bought them already as the game and DLC was removed from the store in 2020.
---
Forza Horizon 4 brought me back home from my trip. Not many video games are set in Britain and although the map is somewhat of a condensed version of the UK, I was able to see a handful of places that I've visited in real life.
The most recent game also saw it further develop more into an online multiplayer shared world. Players had a customizable avatar, and could win clothing and emotes to allow them to express themselves. The game also featured season updates with new game modes and activities for players to complete.
The showcase feature of this entry was the dynamic seasons. This changes every week and all players experience the same season. During winter rivers will freeze over and most of the map will be covered in snow, autumn brings more wet weather and puddles to contend with while the trees turn to the burned orange glow we all know so well in the UK.
The changes are not just visual, and it may well mean that you can set faster times on certain tracks during different seasons or parts of the map can become accessible due to roads made of thick ice. This also added a ton of replayability to the game as each track could be played in 4 different ways.
There was even a 72-player battle royale-style mode called The Eliminator added, as … well… that's what games do now.
The game is nearly 3 years old now but was recently featured as one of the best sellers on Steam (launching in March 2021), which shows the strength of the content on offer. Playground Games have confirmed that no further content will be added while the team shifts focus to…
---
Next on the trip, Forza Horizon 5 take's us to Mexico on the 9th of November. From the clips shown of the game so far, it could be one of the best lookers all year. I would expect them to push the limits of the dynamic weather system that has been in use for a while even further and also see the season changes from 4 returns.
It's already been confirmed that you'll get to enjoy Forza Horizon 5 in 4K resolution at 30fps (Xbox Series X) or 1080p resolution at 30fps (Xbox Series S). There will also be a performance mode feature available on both platforms that will allow it to run 60fps which also targets 4K with the setting turned down a little.
Also, ray tracing will be included, but only for the Forzavista mode when viewing your vehicles. This could be the first game to start to stretch the legs of the new Xbox series consoles and see what they are capable of.
I'd love to visit Mexico for real but for now, Horizon 5 looks like it might be the closest I get. I for one can't wait till November to continue my journey.