Most professional wrestlers tend to appeal to many fans due to a combination of charisma and athleticism, plus having a gimmick (regardless of how strange it may be) is also a sure fired way to get the attention of the wrestling world both for good and bad reasons. Over the years many Impact stars have gone on to make a radical change to their gimmick or appearance.
In the process, they've either saved their careers from a period of mediocrity or they've helped to elevate their careers in a way no one would have thought possible.
In this article, I'll be mentioning five wrestlers from Impact's past and present who've managed to benefit greatly from a brand new gimmick or an updated version of their current persona.
---
5. Laurel Van Ness
Laurel Van Ness (real name Chelsea Green) worked with the company from 2016-18, during which she spent the first few months as a member of Maria Kanellis-Bennett's all-female faction known as 'The Lady Squad'.
LVN's gimmick during the early days of her Impact run was pretty much a by the number spoiled rich girl persona who hanged around with other snobbish but pretty females whilst making the lives of other ladies in the Knockouts locker room absolute hell, but that all would change following the events of February 23, 2017.
On this date, Laurel was set to marry Braxton Sutter in order to spite Allie, an assistant to Maria who in the previous months was picked on by all of the other ladies in the squad and who also had feelings for Sutter. When it came to time for the wedding, Sutter made it clear at the alter that he loved Allie which left LVN upset, sobbing and drinking out of a large champagne bottle and this is where it all began.
As the story has it then creative consultant for the company, Dutch Mantel, liked Laurel's performance following Sutter's rejection of her and suggested that she should record some material that could be used for future episodes. While she didn't believe that anything impressive would come out of the recently shot footage, Green would be shocked to discover that the footage became so popular to those watching it on TV and the internet.
And thus Laurel would adapt the crazy bride gimmick complete with messy make up and lipstick, fizzy hair and wrestling barefoot whilst occasionally drinking alcohol before matches.
The gimmick continued to get over as the weeks and months followed thanks to her storyline relationship with Grado and LVN's dedication to the gimmick which would eventually see her become Knockouts Champion by the end of 2017.
Highlights:
---
4. Jay Lethal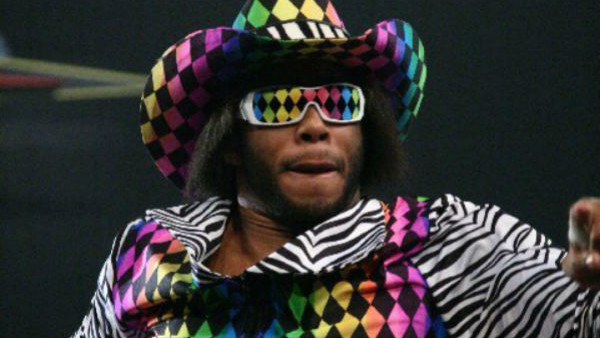 One of the most decorated names to come out of the X Division, Jay Lethal started his run in TNA/Impact back in 2006 where he wrestled names like Samoa Joe, Chris Sabin, Matt Bentley and Petey Williams while at the same time interacting with legends like Kevin Nash, Jeff Jarrett and Team 3D. Lethal was and is still known for his high flying style of action and determination inside of the ring but he didn't have a character that allowed him to get over, sure he could wrestle but sometimes the most memorable names tend to be over the top characters.
Jay's opportunity to get over the top came when Paparazzi Productions (made up of Nash, Alex Shelley and Johnny Devine) took several X Division wrestlers and put them in several hilarious segments with Lethal taking part in a memorable segment parodying American Idol on the February 15th 2007 edition of impact.
During the segment, Nash tells Jay to do an impression which leads to Lethal wearing a pair of sunglasses and doing a spot on 'Macho Man' Randy Savage impersonation to the approval of Kevin Nash and would lead to the birth of Jay Lethal's new persona: Black Machismo.
As Black Machismo, Lethal would sound much like the Macho Man when he spoke, wearing outfits similar to war Savage would have worn back in the day and even include the diving elbow into his arsenals of wrestling manoeuvres; The impression was so good that even Randy Savage himself gave Lethal his blessing to keep on doing the Black Machismo character and so he did for much of his TNA/Impact Wrestling career which included Six X Division title reigns and a one time title run with the Tag Team Titles back in early 2009.
Lethal would play the Machismo gimmick up until the summer of 2010 when he began his feud with 'The Nature Boy' Ric Flair and started to impersonate Flair much to Flair's annoyance on-screen, but his delight off-screen; The gimmick would make one more appearance back in 2018 at the All In event where Black Machismo would defeat Flip Gordon in an impressive match.
Highlights: