Tag team wrestling is a lost art. The art form is a vital part of pro-wrestling. The in-ring psychology of the style to the outcome can reach by gaining the audience's attention and effect their emotions. It has fallen in performance and lack of gimmick. The teams hardly work as a team and seem to be viewed as two singles matches. The absence of working the tag in a tag match has led to it being unseen. IMPACT Wrestling has transformed and revolutionized tag team wrestling. Leading to the upcoming vision of pro-wrestling with new teams and veteran teams.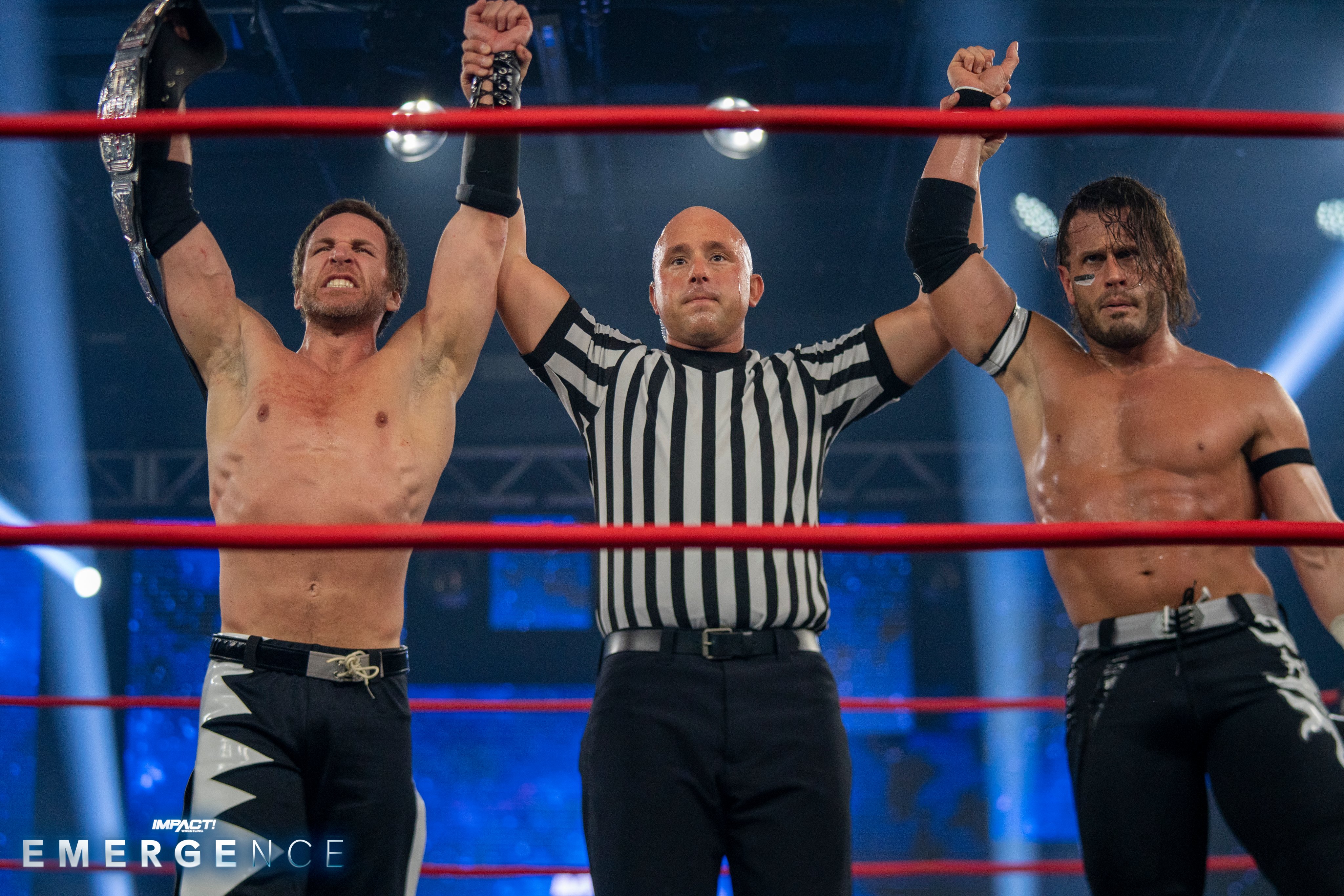 The Motor City Machine Guns (Motorcity Machine Guns | MCMG | MMG)
MCMG has been active on and off since 2006. The tag team consists of Alex Shelley and Chris Sabin, who have had strong solo careers as well. They have performed in Impact, Ring of Honor, New Japan Wrestling, Pro Wrestling Zero, All American Wrestling, and other promotions.
Shelley and Sabine first teamed at Pro Wrestling Zero 1- Max in August 2006. They faced Minoru Fujita and Ikuto Hidaka for the International Lightweight Tag Team Championship. Successfully holding the title for close to two years before dropping them back to Fujita. However, Fujita won them with a different partner. They would continue to PWG and Ring of Honor as Motor City Machine Guns.
Motor City Machine Guns would gain popularity and would officially sign with Total Nonstop Action (IMPACT) in 2007. Both Shelley and Sabin competed in the company's X Division. Together they have held gold at All American Wrestling, New Japan Pro-Wrestling, Pro Wrestling Zero 1-Max, TNA (IMPACT), and Ring of Honor.
Shelley and Sabin returned to IMPACT Wrestling on July 18, 2020, defeating The Rascalz. The Rascalz issued an open challenge after defeating The North. They are the current tag champions.
MCMG are a technically gifted team, that have a working bond that can only be achieved through years of working together. In the ring they are also greatly influenced by their accomplishments as singles competitors.
The North
The North is the tag team of both Ethan Page and Josh Alexander. Originally known as Monster Mafi they premiered as a tag team in Real Championship Wrestling in 2011. The first titles held by The North was in Insane Wrestling League in September 2013 by defeating the Young Bucks. Page and Alexander would lose the titles back to The Bucks after close to a year of holding them.
Page and Alexander would compete in companies such as Pro Wrestling Guerrilla and Ring of Honor.
In 2017, Ethan Page joined IMPACT Wrestling. The next year he would compete in the X Division from 2018-2019. Early 2019, Ethan Page reunited with his tag partner Josh Alexander. The tag team known as Monster Maria now became The North, with their new name they defeated El Reverso and Sheldon Jean. The North would continue dominating the division defending their titles against LAX and Rascalz in a three-way match at Slammiversary XVII. They would defend them against talent such as Reno Scum, Rich Swann | Willie Mack, Callihan | Shamrock, and Cody Deaner | Wheels Deaner.
The North held championships at Fringe Pro Wrestling, Alpha 1, Wrestling Revolver, Pro Wrestling Guerrilla, Insane Wrestling League, International Wrestling Cartel, and other promotions.
Page and Alexander held a dominant record of 383 days at IMPACT Wrestling before being beaten by Motor City Machine Guns on July 21, 2020.
Reno Scum (Reno Socially Corrupt Underground Militia)
Reno Scum at one time was faction, which included several different talents that came in and out of IMPACT. The Scum in Reno SCUM stands for Corrupt Underground Militia. The primary and current team consists of two men that bring bother power and fiery. This allows the team to reach limits that are remembered in IMPACT's history.
The tag team consists of Luster "The Legend" and Thornstowe. They have worked at Ring of Honor, All Pro Wrestling, Future Stars of Wrestling, and other promotions.
Reno Scum debuted on October 13, 2007.
The two competed at Unbreakable an IMPACT Plus special in August 2019, in a triple threat against Rich Swann | Willie Mack and the dominating champions The North. The North continued their reign.
Reno Scum would once again face The North in an open tag match later that month unsuccessfully.
The Rascalz
The Rascalz can be described more as a unit or faction. However, they have collectively been competing in tag matches and singles. The team consists of strong high flyers and fantastic technical in-ring competitors. Their move sets are flawless and continue to be a positive inspiration to fans.
The unit is Trey, Dez, and Wentz.
Dez and Wentz first teamed in 2015. They worked their way around several independent promotions. Promotions included All American Wrestling, Combat Zone Wrestling, Pro Wrestling Guerrilla, Southside Wrestling Entertainment, and others.
The Rascalz officially signed with IMPACT in late 2018.
Fallah & TJP
Fallah & TJP are a unique tag team. They are entertaining with a purpose. Their purpose is a goal, the goal to become the first Filipino root champions. The style that these two bring is a combination of an experienced technically educated and gifted jr. heavyweight with an experienced heavyweight.
TJP has an impressive singles career since debuting in 1998. He has circulated in promotions around the world. He has held titles in WWE, UWA Hardcore Wrestling, Big Time Wrestling, Empire Wrestling Federation, EVOLVE, House of Glory, and others.
Fallah Bahh began his career in the New Jersey Indies. His debut year was in 2005. Fallah has competed in Pro Wrestling Syndicate, Warriors of Wrestling, WrestlePro, Monster Factory Pro Wrestling, and others. He has held singles and tag team gold.
Making his debut at IMPACT Wrestling in March 2017 in a six-man tag match. He later teamed with KM in IMPACT history.
TJP and Fallah Bahh are experienced in singles and tag team wrestling. They are a terrific team, with the perfect combination of entertaining and skilled. This is one team to certainly keep an eye on.
IMPACT Wrestling has added the Good Brothers, who need no introduction. Their accolades have been seen all around the world from WWE to New Japan Pro-wrestling. Additional teams or factions that are also competing in the division and should be recognized are XXXL, The Deaners, LAX, Desi Hit Squad, and also Ace Austin is working in that division.

The company has gone through ups and downs. The fans remain loyal. The fans appreciate the hard work that goes into the company. IMPACT Wrestling has always been ahead of time when it comes to transforming and revolutionizing the vision or pro-wrestling. That vision included a strong women's division, that continues to thrive and change with the times.

The tag division is significant in the continuation of the company's growth. Tag team wrestling needs to be remarkable and strategic for the future of professional wrestling. IMPACT will revolutionize the growth and transformation of the art form of the tag.
Photo Credit: IMPACT WRESTLING