Today marks the three-year anniversary of Progress Chapter 63: Take Me Underground. We start with the progress owner in the ring, in front of a packed O2 Ritz in Manchester. Imagine that? An arena was full of people! The echo in the arena was making it difficult to catch what Smallman was saying, unfortunately.
Progress Chapter 63
Spike Trivet vs. Drew Parker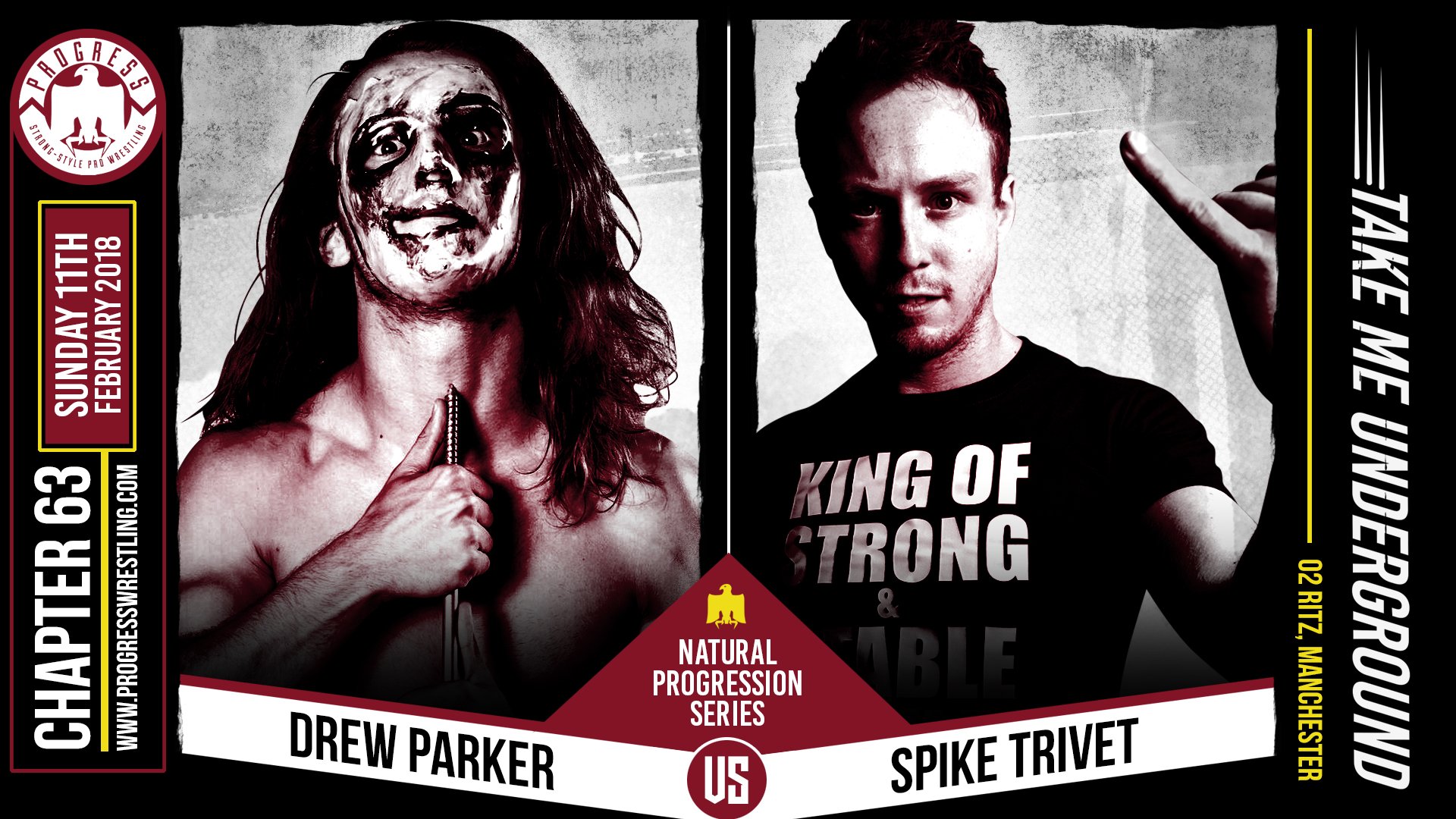 This was my first time watching this show, we started with a first-round match in the Natural Progression Series. Spike Trivet walking down to the ring suited up with the classical piece of violins as his music. The whole, 'I'm better than you gimmick' is getting the heat expected. He is facing Drew Parker who is wearing a clown mask, fans are behind him.
Straight into the action as Trivet spits water in Parker's face, he goes crazy. I get a more athletic 2008 Chris Jericho vibe from Trivet, except that he wrestles in the suit as well! Parker has a high-flying style that completely contrasts Trivet but it works so well. Surprisingly, the match is very short and ends after Parker counters Trivets finisher with a backseat driver earning the win. In traditional heel fashion, Trivet attacked the babyface Parker afterwards by smashing a champagne bottle over his head. Parker has won this battle, but as the commentator said; 'the war may not be over.'
Before the next match, the ring is swept following the glass being shattered, to which the fans were cheering for the Sweeper. Jim introduces Jeremy, who has travelled from Dallas, Texas to see the show. It's cool to see progress wrestling resonate with fans across the pond, now that is Progress (no pun intended). Personally, I would have thought a backstage segment before the match would have been a good idea, maybe that is just something WWE fans like myself are used to.
Progress Chapter 63
House of Couture (Nina Samuels & Chakra) vs. Charlie Morgan & Toni Storm
Women's Tag Team action next, with some faces we have become familiar with in NXT UK since this show. Jinny, who is wearing a sling, comes out with Nina Samuels and Chakara, the group collectively known as The House of Couture. They are up against Charlie Morgan and former NXT UK women's champion, Toni Storm (definitely a name you will know now!).
Another fast-paced start, Storm and Morgan literally storm into the ring and go straight for Samuels and Chakara. The focal point, despite not doing a lot besides staring a hole through the foes in the ring, is Jinny. She is excellent at being the ice queen, showing no emotion or remorse; it's almost Fiend like powers to motivate her teammates. Samuels and Chakara are calm and collected, working well as a team and keeping the far more energetic and excitable team of Storm and Morgan quiet. Samuels is a very good technically, arguably underrated in that sense and Chakara is a superb seller by the way.
Despite the dominance for the majority of the match, in typical babyface tag-team fashion, after the hot tag, Morgan and Storm are rejuvenated and despite the late rally from House of Couture, the faces get the win. Chakara took the pin so Samuels does not come across as weak, which is good because she really showed how talented she is in the match. Jinny barely changed expression even in defeat, it is merely a blip in the road for her faction. Moments later, this proved to be the case as Charlie Morgan super kicked Toni Storm, joining Jinny's group and becoming more dominant in the Progress women's division.
Progress Chapter 63
Flash Morgan Webster vs. Mark Andrews
The Modfather Flash Morgan Webster in action next against Mark Andrews. Webster is basically dressed like the entire 90s indie scene rolled into one, sporting a parka jacket, sunglasses and gear in the colour and style of the union jack. We essentially have the battle of music genres, as Mandrews comes out to a punk rock track similar to Blink 182. Two cruiserweights doing battle is always an exciting affair, but they are also very good at mat wrestling as we see early on.
They honestly have a wrestling clinic for the first five minutes, then out of nowhere, with a moonsault counter off the top rope, Webster goes to a fast-paced style that we are more accustomed to. Flips, kicks, double-armed facebuster galore the match goes into a totally different gear, but what I like is that they realise that the flippy stuff can soon become stale so to make things interesting we then see a visit from Vicky Haskins who is carrying a baseball bat covered with barbed wire. Vicky then steals Webster's helmet which he treasures dearly causing a distraction giving Andrews the chance to nail the shooting star press and wins the match.
Fair play to Andrews, taking advantage of the fact his opponent was distracted, my only criticism of that would be that Webster was distracted over the helmet for too long and did not finish his opponent off first before retrieving the helmet.
As Webster goes up the ramp, out walks Eddie Dennis who is not happy. The first-ever WWE Cruiserweight classic is next week, Mark Andrews will be there…. unless Eddie has something to say about it. Eddie locks Andrews' ankle in a steel chair, just as Dennis is about to break his ankle, the ring crew steps in and sweeps the chair out of Dennis' hands. The crew are not safe from Eddie though as he delivers a shot to one of them.
Progress Chapter 63
Zack Sabre Jr. vs. Tyler Bate
The final match of the first half sees Zack Sabre Jr, who will also be competing in the CWC and to date is his only WWE appearance, and proud member of Moustache Mountain, Tyler Bate. Whatever happened to him, anyway?
'I think this will be a good wrestling match.' – The commentary team. Aye, possibly.
So, I am writing this after the match as I was not able to take my eyes away from this! There was some mat wrestling in the previous match, but they knocked that out of the park here. One of the most technical masterclasses I have ever seen. Everything Tyler Bate goes for, Sabre has an answer for, Zack is a tall dude but you would think he was a cruiserweight if his style here was anything to go by. Tyler Bate is very hard to take down, due to his resolute attitude and in fact, he welcomed the lethal kicks by Sabre, they simply fired Bate up.
Sabre focuses on body parts intently, whereas Bate even though he can wrestle on the mat, he offers a variety of high-flying moves including the standing shooting star press which I am a huge fan of. In the end though; after a back-and-forth battle, a unique submission by Zack named Hyper Normalisation, forced Tyler to submit in what has to be one of the best matches of 2018, the fact this was in February as well, there's a lot to live up to for the rest of the year based on just this match alone. No shenanigans, no distractions, nothing like that, just pure wrestling genius. Go out of your way to check this out sometime if you have not already.
Before our next match, Jack Sexsmith comes to the ring and addresses the crowd. He's cashing in his title shot that he earned in Sheffield, at the next big Manchester show for the title.
Progress Chapter 63
Mark Davis vs. WALTER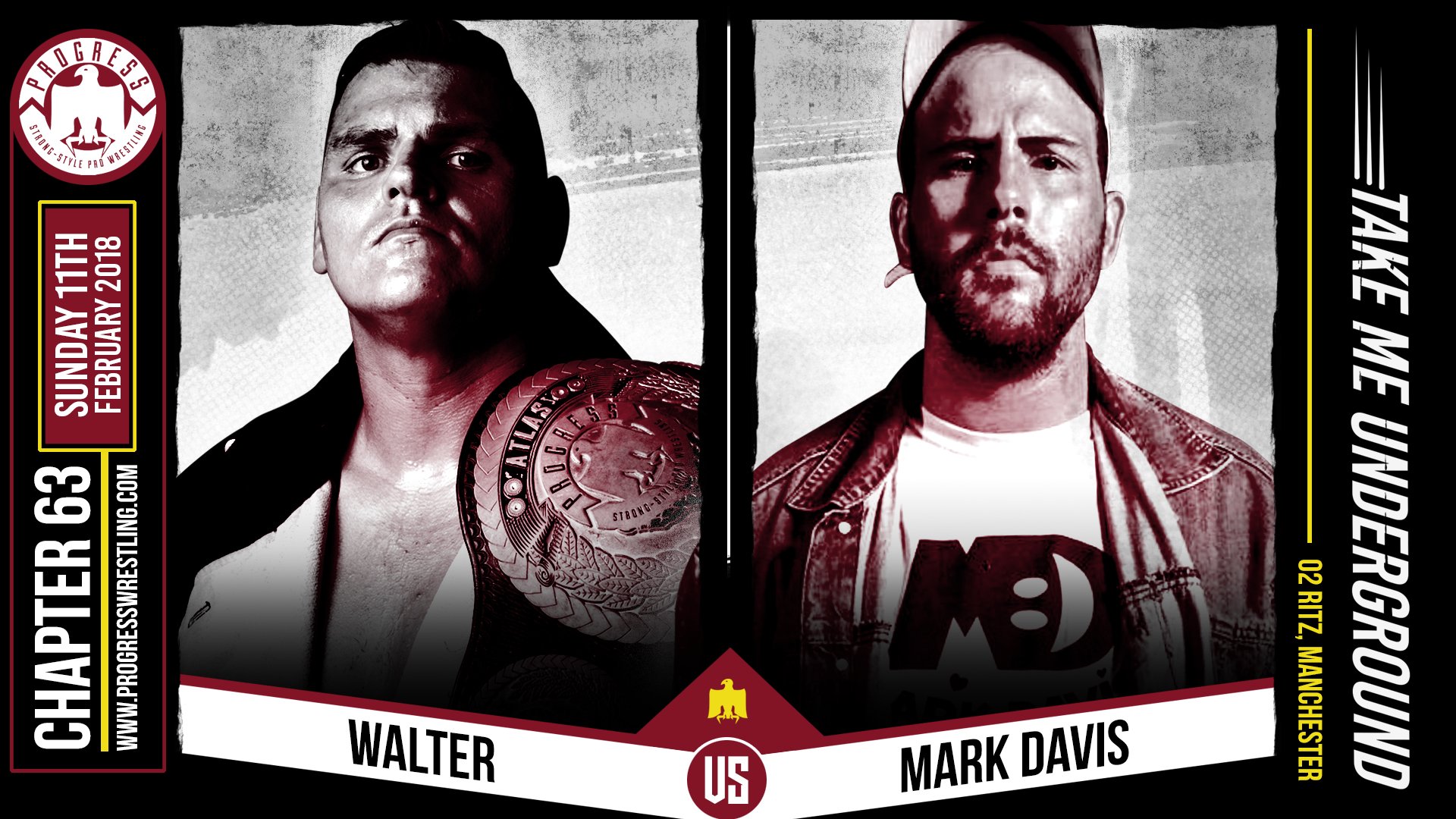 One of my personal favourites, Walter is in action against Mark Davis. Walter is the Progress Atlas division champion; however, this match is non-title. We have been accustomed to big men wrestling being slow and sluggish, with the sheer size and spectacle of them being sufficient to keep viewers interested, however, we see here just how good the wrestling itself can be when they are given the opportunity to show it.
It was not too long until Walter began dishing out his patented chops, in which Davis' chest was busted open courtesy of the Ring General. I am fairly sure you would have been able to hear them from wherever you are right now when he nailed them. Poor Mark Davis it has to be said! Knowing his chest was bleeding, it was hard to watch every chop after this, the crowd were in absolute awe.
Davis and Walter may be similar in size, but the Ring General is just a different breed, hardly fazed by any offence given by Mark Davis. However, the pair nailed clotheslines taking each other out, which gave the opportunity to Davis to nail Walter with right hands which seemed to be his most successful tactic at this point. They rocked Walter, but unfortunately for Davis, the Austrian recovers quickly, delivering a vicious powerbomb but Davis is resilient and he kicks out of that and delivers a Death Valley driver to Walter. This only angers him though, causing him to go crazy with more chops and locks in the rear naked choke. The king, the ring general Walter wins but what a showing from Davis here, he can hang with the best of them as this shows.
Progress Chapter 63
Tag Team Championship:
Jimmy Havoc & Mark Haskins vs. Grizzled Young Veterans (Zack Gibson & James Drake)
As expected, Grizzled Young Veterans get anything but a warm reception as they enter the arena full of Manchester faithful. Zack Gibson, that man you love to hate, runs his mouth as expected, Havoc and Haskins are having none of it. Havoc and Haskins are undefeated up to now, both are also technically bad guys but Zack Gibson is liked less so Havoc and Haskins for one night at least are fan 'favourites.
Interesting seeing Havoc in a straight-up wrestling match as I usually would see him in hardcore style matches, Havoc provides a slightly more comedic angle to the match, but the Vets are having none of it and take him out after a missed Acid Rainmaker, which set up Havoc to take the Deftones enziguiri. Vicky Haskins outside has the referee distracted due to the weapon which she is still carrying, in the ring Gibson has Haskins rolled up in a cradle which ends up being the longest one of all time. Eventually, the referee is back in the ring and a frustrated Gibson inadvertently wipes out Drake with a clothesline.
More distractions from Vicky Haskins leads to Havoc and Haskins low blowing GYV, Flash Morgan Webster's helmet makes an appearance which was going to be used as a weapon, but Webster runs to the ring and grabs the helmet from James Drake and the distraction is enough for Havoc and Mark Haskins to win the tag team championships. Webster is innocent in the result as he was getting the helmet back and was not intending to cost anyone the match itself. Overall, it felt weird because both teams are disliked by fans so the reaction was not as strong as other wrestlers who have been victorious tonight.
Progress Chapter 63
World Championship:
TK Cooper vs. Chris Brookes vs. Travis Banks
From the beginning, it is a little bit of a flat atmosphere as the fans I imagine are getting tired after a long show of exciting back and forth action. The competitors do what they can to keep the fans on their feet though with plenty of high-flying action and early on there's the use of a steel chair, due to triple threat rules there are not any disqualifications so this adds a whole new layer to the fight. The comedic selling off the steel chair shots = fun, and the ring crew are taking a lot of damage tonight. There has been so much focus on in-ring action, they are doing a more hardcore style here which I enjoy. We have seen WWE present Chair matches in the past, but this one is exactly how 'Chair' matches should go. These men were all once best friends, that ship has well and truly sailed with Cooper and Brookes taking a leaf out of Walter's book by delivering chops to one another, minus the bleeding chests of course….
A frustrated Travis Banks pounces back in the ring and he channels his inner Daniel Bryan by delivering chest kicks to his foes. Travis has a surge in energy which has appeared at the perfect time when both Cooper and Brookes are dazed however he gets too confident and is met with a kick to the head from a downed Brookes. That does not keep Travis out for long though as he is back in the ring almost immediately but meets a Spanish Fly from Cooper. These guys are doing what they can but the fans just are not reacting well to the match at all, it could be that they do not know who to cheer for.
Interesting move as Brookes delivered a submission move to both men at the same time, which unfortunately did not really have any sort of impact but the image of it was cool. However, there was a scary moment, where TK delivered a double Spanish Fly off the top rope and landed on his head on the way down, a very uncomfortable manoeuvre to watch and fortunate there were no serious injuries following that spot. (He actually stood back up immediately…)
What I love about triple threat matches is that they are so unpredictable, I could easily see any of them walking out as champions; the fact they have spent so much time together as former friends they have great chemistry. Brookes had TK in the Octopus only to be broken up by Banks with Slice of Heaven. A kick out from Brookes was not enough to stop Banks as he put him straight into submission, to which he tapped and Banks became the new champion.
There was very little reaction to a main event championship victory, I even heard boos from the fans following this. Despite their efforts to get the fans up for the match, in parts they did but overall, it felt flat and short of maybe what the audience hoped for.
Overall, it was an enjoyable show, but after the Walter match, it felt like the audience was exhausted and had not recovered fully from the devastating chops. (They are THAT good). There were moments of fun in the main event, Tyler and Zack Sabre Jr delivered an incredible clinic, but Mark Davis and Walter was the show stealer for me. As mentioned, I would recommend at the very least checking out this match.
EDITORS NOTE: This card also featured British Strong Style vs David Starr and Matt Riddle. This match will not be reviewed in this article.