Recently renewed for a second season, Heels proves to deserve a viewing. The show stars Stephen Amell who comes from Arrow fame which was on the CW Network from 2012 – 2020.  He got bit by the wrestling bug in 2015 when he did a stint with WWE alongside Cody Rhodes. Amell followed Rhodes to AEW for a couple of guest spots afterwards.
The experience led him into a wrestling series where he's the antagonist/protagonist, Jack Spade. Older brother to Ace Spade, played by Alexander Ludwig who is best known for his role in Vikings.
A large part of the storyline in Heels revolves around how their father, Georgia's own Duffy Wrestling League (DWL) legend and founder, Tom Spade, committed suicide. They now struggle to follow his legacy.
As for Ace, he may be a case of wasted potential. He seems to have the "spark" but will it ever amount to anything is the question. His dalliances around town and his simmering insecurities may always get in the way of what could have been.
Alongside these brothers is their local roster. A prevalent talent is Ace's valet/love interest Crystal Tyler. She's played by Kelli Berglund who was originally a dancer. That background helped her with the training for the show. Her character shows promise in the ring and out but has a lot to prove in a typical boy's club atmosphere.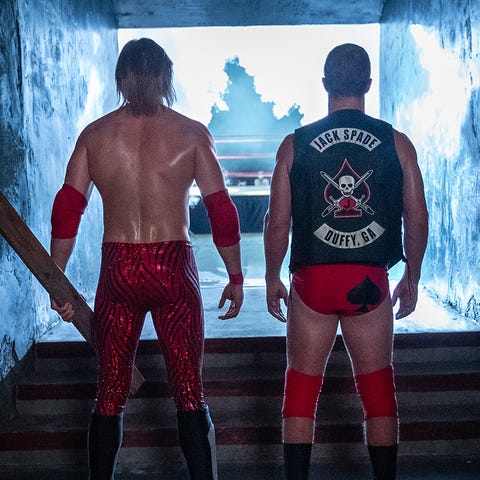 Jack Spade's wife and son are played by Alison Luff and Roxton Garcia respectively. They serve as Jack's moral rudder and compass. It's the old story. The wife/mother wants more attention and support from the struggling yet ambitious husband. The difference here is the business is wrestling. Those trials and tribulations manifest in the son's life. If you're a parent and a wrestling fan, you may be able to relate. How do you make it clear it's all make-believe when a child can see the "truth"?
One of the supporting characters in Heels, who stands out is Willie, played by TV veteran Mary McCormack. Willie is just that in the series as well. She's the grizzled old hand that helps Jack Spade run the DWL. She's a familiar hard-ass.
Another is Wild Bill Hancock played by Chris Bauer who you will probably remember from True Blood is the old indie draw. He's like a poor man's cross between Randy Savage and Ric Flair. He doesn't need a script and is a hell-raiser. Not sure if you should endorse him or not but he does put on a good show and livens up a party so, what are you going to do?
There are also some real guest spots by CM Punk and Mick Foley. Foley plays a wrestling podcaster, Dickie Valentine and Punk plays an alt-indie version of himself in Ricky Rabies. Both do great jobs but Punk may impress. There may just be a future after wrestling for him if he aims for the right roles.
All in all, Heels has an engaging first season. It has yet to be determined if it will be renewed but it's worth a watch. It's an interesting perspective. Many are so concerned with semi-famous wrestlers, we barely think about the men and women slanging in some small town for the love of the game and the hope of stardom.
Wrestling fans may find the premier episodes very pedantic. Just remember, they're trying to appeal to a general audience. Not everyone knows how wrestling works. Once they get past that, you do get to see some interesting characters and dynamics. To a certain degree, it could almost be too much because the DWL's internal issues seem to be crippling. That could be a way to account for a short series in the event they don't get renewed but it makes a person wonder about future seasons. The DWL is too homegrown a promotion so, it makes you feel like you're watching a tale of failure which is fine if that is the point. We shall see. So far, wouldn't mind a second season. Feel free to see for yourself if you don't mind signing up for a STARZ free trial.