The Suicide Squad – Nightmarish memories of first outing with banished DC Universe's best effort to date
Remember 'Suicide Squad' from 2016?… Yes, you do… Will Smith, Margot Robbie and Jared Leto's horrendous Joker portrayal… What happened in it?… I don't know and I prefer to keep it that way, thank you. What I do remember is that it was awful, dreadfully awful. In fact, if it wasn't for the pointless and dull 'Independence Day' sequel "…Resurgence" M. Night Shyamalan atrocity 'Split' and 'Passengers', a film so terrible, Jennifer Lawrence's career still hasn't recovered, this would've been the worst film of 2016.
What we have here is a soft-sequel-stroke-soft-reboot with 'Guardians of the Galaxy' screenwriter James Gunn at the helm (Gunn was fired by Marvel after some controversial tweets from his past resurfaced. He was later re-hired by Marvel a year later but in between these stints, signed up with DC to handle their second attempt at penning the anti-Avengers). Margot Robbie is back in her third outing as the maniacal Harley Quinn and the only surviving member of the original movie and is joined by Bloodsport, played by the excellent Idris Elba, John Cena's Peacemaker, King Shark, voiced by Sylvester Stallone and debutant Daniela Melchior in the role of Ratcatcher II and her rat companion, Sebastian.
So that's the Hollywood leading man, an experienced female lead, a female actress making her Hollywood motion picture debut, the ex-wrestler providing the comic relief, an entirely CG character voiced by an action star and an animal sidekick… all sounds a little familiar, doesn't it? They are temporarily released from prison to undertake an incredibly dangerous and frankly suicidal top secret Government mission due to their remarkable combat and survival skills. All they are told is to meet "The Thinker" Gaius Grieves to locate the whereabouts of a weapon that threatens the existence of the planet. They soon discover that this runs deeper with a political military run dictatorship looking to actually unleash the weapon as soon as possible.

'The Suicide Squad' is tremendous fun. The opening 10 minutes serves as a reminder of 'Suicide Squad' before forcefully erasing it from existence and is ultimately better than anything in the 2016 mishap. Everyone is on top form. The chemistry between Idris Elba and John Cena is ridiculously good. They show great comic timing and is on a level with the "Guardians…" for gag hits. Margot Robbie continues to shine as Harley Quinn, it must be such a relief for her though to be playing this character and not doing all the heavy lifting simultaneously.
Its Daniela Melchior who is an absolute revelation here, packing a real emotionally punching performance proves she has a really bright future and I haven't seen a more impressive debut performance since Christoph Waltz in Quentin Tarantino's masterpiece 'Inglorious Basterds'. Peter Capaldi also impresses and also delightfully goes full Malcolm Tucker sweary goodness in several scenes. The action is loud, crash-y and smash-y but also shows more restraint than it's Marvel counterparts and even some of its fellow DC big-hitters and it is very violent and although the blood splatter is prominent and up-front, again restraint is shown and stops from digressing in to 'Deadpool' farce levels.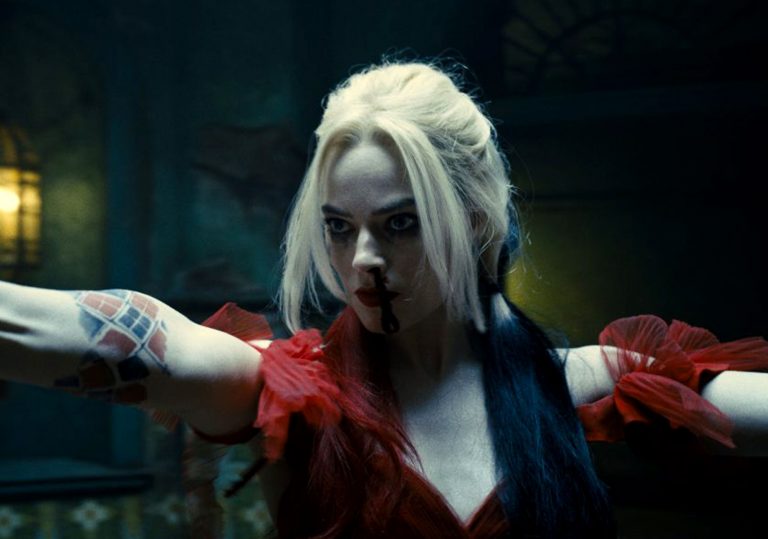 'The Suicide Squad' isn't just the stuttering DC Extended Universe's best film to date, leapfrogging previous top dog (in my opinion anyway) Wonder Woman (2017), it is the best film I have seen released this year so far. The DCEU have a template and blueprint to work with here and I hope they use it well and to the benefit of their future productions as all we all want is just good, exciting, stimulating cinema. I do fear that a lot of the magic here is down to James Gunn's involvement but let's just hope one or two people were taking notes but we'll worry about that in due course. For the moment, lets bask in a wonderfully presented superhero flick.
FIVE STARS