There is only one, undisputed, king when it comes to Kaiju movies. No, it's not freaking King Kong you damn Americans. That title belongs to Godzilla. Godzilla, or Gojira, is a legendary Kaiju created by Toho Studios way back in 1954. There are thirty-six movies currently with the Big G starring in them and, like all series, there have been some good and some bad films. As the first in my series of Worst to Best, I chose Godzilla because of two reasons. One is the longevity of the series. The Godzilla series has spanned 67 years to date. There really aren't many film series' with that kind of longevity or number of films to their name. The other reason is that I've been a huge Godzilla fan since I was five years old. I remember staying up for days watching the old Godzilla marathons on TNT back in the day.
Let's get back to our list, starting at #15! You can find the previous article here.
---
15. Godzilla (2014)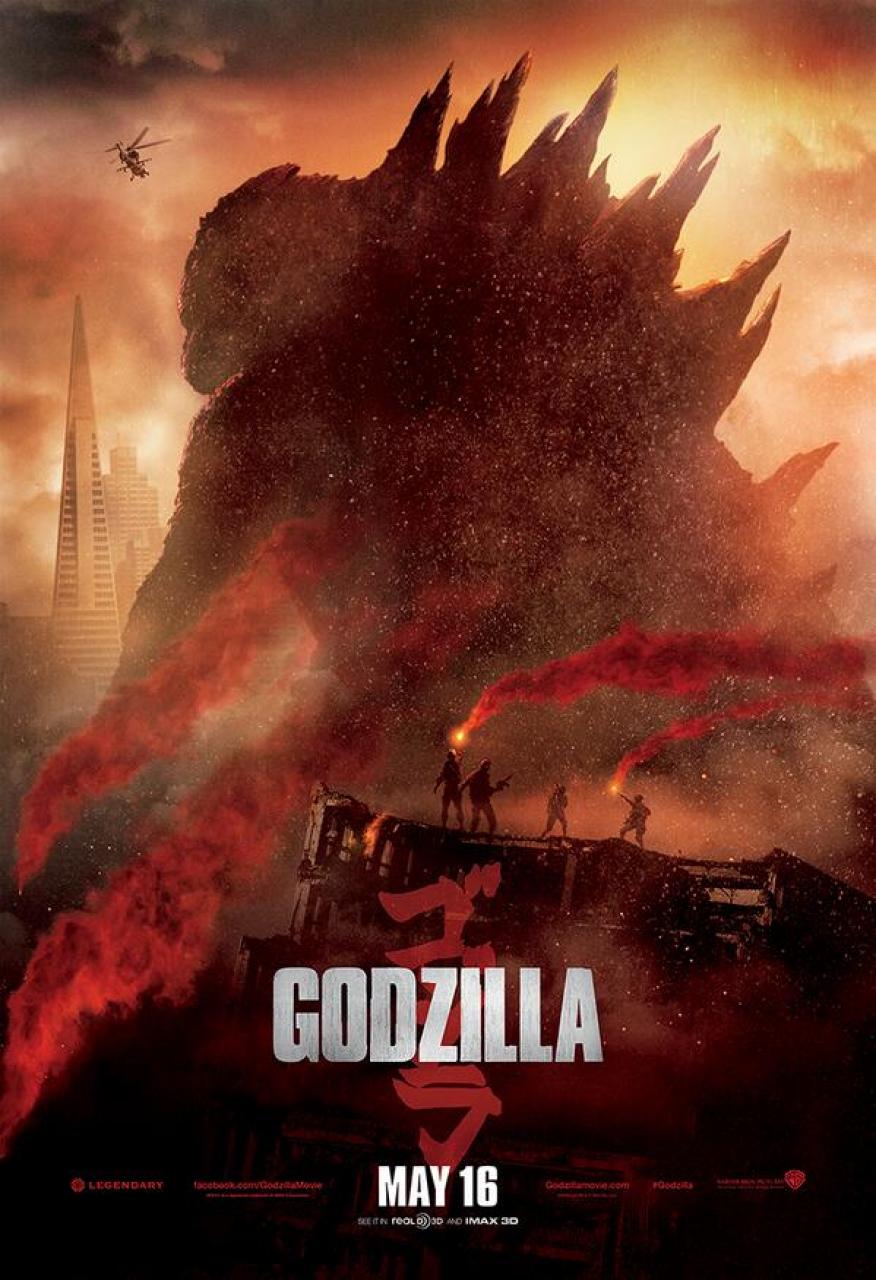 Where Tristar failed back in 1998 with their attempt at a Godzilla film, Legendary hit a home run with their first of three Godzilla movies. Sure, they had no rights to any of Toho's legendary creations except Godzilla, but even with that restriction, it was a really good movie that I saw seven times in theatres. Godzilla received generally positive reviews from critics. On Rotten Tomatoes, the film has an approval rating of 76% based on 327 reviews, with an average rating of 6.70/10. The site's critical consensus states, "With just enough human drama to anchor the sweeping spectacle of giant monsters smashing everything in sight, Gareth Edwards' Godzilla satisfyingly restores the franchise's fire-breathing glory." On Metacritic, which assigns a weighted average based on selected reviews, the film has a score of 62 out of 100, based on 48 critics, indicating "generally favourable reviews". CinemaScore reported that audiences gave the film an average grade of "B+" on an A+ to F scale.
Japanese critics and journalists have praised the film for putting "more of an effort to honour the spirit and visual style of the Japanese series" but criticized the film for "complicating the anti-war, anti-nuclear sensibility" and "lack of nerve on the part of the filmmakers to say anything substantial about nuclear weapons or nuclear energy". However, Godzilla illustrator Yuji Kaida called the film "a real kaijū eiga (monster movie) that honoured the original in that Godzilla was presented as a force beyond human understanding that maintained the Earth's natural balance".
---
14. Godzilla vs Kong (2021)
The third of the Legendary Films Godzilla movies hit the list at number fourteen. Godzilla vs Kong is perhaps the studio's best film to date. You have two absolutely legendary monsters in Godzilla and King Kong, you bring in one of Godzilla's biggest adversaries in Mecha-Godzilla (which looked totally badass and was the closest any monster has come to killing Godzilla outside of Destroyah), and you limited the human element to a background plot which is where it belonged. Where Godzilla and King of the Monsters failed, GvK just took the best parts of both films and made it into a movie that blew the other two out of the water. Godzilla vs. Kong received generally positive reviews from critics. On Rotten Tomatoes, 76% of 373 critics have given the film a positive review, with an average rating of 6.4/10.
The website's critics consensus reads, "Delivering squarely on its title, Godzilla vs. Kong swats away character development and human drama to deliver all the spectacle you'd expect from giant monsters slugging it out." According to Metacritic, which assigned a weighted average score of 59 out of 100 based on 57 critics, the film received "mixed or average reviews." Audiences polled by CinemaScore gave the film an average grade of "A" on an A+ to F scale (the highest of the MonsterVerse), while PostTrak reported 86% of audience members gave it a positive score, with 74% saying they would definitely recommend it. Richard Roeper of the Chicago Sun-Times gave the film 3 out of 4 stars, writing, "Godzilla vs. Kong is the kind of movie you can pretty much forget about almost instantly after you've seen it — but it's also the kind of movie that makes you forget about everything else in your life while you're watching it." Jamie Graham of Total Film gave the film 3 out of 5 stars, writing, "Watching these famous monsters share the screen for the first time since 1963's King Kong vs. Godzilla, in a series of expertly choreographed battles, packs a real wallop, even if you can't help wishing that screen was 30ft high at your local cinema.
---
13. Godzilla: Tokyo S.O.S. (2003)
This is perhaps the first, and only, the true direct sequel of the Toho Godzilla films as it takes place immediately after Godzilla against Mechagodzilla. Honestly, this one was a bit hard for me to place originally, but after much deliberation, I settled on it being just shy of the top 10. It's a really solid addition to the franchise and it's one of the better films in the Millennium Era. Godzilla: Tokyo S.O.S. has received generally positive reviews from journalistic reviewers upon its release on DVD. John Sinnott of DVD Talk gave Tokyo S.O.S. four stars out of five, saying: "There are some problems with this movie, but when all is said and done, I really enjoyed it…While this movie seems to be aimed at a younger audience without a lot of plot or characterization, it was still a lot of fun. The fight scenes were exciting and though they took up most of the movie, they never dragged on or got boring."
Giving the film a score of three out of five, Stomp Tokyo said "the plot is fairly simplistic and the character relationships are painted in broad strokes," but added that the movie "[features] the best monster action Toho has produced." Joseph Savitski of Beyond Hollywood criticized the film's "uninspired script," which he wrote had "ideas [that] are never fully developed," but added that the film is "well-made" and "makes for an entertaining 91 minutes." Mark Zimmer of Digitally Obsessed gave Tokyo S.O.S. a "B" score, calling it "a fun enough action film with enough explosions and destruction of Tokyo to satisfy die-hards and casual fans alike."
---
12. Godzilla against Mechagodzilla (2002)
The best film of the Millennium Era of Toho films, Godzilla against Mechagodzilla takes the number twelve spot for me. As good as this film and its direct sequel are, it doesn't quite put them in the top 10 of the all-time films. This has one of the better critical receptions of the later Toho films as well. One thing you have to remember about the millennium films is that they all ignore each other and every other Godzilla film saves for the original from 1954. The lone exception is this films sequel. Reviews of Godzilla Against Mechagodzilla have been positive. Mike Pinsky of DVD Talk gave the film three stars out of five, saying: "While I did have some minor complaints, [this is] a fine entry in the series." Pinsky said "the plot is more interesting than most giant monster movies," and "the battle scenes, which are the main reason anyone watches these films to begin with, were great."
Giving the film a "B+" score, Mark Zimmer of Digitally Obsessed said that it's "a good deal of fun and one of the better entries in the series." Digital Monster Island gave the film a "B" score, calling it "a fun and exciting film that should please most kaiju fans.
---
11. Destroy All Monsters (1968)
Boasting a total monster count of 11, including Godzilla, Mothra, Rodan, King Ghidorah, Anguirus, and Minilla, Destroy All Monsters from 1968 finds itself just shy of the top 10. Critics may not have loved this movie, but I sure as hell did. It's one of the more ambitious films from the Shōwa era and it's definitely earned its status as a cult classic. From contemporary reviews, both Variety and Monthly Film Bulletin noted the film's best scenes involved the monsters together while criticising the filmmaking. Variety reviewed the English-dubbed version of the film stating that it may appeal to "Sci-fi addicts and monster fans" while stating that the "plot is on comic strip level, special effects depend on obvious miniatures and acting (human) is from the school of Flash Gordon" and that the film's strength relied on its "monster rally". The Monthly Film Bulletin opined that "the model work is poor, and as usual the script is junior comic-strip".
Both reviews mentioned the monsters' final scene with Variety commenting that it was "clever" and the Monthly Film Bulletin stating that "apart from [the monsters] statutory devastation of world capitals. the monsters have disappointingly little to do until they get together in the last reel for a splendid battle" The Monthly Film Bulletin commented that the film was "almost worth sitting through the banalities for the final confrontation on Mount Fuji" noting the son of Godzilla "endearingly applauding from a safe distance" and "the victorious monsters performing a celebratory jig". From retrospective reviews, Steve Biodrowski of Cinefantastique commented that the film "is too slim in its storyline, too thin in its characterizations, to be considered a truly great film. But for the ten-year-old living inside us all, it is entertainment of the most awesome sort." Matt Paprocki of Blogcritics said the film is "far from perfect" and "can be downright boring at times" but felt that "the destruction scenes make up for everything else" and "the final battle is an epic that simply can't be matched". The film is considered a cult favorite among fans of the Godzilla franchise. In Steve Ryfle and Ed Godziszewski's 2017 book covering Ishiro Honda's filmography, they expressed that Destroy All Monsters is now seen as the "last truly spirited entry" in Toho's initial series of kaiju films, due to "its audacious and simple story, a bounty of monsters and destruction, and a memorably booming soundtrack from Akira Ifukube".
---