If you haven't seen them yet, we recently released the results of our annual TWM Awards. While most results weren't necessarily a surprise, the tie of AEW Revolution and Royal Rumble 2020 as Pay-Per-View of the Year was slightly unexpected.
WWE has been criticised in some circles for not adapting well to the lack of crowds, especially at larger shows where the atmosphere of a live audience not only helps fuel the action in-ring but also positively impacts the enjoyment of televised viewers. As the majority of WWE's big shows, last year operated under lockdown rules, Royal Rumble getting enough votes to tie is a tribute to how well its memory has stuck in the minds of fans.
January 26, 2020, saw the 33rd Royal Rumble event – an impressive feat in today's throwaway world as a whole, never mind in the fickle wrestling business – at the Minute Maid Park in Houston, Texas. The main event featured the two showcase Royal Rumble matches (one for men, one for women) as well as three championship matches and a falls count anywhere match.
After the Kickoff show, which saw Sheamus defeat Shorty G and Andrade defend his United States Championship against Humberto Carrillo, a video package aired to start the show. This featured a pep-talk from Stone Cold Steve Austin to the participants of the Royal Rumble matches while showing small clips of previous events and winners alongside the current roster.
It seems strange looking back less than a year later to see a sold-out crowd in an arena. It has become second nature to picture events of 2020 with either no crowd or talent making up the numbers. That said, the large crowd at ground level and gradually sloped tiers of seats in an open-air baseball stadium meant a lot of crowd noise was lost on the televised show, with only the biggest reactions of the night coming across well. Additionally, wrestling fans have got used to elaborate stages and ramps for the "big four" events over the years. The Royal Rumble set up missed both of these. The video wall on the stage, used to great effect when introducing surprise entrants, was missing – although wide shots show a replacement elsewhere for the crowd to see – with wrestlers appearing from steps behind an LED wall. However, none of that put a dampener on what was a solid show from top to bottom.
Roman Reigns vs. King Corbin – Falls Count Anywhere
The video recap of what lead to this match was aired during Roman's entrance. The commentators put this across by mentioning Reigns had to watch on the video screens while waiting for Corbin. For a casual viewer, the recap didn't do much to explain why these two men had got to this stipulation –it seemed as though it was based on one incident involving dog food rather than a culmination of a few week's work.
As expected the early going was slow and methodical, with lots of slaps and punches, and fighting through the crowd. After hitting Reigns with the ring bell, Corbin chokeslams Corbin onto the German announce table, which doesn't break, for a 2 count. Reigns comes back, but Corbin counters a Superman Punch with another chokeslam, this time breaking the Spanish announce table, again for a near fall. They fight to the "International Row" of less-prestigious announce tables, who prove to be just as vulnerable to destruction as Reigns puts Corbin through two with Samoan Drops (the second time without clearing the equipment, so Corbin lands awkwardly on a monitor), but it's not enough to get the win.
Robert Roode and Dolph Ziggler interject, attacking Reigns in the technical area, but The Uso's even the odds. Jimmy dives off a balcony onto Roode, Ziggler, and Jey Uso. Reigns locks Corbin in a porta-loo (conveniently the only one on a wheeled trolley) and tips it over before they fight onto the roof of the dugout. Reigns finally hit a Superman Punch and a Spear for the win.
This match did exactly what it was supposed to do – put Roman Reigns over as a force to be reckoned with ahead of the Royal Rumble match itself. The commentators, especially Corey Graves, played on this with repeated references to how they would cope later in the night. This was a steady contest, and you believed either could win. While they could have made more of the stipulation, it was a decent opener and seemed to get the crowd ready for what was to come.
Women's Royal Rumble Match
The first of the two centrepiece matches came next, following the traditional reading of the rules. Alexa Bliss and Bianca Belair drew the first two slots and put on an excellent display of trying to eliminate each other early on. Graves on commentary did a great job of explaining the unfamiliarity Bliss might have with Belair due to Bianca being on NXT, pushing Bianca (and the rest of the NXT contingent throughout the match) as a difficult-to-prepare-for threat for the "main" roster.
The next entrant brought a pop from the audience, with Mighty Molly joining the fray as the first surprise entrant of the night. Lana entered and shut off her music to talk about herself (and her marriage to Lashley). Lana didn't last too long though as Liv Morgan (entering at #7) eliminated her within seconds of hitting the ring. Liv's joy was only temporary, as an ill-judged climb to the top allowed Lana to pull her down to the floor from the outside, keeping their rivalry going. It's always good to see continuity in storytelling even in multi-person matches.
The first "elimination evasion" moment happened with Mandy Rose being thrown over the top by Alexa Bliss, only to land on the incredibly well placed Otis. After re-entering the ring, Mandy was joined by her tag team partner, Sonya Deville. We had a face-off between Sonya and Mercedes Martinez – a match I'm sure all wrestling fans need to see sometime soon – before Sonya and Mandy eliminated Mercedes.
Belair continued her march towards the new elimination record in a women's Rumble match, dispatching Mighty Molly, Nikki Cross, Candice LeRae (a ridiculously impressive press-slam elimination), and both Sonya Deville and Mandy Rose. Once again, Otis caught Mandy to prevent her elimination, only for Sonya to land on them spilling all three to the floor. Bianca tied the record when she threw out Tamina, before beating it cleanly by removing Dana Brooke.
Alexa Bliss avoided elimination a few times, including hanging on to Belair's hair to prevent leaving the apron. Ultimately, a tug of war between Bliss and Belair – using Bianca's hair as a rope – allowed Belair to whip Bliss into the ring post on the apron, tumbling her to the floor. This was Belair's eighth elimination of the match.
Bianca was left alone to face the entrance of Charlotte Flair, who was followed by the returning Naomi (to a huge pop from the crowd) and Beth Phoenix. Belair was eventually eliminated by Charlotte. Both Phoenix (head) and Charlotte (nose) bled during the match. Kelly Kelly was a surprise entrant and received a pop for delivering a Stink Face to Toni Storm.
Naomi decided to one-up Mandy's elimination evasion by leaping from the apron to the ring barrier. A brief wander around the announce tables soon saw her improvise by building a bridge between the announce desk and ring steps with the lid of the desk, and run across to re-enter the ring.
Santina Marella made a surprise return at #29, but very quickly ended up between a very angry Beth Phoenix and Natalya. Solution? Delivering a Cobra strike to herself, going over the top rope to the floor.
The last entrant was Shayna Baszler, who went on a rampage, throwing out Xia Li, Tegan Nox, Zelina Vega, Shotzi Blackheart, Carmella, Toni Storm, and Naomi. After Beth Phoenix eliminated Natalya – a wonderful call back to 2018 when Natalya threw Beth out – Shayna dispatched Beth to almost instantly equal Bianca Belair's new record of eight eliminations.
The stand-off between Charlotte and Shayna at the end of the match received a huge roar of appreciation from the crowd, and it seemed as though Shayna was the underdog favourite. However, quick thinking from Charlotte to hook her legs around Shayna and pull her over the top to counter an elimination attempt led to Charlotte winning the Rumble match.
Overall, this match did everything it needed to. It continued storylines, showcased some faces from NXT who may have been new to the casual audience, and had some excellent surprise appearances. There's an argument that using Santina Marella was in bad taste, and some of the commentaries from Lawler and Graves felt incredibly outdated, but the in-ring work was spot on from everyone involved. We do need to see Sonya Deville against Mercedes Martinez though. Come on WWE, sort it out!
Bayley vs Lacey Evans – Smackdown Women's Championship
Bayley enters on day 247 of her record-breaking championship reign.
Early in the match Bayley attempts some tried and tested heel tricks, including interfering with the turnbuckle to distract the referee, and feigning an injury to her leg.
Throughout the match, the commentators refer to insults from Bayley to Lacey's family. Bayley controls the match with reverse chin locks and shuts down repeated attempts from Lacey to mount a comeback. Evans eventually does fight back but misses with a plancha to the outside, and Bayley drives Lacey spine first into the barricade right in front of her husband and daughter.
Back in the ring, Lacey goes for a double-jump moonsault, but Bayley gets the knees up and rolls Evans up to retain her title.
Bayley's tactics were straight out of the 90s heel playbook (presumably intentionally) and her demeanour throughout suggested it was merely a formality for her. This was the shortest match of the night (including the pre-show), and the crowd seemed largely disinterested. They didn't really buy into Lacey as a challenger, and never seemed to get behind her even on the comebacks. Overall this was a good match but was not PPV quality.
"The Fiend" Bray Wyatt vs. Daniel Bryan – Strap Match for the Universal Championship
The video recap before the match was the best of the night, highlighting not only the difference between Bray Wyatt and The Fiend but also mentioning Daniel Bryan's history with The Wyatt Family. Even the reason for the strap match being chosen by Bryan (to prevent The Fiend escaping through the ring) was clearly explained.
Bryan gets on the attack early but is shut down by a powerbomb from Wyatt. The Fiend utilises the strap regularly, whipping Bryan across the back and chest. Bryan manages to throw Wyatt to the outside and attempts a dive, only for Wyatt to catch him and slam him into the barricade. Bryan counters a Sister Abigail attempt with kicks and a running knee. Bryan uses the strap to pull Wyatt repeatedly into the ring post and then hits a running knee from the apron – but Wyatt explodes with a clothesline. Wyatt stands over Bryan on the announce desk, but Daniel delivers five low-blows and a DDT – the desk doesn't break.
Back in the ring, Bryan starts throwing Yes Kicks, alternating them with lashes from the strap. Wyatt counters a running knee with a Sister Abigail, but only for a two count. Both men trade submissions – a mandible claw from Wyatt countered into a LeBell Lock from Bryan, complete with strap in The Fiend's mouth – before Bray simply beats his way out. Bryan counters another Sister Abigail with a rollup for a near fall and hits a running knee. Bryan psyches himself up, but The Fiend stands up behind him. Bryan whips Wyatt with the straps, but The Fiend doesn't seem to feel them. Wyatt locks in the mandible claw and uses it to slam Bryan down for the victory.
Strap matches are usually a fairly straightforward affair, but the contrast in personalities between Bryan and Wyatt made this match something different. The underdog vs. monster story was told incredibly well throughout, and both men got enough offence in to look good. Even the post-match assistance from the referee crew being shrugged off for Bryan to leave under his own power (albeit crawling to start) helped sell the match. This was very well executed from start to finish and allowed both competitors to shine.
Becky Lynch vs. Asuka (w/ Kairi Sane) – Raw Women's Championship
Our final title match of the night, and another great recap of the feud before it started. The story in this of Becky's need to prove she can beat Asuka, and failure to do so in the past, sets up a reason for both competitors to be invested. Becky comes into the match on a record-breaking 293-day reign as champion.
Asuka and Becky prove they're a good matchup for each other with some excellent counter wrestling to start. Becky on the apron stops a hip attack and locks in the Disarm-Her in the ropes. Asuka hits a neck breaker across the middle rope to take advantage. Asuka locks in a submission, and Kairi Sane at ringside tries her best to convince the referee Becky had quit – this is what seconds to the ring should be there for! Becky hits a faceplant suplex from the apron to the floor, followed by a Bexploder into the barricade. Asuka drops Becky with a sit-out Fisherman's Bomb for a two count. Becky delivers an uranage slam from the second rope. Asuka counters a diving elbow strike with a lung blower, then transitions from an armbar to the Asuka Lock, but Becky makes it to the ropes. Asuka has Becky reeling with a head kick, but the ref stops her trying to get a pin to check on Becky. After Becky says she can continue, Asuka nails a few more kicks but only for a near fall. Becky prevents the green mist with a kick to the stomach, and Asuka ends up covering herself. Becky locks in the Disarm-Her for the submission win.
This was the best singles match on the card. Becky and Asuka performed their roles magnificently, and Kairi Sane's presence at ringside was a breath of fresh air. Becky's redemption against Asuka's challenge gave her more than just a title defence, and both played on this throughout. A perfect blend of wrestling and storytelling.
Men's Royal Rumble Match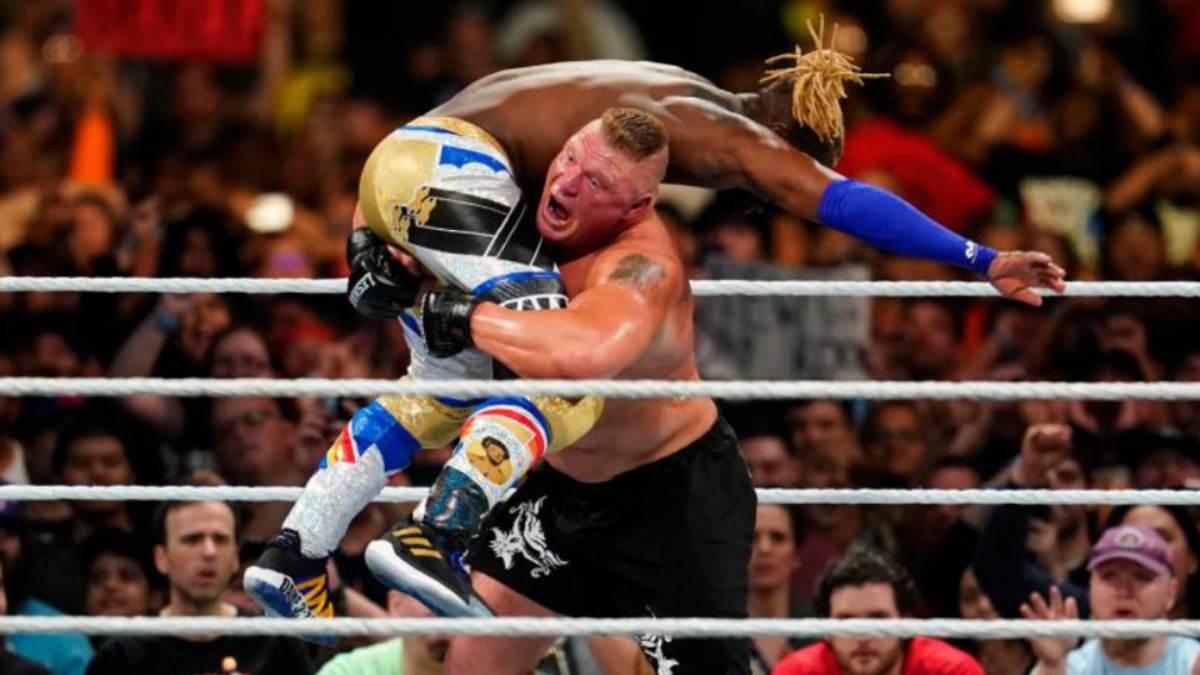 Brock Lesnar is a beast. There's no doubting that. Paul Heyman, as a manager, is a genius. There's no doubting that. The idea of there being no worthwhile challenger for Brock's WWE Championship seemed to be a step too far. But, Lesnar set out to prove it. He entered the Royal Rumble voluntarily, choosing to enter at number one to outlast everyone – presumably, the idea was to give himself the night off at Wrestlemania if he won the Rumble.
Someone really needs to tell Elias that it's not a great idea to provoke Brock. Calling him a "brain-dead gorilla" over a microphone wasn't the brightest idea Elias has ever had (and he's had some bad ones in his time). Lesnar delivered this lesson by attacking him outside the ring, then quickly eliminating him after a guitar shot to the back.
This was the start of the Brock Lesnar show. Erick Rowan lasted eight seconds. Robert Roode took an F5 before going out. John Morrison was ejected with a belly-to-belly in nine seconds. Kofi Kingston was the first to survive long enough for help – first from Rey Mysterio, then from Big E. A three-on-one beatdown, complete with Trouble In Paradise, Big Ending, and a 619 were not enough – Lesnar catches Mysterio and throws him out, clotheslines Big E out, then F5's Kofi clean over the top to the floor.
Cesaro, Shelton Benjamin, Shinsuke Nakamura, and MVP all fail to do any serious damage, and Brock dispatches them all with ease. Keith Lee fairs a little better, with Lesnar seemingly prepared to Bask In His Glory – albeit only for a few seconds. Braun Strowman makes it a Big-Hoss triple threat, but after Lee and Strowman turn their focus to each other instead of Lesnar, both are eliminated. Ricochet manages to last long enough for Drew McIntyre to arrive. One low blow from Ricochet, and one Claymore from McIntyre later, and Brock is OUT! The look on Heyman's face is priceless.
McIntyre quickly eliminates Ricochet and The Miz before AJ Styles' entrance (at #18) seems to reset the Rumble match and provide some competition for those in the ring. Ziggler and Karl Anderson quickly add to the proceedings, before one of the biggest pops in recent WWE history.
Entry #21. Nine years after retiring due to injury, and with tears in his eyes. The legend himself, Edge steps out to a thunderous ovation, returns to a wrestling ring, and immediately hits his stride, downing Ziggler, Anderson, McIntyre, and Styles with spears.
McIntyre gets a huge pop for eliminating King Corbin. Karl Anderson and Luke Gallows hit The Magic Killer on Edge, before both taking RKOs from Randy Orton. Orton and Edge reunite, and Rated RKO eliminates The O.C.
Kevin Owens enters with a point to prove, throwing cannonballs to Roman Reigns and Edge, a pop-up powerbomb to McIntyre, and a stunner each for Reigns and Orton.
Seth Rollins is the last man out, accompanied by Buddy Murphy and the Authors of Pain. Kevin Owens and Samoa Joe meet them in the aisle. AOP attack Orton on the outside, while Murphy and Rollins attack Edge. Rollins curb stomps both McIntyre and Reigns, then eliminates both Alesteir Black and Samoa Joe with help from Murphy, and Owens with help from AOP. Joe, Black, and Owens chase off AOP and Murphy, leaving Rollins in the ring surrounded by Orton, Edge, McIntyre, and Reigns.
Rollins offers a truce to Reigns, referring back to their Shield days, but takes a Superman Punch for his trouble, followed by a powerslam from Orton and Claymore from McIntyre before being eliminated.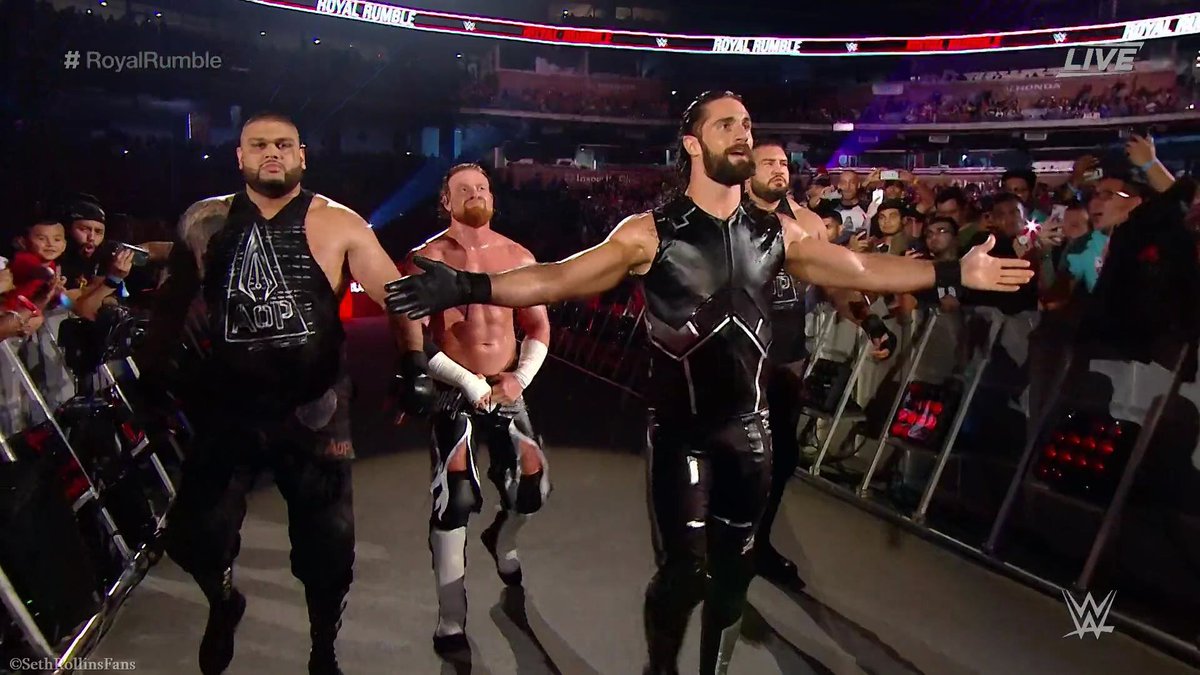 Down to the final four, Edge and Orton nail McIntyre with a double RKO. Orton gets caught sneaking up on Edge, and after a show of reconciliation, Edge eliminates Orton – proving you can't trust anyone in a Rumble. Edge eats a Superman Punch from Reigns and avoids a spear to nail one of his own. They battle to the apron, and Reigns attacks the arms of Edge to eliminate him. Roman tries a Superman Punch on McIntyre but is stopped and hit with the Claymore. Drew McIntyre eliminates Reigns to win the 2020 Men's Royal Rumble to a huge ovation from the crowd.
This was a match of two halves. The first was ultimately a Brock Lesnar ego-trip, proving that he can do what he wants, when he wants, to who he wants. His elimination still made him look strong and set up what was to come in the feud with McIntyre. The commentary team put over Brock equalling Braun Strowman's record of thirteen eliminations, although did mention Strowman did it in a 50-man Rumble, instead of the usual 30-man match.
The second half was a traditional Rumble, complete with surprise entrances – especially the huge shock of Edge's return. Edge surviving to the final three and teasing the return of Rated RKO was fantastic to witness. The crowd reaction was a lot better in the second half of the match, and the ovation McIntyre received clearly meant a lot.
Overall, this PPV didn't feel as long as the four-hour show it was. While the Smackdown Women's Championship match and Reigns vs. Corbin both fell short of the standard for the rest of the show, they managed to do what they set out to do. The Raw Women's Championship and Universal Championship matches were executed brilliantly, with both telling their relevant story completely and leaving room to either continue or move on from the feud in question. The two Royal Rumble matches were extremely entertaining, with multiple stories being woven into the matches. Most entrants had the opportunity to shine, and the winners were visibly moved by the outcome – both shedding tears of joy after their endeavours paid off.
The Road to Wrestlemania truly started with a bang at the Royal Rumble, with the question of which championship Charlotte would challenge for being asked everywhere. In the men's division, it was slightly clearer – the inevitable McIntyre vs. Lesnar match clash whetting the appetite of most wrestling fans.
Due to the nature of the Royal Rumble matches, the rest of the show can often feel like an afterthought, but the 2020 event managed to avoid this pitfall. It wasn't the perfect PPV but did everything it set out to do. Sure, it may not have been voted Pay-Per-View of the Year had crowds been allowed at the other marquee events, but it kick-started WWE's year off correctly and for that is thoroughly deserving of the accolade.