The word 'legend' gets thrown around a lot in wrestling but if there is one star who can truly lay claim to that moniker, it is Terry Funk. The southern 'rassler has dedicated his life to the sport having wrestled from 1965 up until 2017, his career has spanned 52 years – across 6 different decades. In this time, he has gone from a strait-laced wrestler to an unkempt cowboy to a deathmatch legend with his legacy always growing. The only person to work for: the AWA, NWA, WWF/E, AJPW, NJPW, ECW, ROH and TNA – we look at how the boy from the Double-Cross Ranch rose to the top of the wrestling world.
Origins of the Odyssey
Terrence Funk was born on June 30th 1944 in Hammond, Indiana. His father, Dory Funk Sr. was a wrestler and promotor – with his children Terry and Dory Jr. both entering the wrestling business post-World War 2 in Amarillo, Texas. He was taught at a young age by his father to defend the sport's honour and treat it as if real.
Terry Funk made his official wrestling debut on December 9th 1965 for his father's Western States Sports where he defeated Sputnik Monroe. Alongside brother Dory Funk Jr., Terry captured several NWA territory tag belts including the NWA North American Tag Team championships, the NWA World Tag Team championships and the NWA Amarillo Tag Team championships before the end of the decade.
Funk continued to prove himself in the 70s, winning the NWA Florida Heavyweight title, NWA Florida Television title and NWA United States title yet it was by pure luck for Terry to become a national star.
NWA World Champion
Being in the right place at the right time, in 1975 he was picked to dethrone Jack Brisco as NWA World Heavyweight champion when brother Dory did not show up. So it was on December 10th 1975 that Terry Funk beat Brisco for the NWA title with a small package counter to a Figure-Four Leglock. This set history as he and Dory (who had previously held the belt from 1969-1973) became the first brothers to both hold the NWA World championship.
Funk would reign with the title belt for 424 days. In this lengthy 14-month run, he wrestled in countries like Japan, Australia, Singapore and Canada on top of the USA. In 1976, he was ranked as Pro Wrestling Illustrated's Wrestler of The Year. After defending against the likes of Dusty Rhodes, Dick Slater, Pat O'Connor, Mr Wrestling II and Giant Baba amongst others, he would eventually lose the belt to Harley Race in February 1977 in Toronto. He would pass out following a Shinbreaker and Indian Death Leglock, forcing the referee to present 'Handsome' Harley with the title belt. During this time, he travelled many NWA territories outside of Florida as well as international promotions.
In the years afterwards, he made a further name for himself in Japan with his mannerisms and Southern American style that had similarly attracted the likes of Terry Gordy and Stan Hansen to the Japanese fans. He won All Japan's World's Strongest Tag Determination League with brother Dory in 1977, 1979 and 1982. Funk even released a soft-rock album titled 'Great Texan', mostly aimed at the Japanese audience in a record Funk himself has stated his displeasure with.
Making It To The WWF / WWE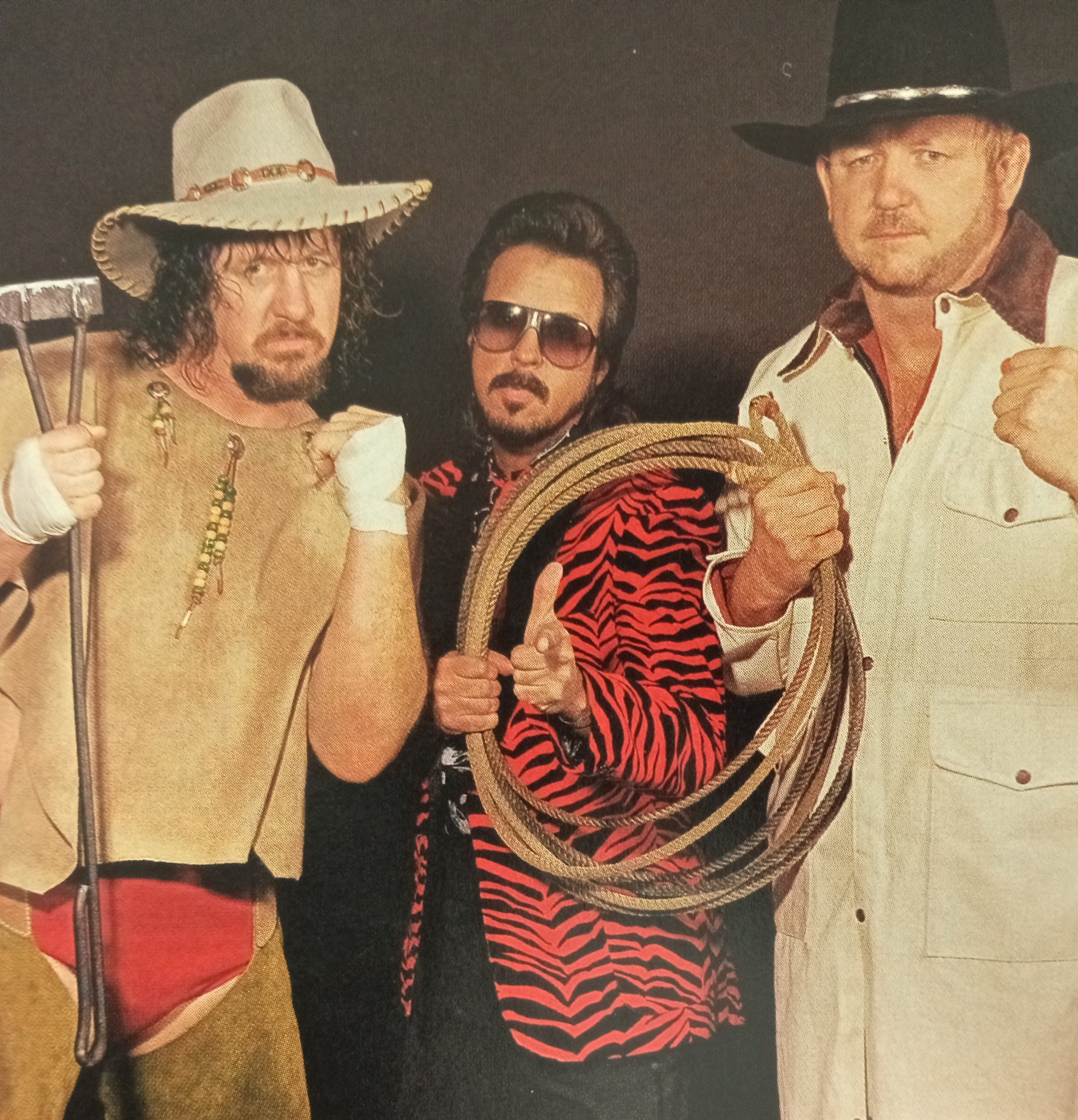 Funk's debut match saw him beat long-time enhancement talent, Aldo Marino, on an episode of Championship Wrestling in 1985 and immediately displayed his violent behaviour as Funk beat up a member of ring personnel (Mel Phillips) just for wearing Terry's cowboy hat. Alongside manager Jimmy Hart, Funk soon became a mega-heel; with a cowboy hat, chewing tobacco and wielding a branding iron. He engaged in a feud with WWF Champion Hulk Hogan on the 4th Saturday Night's Main Event. This bout gave the Hulkster one of his greatest matches, one which he won with his Japanese finisher the Axe Bomber clothesline. Funk also gave Hogan another great match when Hulk and the Junkyard Dog beat the Funk brothers. The Texans proved to craft the match, moving over the weaknesses of JYD and the WWF champion in a match at the 6th SNME.
In one of the best matches of the WrestleMania 2 card, we saw a surprisingly ahead of its time brawl as Dory and Terry beat the formidable duo of the Junkyard Dog and Tito Santana. A match featuring an early table spot ended when Terry pinned JYD after a well-placed megaphone shot. Funk would compete in The Wrestling Classic, the huge tournament PPV in 1986 long-forgotten by many fans, however, would lose in the first round by count-out after backdropping opponent Moondog Spot into the ring.
He went back to AJPW but would make a WWF appearance in 1987 defeating Chavo Guerrero Sr. at the Paul Bosch Retirement Show.
Back To The NWA
At WrestleWar 1989, Funk acted as a judge in the NWA World championship match between titleholder Ricky 'The Dragon' Steamboat and challenge Ric Flair. In yet another wrestling clinic between the two of them, 'The Nature Boy' finally defeated Steamboat after the Hawaiian technician triumphed in their previous bouts. After the match, Funk asked for a title match but Flair refused due to Funk's time away in Hollywood (where he starred in Patrick Swayze's 'Roadhouse'). An angered Funk launched an attack on Flair including a rare-for-the-time piledriver onto a table. This attack was such that it effectively stopped the Steamboat feud and turned the new NWA champion face.
They had an NWA title bout at The Great American Bash won by Flair after countering a small package into one of his own. After the bout, The Great Muta attacked Flair only to be fended off by Sting. Now a member of Gary Hart's J-Tex Corporation, Funk memorably tried to suffocate his foe with a plastic bag after 'The Nature Boy' and Sting beat Muta and Dick Slater. Funk again fought Flair for the belt, this time in an I Quit Match at the 9th Clash Of The Champions instalment – a match rated 5 stars by Dave Meltzer. Flair forced the Texan to quit, winning the match and forcing Funk into a non-wrestling role within WCW for a while before leaving to wrestle in the USWA – and yes, as you probably guessed the Flair/Funk matches were very bloody encounters!
Time Away From WCW
In the early 90s, Terry Funk went into a character overhaul, his character becoming more cemented in the extreme, hardcore brand of wrestling. He had runs in more independent promotions such as Japan's Frontier Martial-Arts Wrestling (FMW) and Jim Cornette's Smoky Mountain Wrestling (SMW) but perhaps most significantly a small, unrefined Philadelphia then known as Eastern Championship Wrestling.
Funk was at the very first ECW TV taping back in a time where the promotion was drastically different with a match ending in a count-out and The Sandman portraying a surfer dude gimmick. At an ECW show titled Bloodfest, Funk defeated Jimmy Snuka for the TV title, but would quickly lose it in a Winner Takes All tag match in which Funk was pinned by Sabu after the Funkster had been turned on by partner King Kong Bundy.
However, Funk would bounce back on Boxing Day, capturing the ECW World title from the Arabian from Bombay, Michigan when beating Sabu for the belt at Holiday Hell. Funk held the belt for several months, depending on a few occasions before dropping it in a WarGames tag match at Ultimate Jeopardy to Shane Douglas. During Douglas's reign, ECW went under a huge alteration when 'The Franchise's ditching of the NWA World Heavyweight title planted the seeds for Extreme Championship Wrestling. Funk would continue to occasionally wrestle for the organization for the next few years fighting everyone from Bobby Eaton to Cactus Jack to Brian Lee. He memorably was involved in moments like the infamous ECW arena fire and the Hardcore Heaven 94 chair burial.
WCW-Bound
In 1994, Terry Funk made his return to WCW. He wrestled Tully Blanchard to a double DQ at WCW nostalgia show Slamboree '94 – A Legend's Reunion. He started up a tag team with another noted brawler in that of Buckhouse Buck. At Bash At The Beach (the show known for Hulk Hogan's WCW debut), Arn Anderson turned on Dustin Rhodes to join up with the faction before being joined by manager and Buck's real-life cousin Colonel Robert Parker. This all led to a WarGames bout at Fall Brawl 1994 in which they faced The Nasty Boys, Dustin and Dusty Rhodes. Funk left soon after being replaced by old J-Tex ally 'Dirty' Dick Slater.
King of the Deathmatch; Terry Funk Vs. Cactus Jack
Terry Funk became internationally renowned for his work in the mid-90s where he made both his own and opponent Mick Foley's careers in the IWA King Of The Deathmatch tournament. Many of these brutal, hard-to-watch matches featured spots that had scarcely been done to such a shocking extent. Whether this is Foley being pushed off a ladder onto ring ropes made only of barbed wire or Funk landing back-first onto exploding barbed wire boards, they were horrific displays of devotion to the business – and crafted the image of Funk we likely first think of today.
Perhaps the single most definitive moment in Terry's career took place on April 13th 1997 at ECW's first PPV, Barely Legal where he won the ECW World Heavyweight championship.
First, we saw a triple threat qualifier match that Funk was not even originally in until protégé Tommy Dreamer gave up his space to the Amarillo cowboy out of respect. Funk even in his mid-50s hit a moonsault off of a ladder – middle age and crazy indeed!
He outlasted Stevie Richards and pinned The Sandman whilst wrapped in barbed wire to win.
Raven seemed to pick up the scraps but with the aid of Dreamer and a well-placed small package roll-up, Funk became the oldest titleholder in ECW history. A truly great ending to the promotion's first large-scale showing in a PPV that seldom was.
Funk would defend on some super cards and PPVs such as WrestlePalooza and Heat Wave before dropping it to Sabu in at Born To Be Wired in a match where Sabu's bicep was torn open by a botched spot on the wire but despite his gruesome injury, The Sheik's nephew taped himself up and continued the match.
In 1997, Terry Funk had his retirement show Terry Funk's WrestleFest in what would be one of many non-retirements. In the main event, he lost to then-WWE champion Bret Hart and was presented by ECW booker Paul E. Dangerously with a belt and declared him the Lifetime ECW World Heavyweight champion. Funk's retirement lasted all of 11 days.
WWF/WWE… Again – Terry Funk AKA Chainsaw Charlie
After touring Japan and the US, he landed back in the WWF. He debuted by coming out of a box with pantyhose over his head and frantically wielding a chainsaw. He was no longer Terry Funk, he was Chainsaw Charlie.
He fought Mick Foley (as Cactus Jack) on an episode of Raw, with the result being the two men thrown off the stage inside a dumpster. They main-evented In Your House: No Way Out Of Texas before beating Gunn and Dogg for the World Tag Team titles at WrestleMania 14 but lost them back the next night. Funk would lose to Mark Henry in the 1998 King Of The Ring tournament and formed some long-forgotten teams with both 2 Cold Scorpio and Justin Bradshaw.
Funk was set to have another ECW run and made several appearances attacking Tommy Dreamer but illness stopped him and he retired.
WCW's Hardcore Hero
Funk returned to WCW and immediately fought some of the biggest names in the company at that point such as Bret Hart, Kevin Nash and Ric Flair. After several PPV showings proving Funk could still go, he won the Hardcore title at Spring Stampede 2000 winning the vacant title by beating Norman Smiley before retaining it at the next PPV, Slamboree, against Smiley and Ralphus. Overall, he would hold it 3 times. His fights were often filled with chair shots to the head with the most memorable moment seeing Funk get kicked full force in the arm by a horse during a match with Chris Candido on Thunder.
He also won the US belt for the first time in 25 years, defeating Lance Storm in a house show in Amarillo although lost it back extremely quickly. His last match took place at the Sin PPV (WCW's last) where he dropped the United States belt to Meng.

TNA, XPW, NJPW, AJPW & Other Indies
Funk was a common star on shows for Ring of Honor and Major League Wrestling; his TNA appearance saw him twice face The Gathering (CM Punk and Julio Dinero). Ultimately, in the early 2000s, he also appeared for the short-lived XPW, AJPW, NJPW and JCW amongst others.
He was offered a role on WWE's ECW tribute show One Night Stand 2005 but could not show due to a previous booking commitment to appear on a similar event – Shane Douglas's Hardcore Homecoming. However, he would show up the next year where he rekindled his rivalry with a freshly-heel Mick Foley. At the event he, Dreamer and Tommy's wife Beulah lost to Foley, Edge and Lita. Funk was taken out halfway through due to an eye injury from a barbed wire spot but returned with a bloody cloth over his eye to knock Foley through a barbed wire board with a 2×4 that was set on fire.
He announced semi-retirement after a match with Jerry Lawler in 2006. In 2010, his eardrum was damaged when Hannibal slapped Terry to promote Funk's involvement in a match between Hannibal and Kevin Nash. He appeared for PWG, being last eliminated from a battle royal by Roddy Piper. He believed a 2011 bout against 'The Innovator of Violence' Dreamer would be his last. Aged 68, he announced retirement in 2013. He announced another one at House of Hardcore 17. Finally, his last match to date took place in 2017 in a 6-man tag win at the age of 73.
Funk was inducted into the 2009 class of the WWE Hall of Fame alongside brother Dory, being inducted by Dusty Rhodes. He would later go on to induct Mick Foley. Funk made his last WWE appearance a year before his last match to date, gifting Dean Ambrose a chainsaw before 'The Lunatic Fringe's street fight with Brock Lesnar at WrestleMania 32.
Unfortunately, as announced by Ted DiBiase on Twitter in 2019, Funk's wife Vicky passed away. Luckily, however, Funk survived a fight with Covid-19 in 2019.
It was announced in July 2021 that Funk was suffering from dementia and was living in residential care, to a huge outpouring of support from the wrestling community.
The Life Of A Legend
Funk's life is one filled with toughness, dedication and heartache. One of the very best to lace up a pair of boots, it is fitting we take time to remember a man whose legacy may live forever but whose body won't.
Although becoming a running joke for his knack for retiring then unretiring, Funk is perhaps the most respected wrestler on Earth today. Wrestling for nearly his whole life and making it his only goal, he has perhaps given more to the wrestling world than anyone else in the last quarter of the 20th century. A true icon and revolutionary, Terry has won belts everywhere and appeared at pretty much every wrestling promotion of his time including the AWA, WWF/WWE, WCW, ECW, NWA, TNA, ROH, SMW, NJPW, AJPW, USWA, JCW, PWG, MLW, IWA, XPW and everywhere in between.
It is more than likely that the hardcore legend will be looked back on as one of the greatest for future generations. So for all he has done to aid new companies, make careers and alter the business – he's to you! Thank you for your service, Mr Funk.