On the 27th October 2021, ROH (Ring of Honor) announced that after their Final Battle show they would be doing a hiatus for the first quarter of 2022, along with this it's been confirmed that effective immediately, everyone in ROH is being released from their contracts by the end of Final Battle, and they can take bookings effective immediately. ROH Releases Everybody. This list isn't a top 10 per se, but just a list of 10 wrestlers who to me stand out, also I will be including tag teams and stables as one entry because I see them as a unit. MY LIST, MY RULES.
---
1: Rok-C to NWA:
First on our list of ROH Releases is Rok-C (The Prodigy). She got a pretty decent social media buzz in 2021 when she became the first-ever and so far, only ROH Women's World Champion as well as being the youngest champion in ROH history at 19 years old.
I think that she would be an excellent addition in the NWA, with her first feud being against Kamille, it isn't necessary for her to win, but they should make her a player for the title immediately, she's that good.
---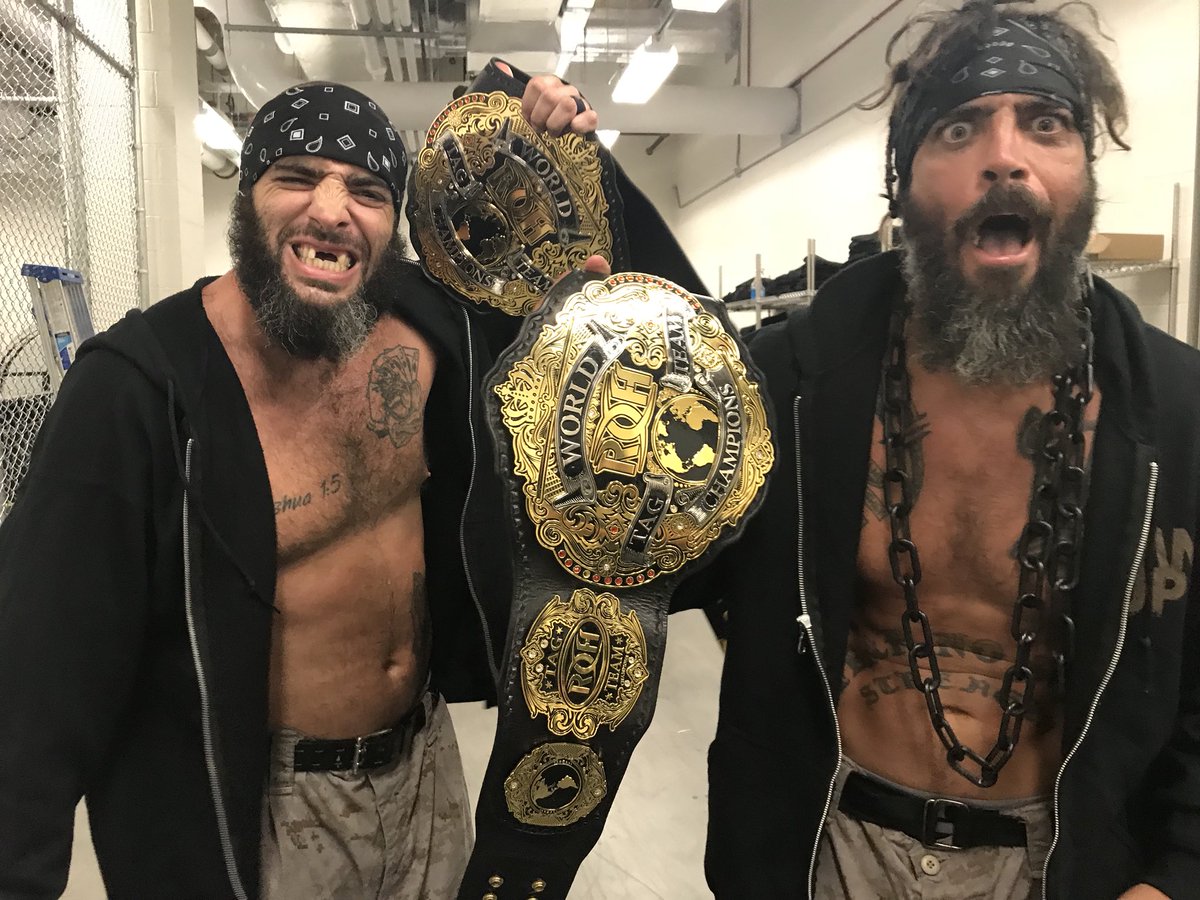 2. The Briscoes to NWA:
Mark and Jay Briscoe are the most accomplished tag team in ROH history, having been in the wrestling business as a team since the year 2000 and have very much been ROH OG's since the companies inception in 2002, minus a 2-year break from 04-06. Personally, MLW would be a great place, they could still do the light schedule they enjoy while also being used as a legends tag team, a team that could always be used to work with younger teams as well as established teams.
In terms of a feud, they could have their first feud be against The Von Erich's (Marshall and Ross) as both teams would undoubtedly tear the house down. Could be one of the best ROH Releases out of the lot.
---
3. Max the Impaler to IMPACT:
Max only recently signed with ROH but made a big impression in the ROH Women's World title tournament only losing to Angelina Love by DQ, They have a unique look that would work well in IMPACT Wrestling and they could easily start feuding with almost anyone in the Roster, but I personally feel that the first feud for them would be against Jordynne Grace for the Newly created Digital media Championship, but really they would fit in very well across the entire IMPACT Roster.
---
4. Shane Taylor to WWE:
Shane Taylor joined ROH in 2017, and in those four years, he has been used regularly, having won the ROH Television championship and is one-third of the ROH Six-Man Tag team champions. I feel he would do well in WWE, he's big and quite young at 35. His first major program could be wrestling for the NXT North American title, or Wrestling Ciampa for the NXT Title. Either way, he would be a welcome addition to NXT 2.0.
---
5. Quinn McKay to IMPACT:
Quinn McKay from what I've seen has generally been a backstage interviewer but recently has also been wrestling part-time, though she start wrestling in 2018, AEW would be a great place for her to go, being multi-talented could lend her to starting out backstage interviewing to eventually coming back to wrestling against a natural antagonist, that antagonist being, Deonna Purrazzo.
A fantastic first feud, against the cornerstone for the Knockouts Division. Quinn is the plucky underdog against the crafty and dastardly Virtuosa.
---
6. Danhausen to AEW:
I don't know much about Danhausen, I saw him pop up one day on my Twitter feed, what I can say though, is he has a unique gimmick that with some tweaking like with Orange Cassidy could easily work with the AEW audience. Regarding his first feud, I could see him having a good first feud against Malakai Black in a match to decide who's the most Evil. Eventually, I could see him joining Orange Cassidy as a tag team called "Very Nice, Very Whatever." Out of the ROH Releases, he has the most buzz.
---
7. RUSH to AEW:
This is an easy one, RUSH is a former stablemate of Andrade, both were founding members of Los Ingobernables in CMLL back in 2014. RUSH could easily join Andrade and they could reform a variant of this group or RUSH could also bring in the other members of Los Faccion Ingobernables to form a supergroup to feud with The Inner Circle, it would certainly set the bar high for them and put them in a good place with at least two top-level stars who could easily vie for AEW world championship. RUSH is one of the ROH Releases that could fit into any company.
---
8. Jay Lethal and Jonathon Gresham to IMPACT:
Both these wrestlers have been part of the foundation tag team in ROH, both have had very accomplished careers in ROH, Jay Lethal being a 2x ROH world champion among other titles and Gresham has won the ROH Pure champion once and held the tag team titles with Jay Lethal. As a first feud goes, that's easy, have a feud with The Good brothers for the tag team titles. Maybe eventually both could have great singles runs in The company, maybe Jay Lethal could finally win the World title he was never able to during his first major run there.
---
9: Session Moth Martina to AEW:
Martina is the life of the party, and has a lot of experience, having wrestled for over a decade in numerous promotions including WXW and Stardom. AEW would be a great place to go and have a great feud with Britt Baker and to the side Jamie Hayter, as the two were former stablemates in Stardom (I recall). It's bants to grind on and hire ROH Releases, right?
---
10: Bandido to WWE:
Bandido is the current ROH World Champion, having beaten RUSH to win it. He is everything they want, he's charismatic, he's a big Mexican star and he has a mask they could sell in droves to kids. He could very easily have a friendly feud with Rey Mysterio, imagine how fantastic that would be. I don't know the ceiling, but he would easily be able to replace Rey as a Mexican star if booked correctly… and kept away from WWE NXT.
---
There you have it 10 stars and tag teams and where they could go. Hopefully, ROH does restart and starts hiring wrestlers again. As to lose this company would be a sad moment in wrestling history. The more companies for wrestlers to go to, the better it is for professional wrestling.