Randy Orton became a tag team champion for the third time in his career when he and Riddle claimed the Raw Tag Team Championships at Summerslam. The Viper is one of the most decorated wrestlers as a singles competitor in WWE, but he has often turned his hand to tandem wrestling. As the 14-time world champion prepares to defend the tag straps with Riddle, we take a look at Randy Orton's Tag Team Partners!
---
Randy Orton's Tag Team Partners: Rated RKO with Edge
When you think of Randy Orton in tag team wrestling, the first partner that comes to mind for most people will of course be Edge.
Rated RKO was formed in October 2006, with Orton and Edge's combined hatred for Triple H bringing them together.
The Rated R Superstar and Orton formed at a time where the tag team division in WWE was dwindling, with the only other champions in 2006 being the Spirit Squad and the team of Ric Flair and Roddy Piper.
The team injected some much-needed life into the tag team division, with a feud against Triple H and Shawn Michaels adding some much-needed star power to the division.
The only surprise when it comes to Rated RKO is that they only had one tag team title run and that it only lasted 77 days before losing the belts to the team of John Cena and Shawn Michaels.
Rated RKO would inspire feuds throughout debut even as late as 2021, with the feud between the two men being reignited following Edge's return from retirement.
---
Randy Orton's Tag Team Partners: RK-Bro with Riddle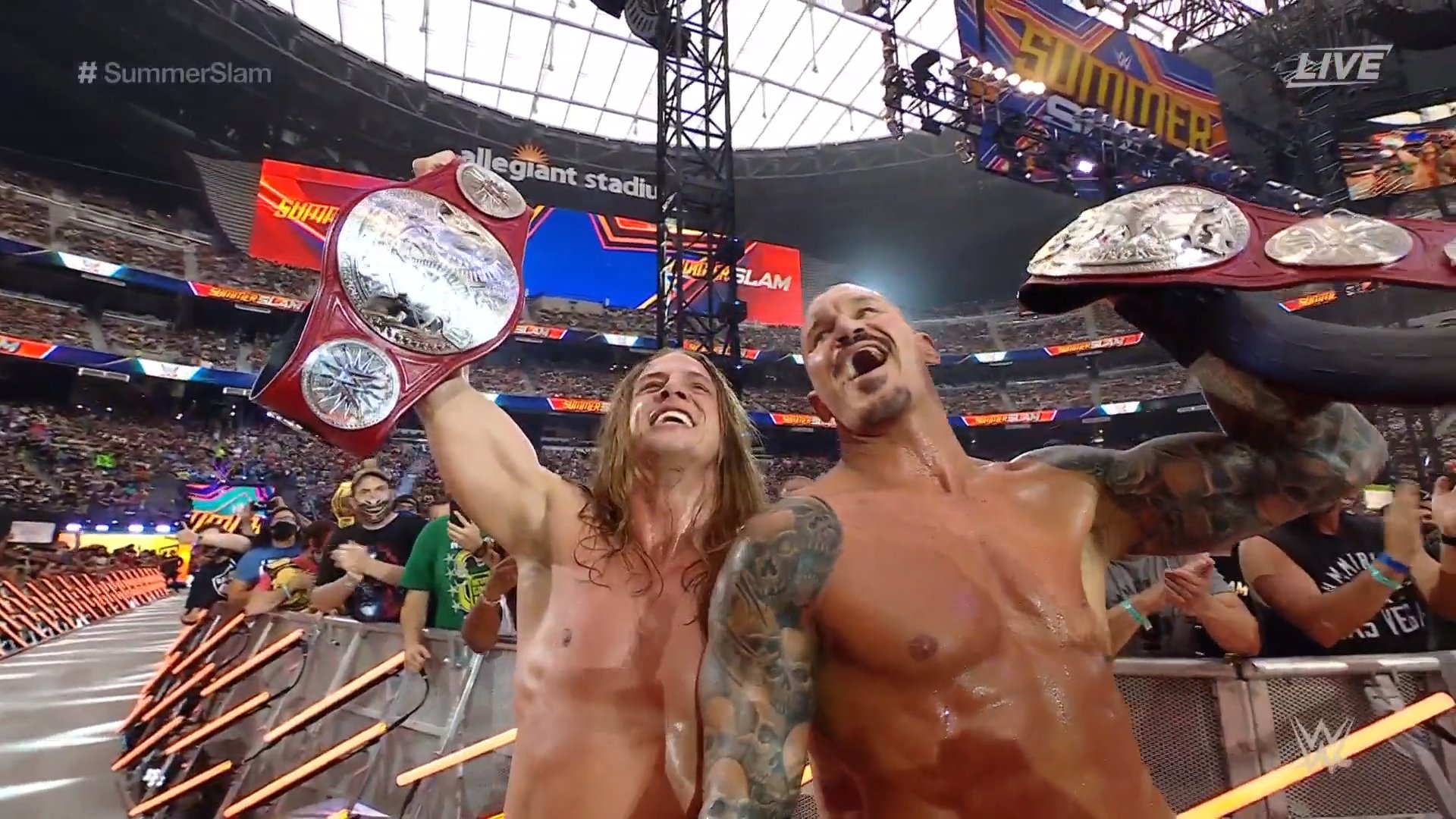 Despite the partnership of Riddle and Orton only forming this year, it is already promising to be one of the highlights of Orton's career.
The team first formed in April 2021, with RK-Bro defeating Cedric Alexander and Shelton Benjamin of the Hurt Business in their first match. RK-Bro remains undefeated on TV as a unit, defeating AJ Styles and Omos for the Raw Tag Team Championships at Summerslam this year.
The odd couple relationship of Orton and Riddle has been one of the highlights of WWE television this year and is helping Riddle to become a star.
The eventual breakup and the feud between the two men are worthy of the Wrestlemania stage and will help to further establish Riddle, such is the good work of Orton.
---
Randy Orton's Tag Team Partners: Bray Wyatt & Luke Harper
After Orton lost the World Tag Team Championship in 2007, no one would have thought that he would have to wait nine years before getting another taste of tag gold.
Orton would join the Wyatt Family in 2016 and it wouldn't take long until he and Bray Wyatt would defeat Heath Slater and Rhyno to become the second Smackdown Tag Team Champions.
But the Family would only hold the belts for just 23 days, with Luke Harper this time teaming up with Orton. They would drop the belts to American Alpha in a Fatal Fourway Elimination tag match.
Orton and Wyatt would be defeated again by American Alpha before Harper began to dissent from the group.
Orton won the Royal Rumble and Wyatt would win the WWE Championship shortly after, setting up a match, that would become infamous, at Wrestlemania. Harper and Orton teamed against Wyatt and Rowan in the build-up to Wrestlemania.
Although this lead to a Wrestlemania match that is no longer remembered fondly, it did spark years of feuds between Orton and Wyatt as well as producing some high-quality tag team action.