WWE is in the throes of an unexpected upheaval. Unprecedented times have shaken out a lot of long-standing problems. So much so, that they now have to take time and fix them. Meanwhile, Nia Jax and Shayna Baszler have been all over the WWE Universe toting the Women's Tag Team Titles. It's as if they're planning to show up on Impact to challenge Kenny Omega and Rich Swann soon. Who would have thought they'd be the pioneers towards gender inclusion. They've made multiple appearances on WWE's major brands and even make time for RAWTalk and Talking Smack. So, why hasn't their WrestleMania match been booked yet?
---
Political correctness, like so many things in the WWE, is honoured at a bare minimum. So, one can imagine that these new "enlightened" times have been very difficult for them to adapt to. Nevertheless, the women have evolved from Playboy hopefuls to legitimate wrestlers and when one considers this, Nia Jax and Shayna Baszler make the perfect pairing.
Jax, coming from wrestling aristocracy and showing us how big can be beautiful, demonstrates strength on many levels. Alongside Baszler's "all business and pain" persona, it's hard to think who would stop them. Yet, with WrestleMania on the horizon, they have just the Women's Battle Royal to prepare for at this point. Only the men are set for Tag Team Championship bouts.
Though disappointing from a point of principle, this isn't surprising. It's no secret WWE isn't big on tag team action so, women's tag team action has even less of a chance. There's time still to put it on the card but seeing how WWE is dragging its feet, the lack of interest is clear.
This may be why we're seeing more of Baszler and Jax outside of the ring when we see them on TV. Their personalities are strong enough to prove entertaining. When they do go to work, they've been booked to be the women to beat. Their true foes are hijinks. If all goes to plan, they win.
As believable as that is, when it comes to engaging TV it can get boring. So, how do you set them up for WrestleMania? Charlotte doubles back and joins a returned Becky Lynch? Sasha Banks does double-duty and pairs up with Bayley? Even without a premise, people are likely to watch it. Don't ever count WWE out on making this sort of move. It suits the prime directive. Say what you will, it works.
On the other hand, surprisingly, WWE has decided to allow Natalya and Tamina to let loose and bust up matches. Many fans may not appreciate this but it's a realistic approach. Some more passionate fans might use this to gripe about how they shouldn't have broken up the IIconics yet, one should admit Tamina and Natalya have the know-how. Veterans can be valid contenders. A lot of men in the wrestling world aren't hanging it up. Why can't 2 women have "twilight resurgences"? Given the backdrop, there's a good chance we get a solid match and maybe even a surprise title change. At least it's a fresh take.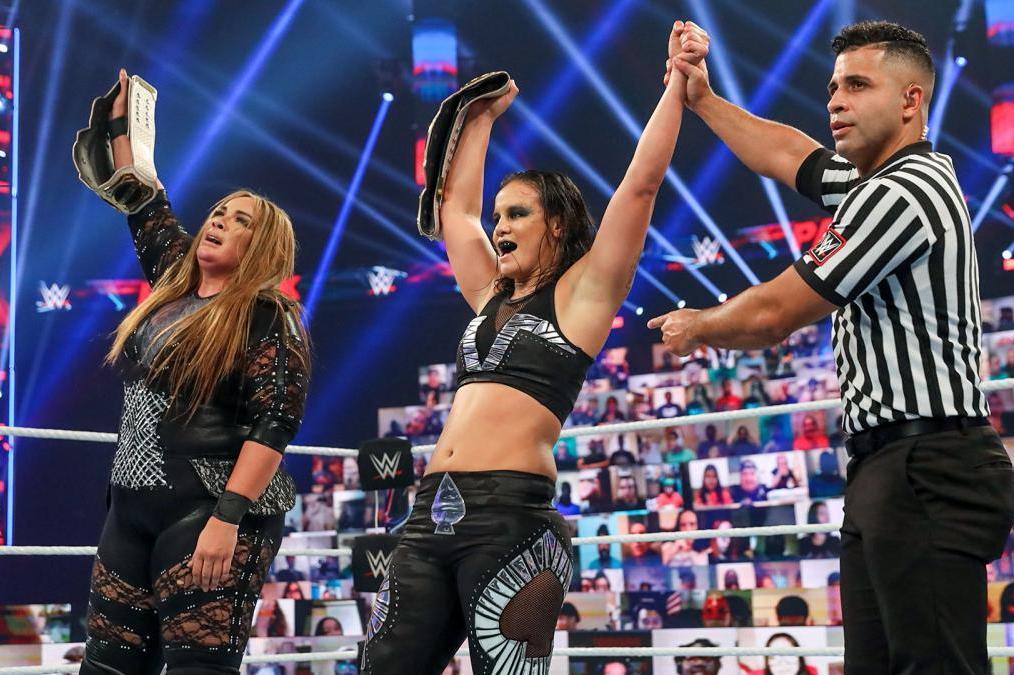 Another route is another old trick. Get some old superstars to dust off their boots. The only problem with that is it's easy to guess what happens. Even if the old-timers win, it won't be for long. This is a one-off. It's the spectacle it's meant to be and that's all. It's fine for those who only come around every so often but for the weekly warriors, that isn't exactly satisfying.
WWE could go for the jaw drop and take a right when they usually go left. They could have The Ilconics reunite or the remaining Riott Squad could suddenly put everyone on notice. Liv Morgan has been self-promoting lately. Is she just drumming up attention or is there more to it?
Whatever WWE decides, Shayna Baszler and Nia Jax have made it clear they're ready and willing. Now all WWE needs to figure out is how to make it interesting. We'll see if they get inspired.