Courtesy of WWE Home Video, Matthew Roberts takes a look at the DVD release of WWE Crown Jewel 2021.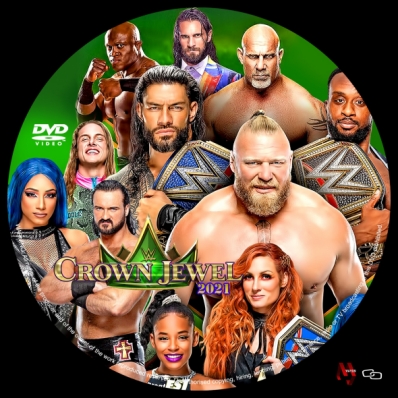 At this point, the Saudi Arabian shows are what they are.  But the WWE are hardly the only sports/entertainment product being used for "sportwashing".  If you're against the WWE taking the money, that's perfectly reasonable.  Just make sure you have the same energy with Premier League clubs, Spanish football, golf, tennis, snooker, boxing, horse racing etc. $1.5 billion buys you a lot of sports…
One thing was for sure though. Crown Jewel 2021 had a huge line-up on paper for the WWE's first Saudi event in 18 months. Two tournament finals, four title matches and Hell in A Cell were all in the line-up, including Brock Lesnar's first match since WrestleMania 36. But could the show live up to expectations? Let's find out.
We kicked the main show off with the Hell in a Cell match between Edge & Seth Rollins.  Incidentally, the match was refereed by Jessika Carr, marking the first time a female referee had taken charge of a WWE match in Saudi.  If the feud between the two didn't quite feel as if it had got brutal enough to NEED the Cell stipulation, for once we weren't too far off.  And the two certainly gave it their all and, crucially, wrestled like there was the animosity between them that warranted the stip.  This was WWE style storytelling at its best and it was easy to get lost in the action. Almost certainly the best match of Edge's comeback and the best that the Saudi shows have seen too.  A wonderful effort. 
You had to feel sorry for whoever had to follow that so it perhaps made sense that it was hometown hero Mansoor, going up against Mustafa Ali. Funny how the usual WWE "hometown" booking logic doesn't appear to apply to Mansoor who came into this undefeated on these shows and left with his perfect record intact. Obviously, this was a notch or three below the opener but it was still a solid match.  Post-match Olympic Silver Medalist Tareg Hamedi saved Mansoor from an Ali beatdown.  Most viewers at home wouldn't have had a clue who he was but it went down well with the fans on hand.
The Raw Tag Team title match pitting RK-Bro against AJ Styles & Omos was your basic, almost house show style, match that was entertaining without ever really threatening to get going.  That was followed by the Queen's Crown tournament final pitting Doudrop against Zelina Vega. What was wrong with the women's tournament would be a whole other article.  Safe to say it was one of the worst tournaments the WWE has ever seen.  Nothing to do with the wrestlers in it, as such, just that most of the matches were "blink and you'll miss it" style affairs and there seemed little rhyme or reason behind the bracketing as well.  They got six minutes here (which was more than most of the matches in the tourney) and did what they could, using the obvious size difference between the two well. 
The deep breath now, No Holds Barred Falls Count Anywhere match between Bobby Lashley and Goldberg was up next.  It's probably fair to say that we don't expect much from a Goldberg match in 2021 but if expectations were low for this one I would say that they were easily surpassed.  There was a nice intensity to this one (which befitted the storyline of Bill basically saying he would kill Lashley for attacking his son at Summerslam) and was a physical, hard-hitting affair all the way.  AND it went over ten minutes.  And love or hate Bill as a wrestler, this did have a big match feel to it and did what it had to do. 
The King of the Ring final between Finn Balor and Xavier Woods saw two babyfaces' going at it.  Which was fine, but again this was another tournament that wasn't exactly booked logically.  It was a keenly contested back and forth match that was, again, good without ever threatening to become great.  Woods was the right choice of the two for the win as well.  More babyface on babyface action was next as Big E defended his WWE Championship against Drew McIntyre.  If it felt like something of a filler (we knew Big E was staying on Raw and Drew was heading to Smackdown as per the Draft) in one sense the two didn't let that stop them from assembling a fast-paced match that did a lot to cement E's championship reign in its early stages. 
The Smackdown Women's Championship match felt big as it saw Becky Lynch defend against Sasha Banks and Bianca Belair. They were given twenty minutes or so and made the most of it to assemble a very entertaining match indeed.  There were the odd moments of awkwardness but that sometimes is how it goes in these Triple Threat matches.  Given the nature of this show, it felt like a title change was possible, if unlikely, and they did manage to keep us guessing most of the way. 
We ended with the Universal Championship match between Roman Reigns and Brock Lesnar.  Again, this felt like a big match and again due to the nature of the show whilst a title switch seemed unlikely you could never quite discount it.  My only real problem with it was the way that the Paul Heyman "whose side is he on" thing played a big part in the build up but was then kind of lost in the TV after this match as Brock was suspended from our screens.  Still, it was a very good match that had that big match main event feel.
---
All in all Crown Jewel 2021 would have to go down as the best show that the WWE have put on to date in Saudi Arabia and a very good show in it's own right.  I'd say that everything on the card had some entertainment value and the matches that really mattered delivered in the ring for sure.  It felt like a big show and for the most part delivered on that promise. 
Special Features include the Kickoff show match between The Uso's and the Hurt Business and choice highlights from the Supersized Smackdown show that preceded this PPV | 8 out of 10
Photographs courtesy of Fetch and WWE. Thank you to WWE Home Video for our review copy of Crown Jewel 2021 which is out Monday 6 December on DVD. You can buy your copy from WWEDVD.co.uk by clicking here.