The 2021 Royal Rumble has come and gone, NXT had an influence once again on WWE's annual event with seven different competitors from the black and gold brand entering their respective matches. The Rumble can be a great insight as to what WWE's future plans will be going forward, but what does the future hold for the men and women from NXT who entered this year's, Royal Rumble?
---
Shotzi Blackheart
Shotzi Blackheart entered the Women's Royal Rumble at number five, lasting 2:46 before being eliminated by Shayna Baszler.
Blackheart is currently competing in NXT's inaugural Women's Dusty Rhodes Tag Team Classic, along with partner Ember Moon, being one of the favourites to win the entire tournament.
Although this could be Blackheart's last hurrah in NXT, her recent booking has suggested that she is set to be the face of the women's division in NXT. It would be a shame to bring Blackheart to the main roster before she gets the opportunity to claim the NXT Women's Championship, a title that feels as if she is inevitably going to win.
---
Toni Storm
Toni Storm entered the Women's Royal Rumble at number seven, lasting 11:21 before she was eliminated by Rhea Ripley.
Storm was also part of the inaugural Women's Dusty Classic, along with partner Mercedes Martinez, but was eliminated in the first round by a heroic performance by Kacy Catanzaro and Kayden Carter.
Although Storm would offer something different to the women's divisions of Raw and Smackdown, she has only just made the move from NXT UK to NXT so it would be strange for her to move at this time. Toni Storm will more than likely be on the main roster within the coming years, but at just 25 years old, she has plenty of time on the clock, with what could be a great run in NXT only just getting started.
---
Santana Garrett
Santana Garrett entered the Women's Royal Rumble at number 12, lasting 4:32 before being eliminated by Rhea Ripley. The match was Garrett's first since NXT's Great American Bash, just under six months ago, a losing effort against Mercedes Martinez.
Rumours swelled over the summer that Garrett had already been called up but was awaiting her debut, so it seems like now is the time that WWE will pull the trigger on her.
Although Garrett never got to show her full potential in NXT, Garrett may well find herself better showcased on the main roster, with her energetic character fitting better with the more sports entertainment brand on Raw and Smackdown.
---
Rhea Ripley
Rhea Ripley entered the Women's Royal Rumble at number 14 and lasted all the way until the final two before being eliminated by Bianca Belair. Rhea eliminated seven other women in her 39 minutes in the match, the most of anyone on the night.
Ripley's performance in the match was yet another star-making one, is shown to be the absolute monster that she is and finally gets a small sense of revenge against Charlotte Flair. The Nightmare surely has to be set for a call up to the main roster, with a feud against Flair heading into Wrestlemania seeming the most sensible path for her to take next.
Flair defeated Ripley at Wrestlemania 36 for the NXT Women's Championship and the Nightmare seemed to lose all momentum, so at Wrestlemania 37, Flair should be returning the favour, with the Raw Women's Championship potentially on the line.
---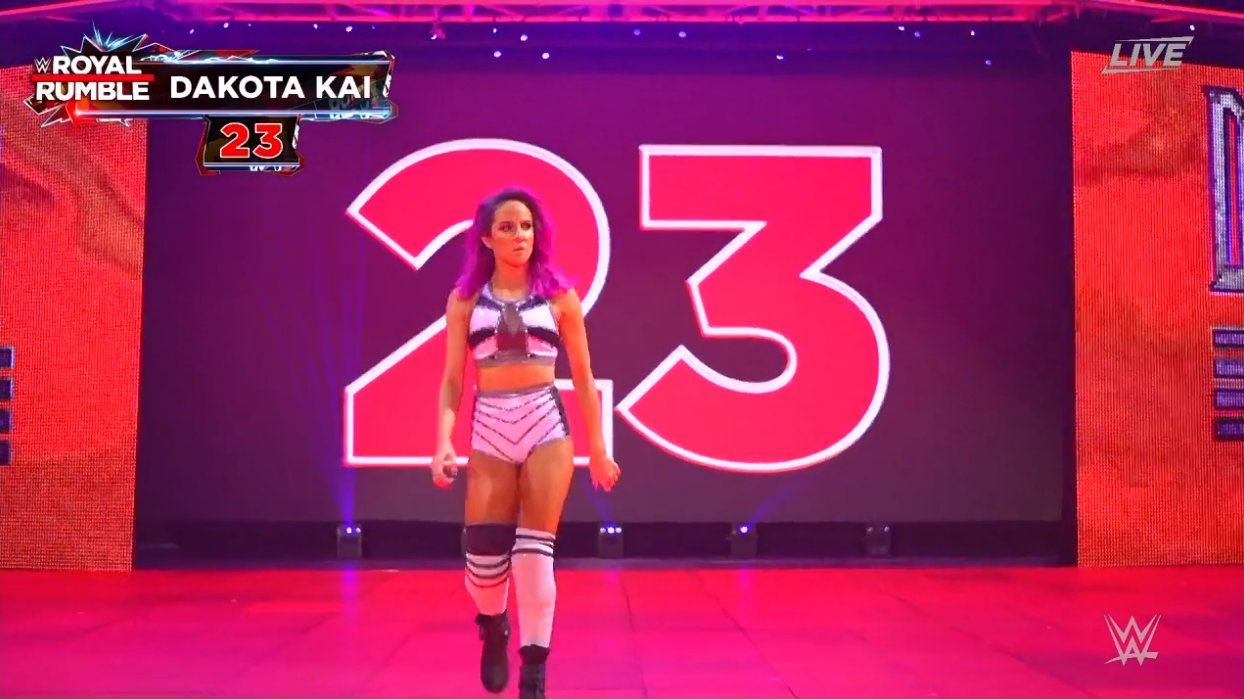 Dakota Kai
Dakota Kai entered the Royal Rumble at number 23, lasting 2:06 before being eliminated by Rhea Ripley. Since turning heel, Kai has been a highlight of NXT, particularly her work with Raquel Gonzales who she is currently chasing the Women's Dusty Rhodes tag team tournament with.
Kai and Gonzales are two of the favourites to win the entire competition and Kai doesn't seem as if she has done everything she would like to achieve before leaving the black and gold brand.
Although Kai is unlikely to make her way to the main roster before Wrestlemania, she feels as if she is someone who will be on Raw or Smackdown soon, offering top-notch wrestling ability and character work.
---
Ember Moon
Ember Moon entered the Royal Rumble number 28, lasting 1:51 before being eliminated by Nia Jax. As previously mentioned, she is one of the favourites to win the Women's Dusty Rhodes Classic alongside Shotzi Blackheart on NXT.
Moon has also only recently moved from the main roster back to NXT, so a move to the main roster at this point seems somewhat improbable. Moon may well return to the main roster eventually, but NXT is almost certainly going to remain her home for the foreseeable future. Not her first NXT Rumble appearance.
---
Damian Priest
Damian Priest was the only NXT representative in the 2021 Men's Royal Rumble, entering at number 14 and eliminating four other men before being eliminated by Bobby Lashley.
Damian Priest had a star-making performance on the night The Miz, John Morrison and Elias before having an incredible star off with Kane who he would eventually throw over the top rope. The Archer of Infamy was given a huge push on the night and is already making a mark for himself on Monday Night Raw after his performance on the NXT Rumble.