On the back of the Royal Rumble, James Klonowski gives us 10 predictions for this year's 2-Night Spectacle, Wrestlemania 37.
Prediction 1 – John Cena Will Be The Host
In recent years this has been somewhat of a regular occurrence even if it doesn't make sense. Some have done better with the role than others, but it seems just adds needless promo time to the biggest event on the WWE calendar.
With all that being said, I think Vince McMahon will turn to John Cena to host proceedings this time around. I can't see how else Cena will figure onto the card, and with his mic skills, charisma and passion, he will make the perfect compere.
With Cena acting as the show's frontrunner, it will allow WWE to get the most out of him. They can tease future big-time matches with the likes of Drew McIntyre and Roman Reigns, as well as have him interact with some of the younger talents and also bring back his Thuganomics character.
Prediction 2 – Edge Will Win The WWE Championship.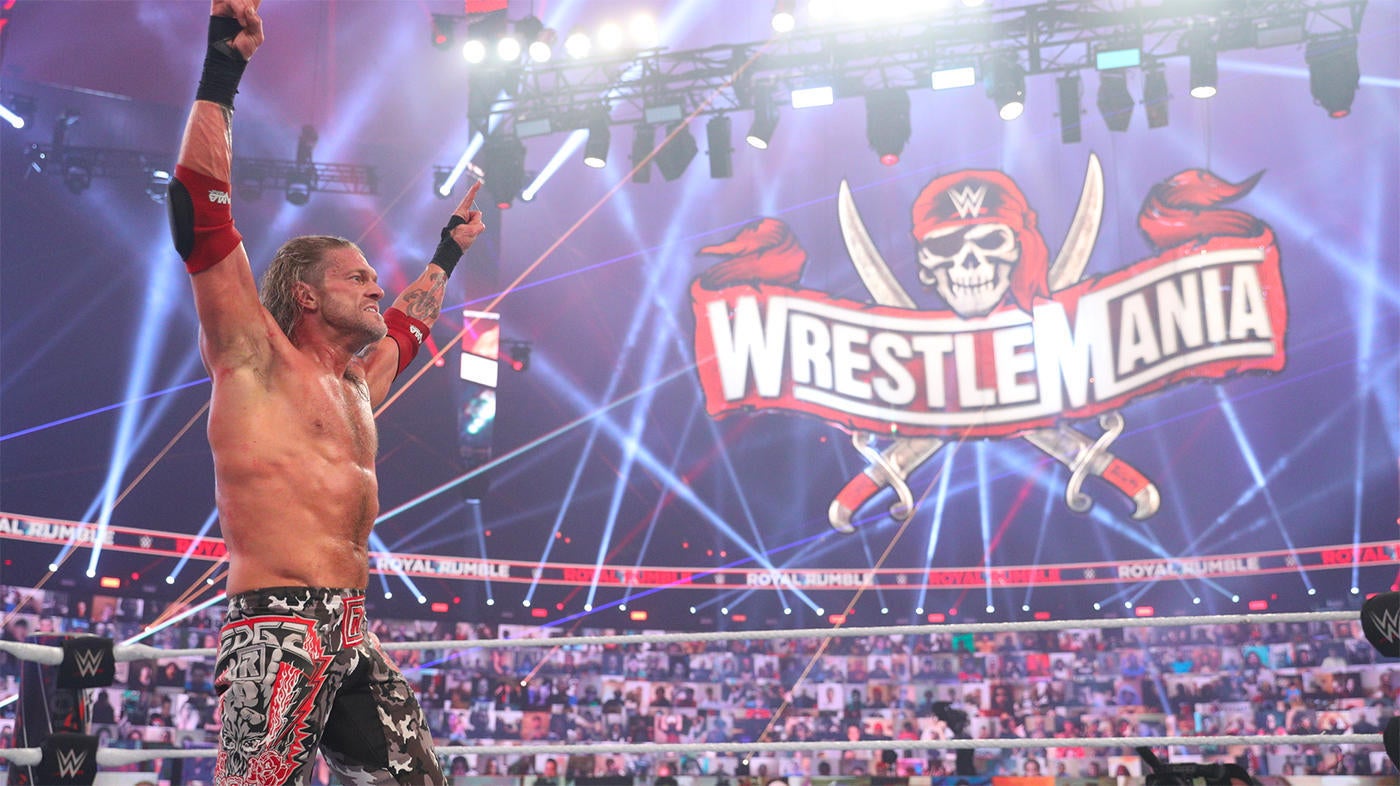 With seemingly everyone already up in arms about part-timers returning to steal the limelight from the current crop of superstars, this prediction may not go down all that well. However, we all know it's going to happen sooner or later, and I can't think of a better place than WrestleMania to do it.
People seem to forget that there is another PPV before WrestleMania and that's where I believe The Viper will strike to capture the WWE Championship and set up a huge feud-ending rematch with the Rated-R Hall Of Famer.
Edge becoming the new WWE Champion might not be something many are clamoring for but it will still be a feel-good moment to see him win back the title he was forced to relinquish due to injury. He can still go in the ring and can help elevate others while reigning as Champion before dropping the gold to someone worthy down the line.
Who will Edge pick? Check out our thoughts here

Prediction 3 – The Universal Championship Match Will Headline WrestleMania.
Yes, despite my prediction of Edge attempting to capture the prestigious WWE Championship, I don't believe it will get the main event slot. That has already been earned by the brilliant character work of Roman Reigns and I'm convinced he will close out the show. He just won't be leaving with the title.
Many think his opponent at WrestleMania will be Daniel Bryan. I guess it makes sense in the grand scheme of things, but it's just not a match that's very appealing. It seems several years too late. Bryan is yesterday's news. Of course, he still has a lot to offer, but not headlining the Showcase Of Immortals.
Roman Reigns needs a marquee opponent to cement his legacy as the face of WWE. It will not be The Rock. Not this year anyway. It definitely won't be Adam Pearce. So, who does that leave? A certain Kingslayer….
Prediction 4 – Seth Rollins Will Slay Roman Reigns.
Yes, that's right. My prediction to win the men's Royal Rumble Match this year was Seth Rollins, who has been out for the past couple of months tending to his newborn child and wife. He did make a return last Sunday, however he did not win, so I am still looking for a moment that will ultimately set up his showdown with The Tribal Chief.
Rollins will almost certainly come back as a babyface. Who else does Smackdown have on the good side of things? If he aligns with Reigns, they literally will be unstoppable, and that's no fun for anyone, except maybe for those two. He has to return to oppose Roman and look to slay another of Paul Heyman's alliances.
Their match will be the best on the card and deserves to go on last. Rollins will also go over, otherwise, his character will be dead in the water once again. This will help propel him back to the top of WWE and can continue feuding with Reigns throughout the summer. Roman is so good now he doesn't even need the title anymore. Just keep The Fiend away from Rollins. And speaking of Bray Wyatt….
Prediction 5 – The Fiend Will Face Brock Lesnar
Many people seem interested in the idea of Brock Lesnar clashing with Bobby Lashley at WrestleMania. I just don't see it as something Brock will want to do. It just doesn't seem that appealing. The winner is just too obvious, and what will anyone get out of it? Just seems a waste of time. What Lesnar should do at WrestleMania is take on the challenge of The Fiend.
They seemed likely to clash at WrestleMania 32, but an injury to Wyatt ruled him out, and Lesnar got stuck working with Dean Ambrose in a throwaway Street Fight. There's no else that makes sense for either man to wrestle if they're not going to do battle with one another.
The question is, how do we get there? Quite simple really – They have Lesnar return on Raw only to be interrupted by the eerie Bray Wyatt. The Fiend also has to go over at WrestleMania. He's lost the big one too many times to fail again.

Prediction 6 – Rhea Ripley Will Become Raw Women's Champion.
Ripley is now a full member of the main roster, and what better way to showcase her talents would her winning the Rumble bout have been, nonetheless.
Asuka is the current Raw Women's Champion, but a one-on-one encounter between the pair doesn't seem likely to please Vince McMahon, so we can almost guarantee the inclusion of Charlotte Flair. Making it a Triple Threat Match will give all three the chance to steal the show and give the fans something different, and also allow Ripley a huge win, and two ready-made future challengers in the process.
I'm a big fan of Ripley, she has a unique look and tremendous talent between the ropes. She deserves this star-making moment, and I can see WWE giving it to her. They can easily do the same on the Smackdown side of things with Bianca Belair too.
Prediction 7 – Sheamus and Drew McIntyre Will Do Battle
I thought they were going to pull the trigger on this one for the Royal Rumble, but once Goldberg became available, Sheamus was put on the back burner. I believe they'll return to The Celtic Warrior in time for WrestleMania to have him turn heel on Drew McIntyre and set up a big clash between the longtime friends.
I reckon it'll be a hard-hitting battle between the two bruisers, with McIntyre obviously coming out on top. Some will consider this a demotion for The Scottish Psychopath after last year's conquering of Brock Lesnar, but this will still be billed as one of Raw's main events.
I'm guessing if WWE were allowed to have a full stadium, they'd have pushed to include Tyson Fury and have him compete with McIntyre in some sort of special attraction, but that isn't going to happen. Could even have Sheamus cost McIntyre the WWE Championship to make things more personal.
Prediction 8 – AJ Styles Will Goad Triple H Out Of Semi-Retirement.
If this one comes off it will be one of the most intriguing contests of the entire year. I'm a massive fan of both and feel that, even in Triple H's advancing years, AJ Styles can help him create a mini classic for the ages.
It's one of those rare encounters that we've never seen before, and it's something WWE would be keen to promote. We already know how much Styles wants the match to happen, and this year's WrestleMania seems the perfect time to do so.
If it does, then who wins? Does Triple H need another win at this stage of his career? Is Styles a big enough name to retire The Game? The short answer to that latter question is no, which is why I think The King Of Kings comes out on top.

Prediction 9 – Keith Lee To Create His Legacy Opposite Goldberg.
We already know Goldberg will be a part of WrestleMania, but we just don't know he will be facing yet, since his failure to dethrone McIntyre of the WWE Championship at the Royal Rumble.
Who I think he will face is someone who will get a huge endorsement out of it, and that's Keith Lee. They could also go with Braun Strowman with a rematch from last year, but that doesn't seem too appealing. Lee and Goldberg colliding like two semi-trucks will be a sight to behold.
Goldberg doesn't seem to have a problem in losing these days, so having Lee go over is the logical outcome here. But how many times can you beat Goldberg before his aura vanishes? Who knows, but it will completely diminish Lee if he were to lose.
Prediction 10 – Dominik Mysterio Will Replace His Legendary Father.
This one is a longshot, but not completely unlikely especially considering recent events on Smackdown with Dominik inadvertently costing Rey a victory over Baron Corbin, which can easily lead to something bigger between the pair.
Maybe Rey turns heel for the first time in his WWE career, but I just don't believe fans will be willing to boo him over Dominik, so it will fall on him to turn to the dark side. Not sure how they'll do it, but it will probably be something basic like them losing an opportunity at the tag titles or something.
Whatever happens, it will be an intriguing watch to see father and son clash on the biggest stage possible, and to have Dominik unmask his father in the middle of the ring and replace him moving forward will be a history-making moment for the pair.