So, Its that time once again… The annual WWE Royal Rumble and it's perhaps the PPV that I get the most excited for every year. Now don't get me wrong WrestleMania weekend is always the pinnacle for me but the Rumble truly is the beginning of the road to Wrestlemania. Half of the Mania card can begin to take shape especially when it comes to the top of the card. So who is going to Main event Wrestlemania this year as champion and challengers? Shall we dive into my projections for the over the top rope specials? Hell Yeah!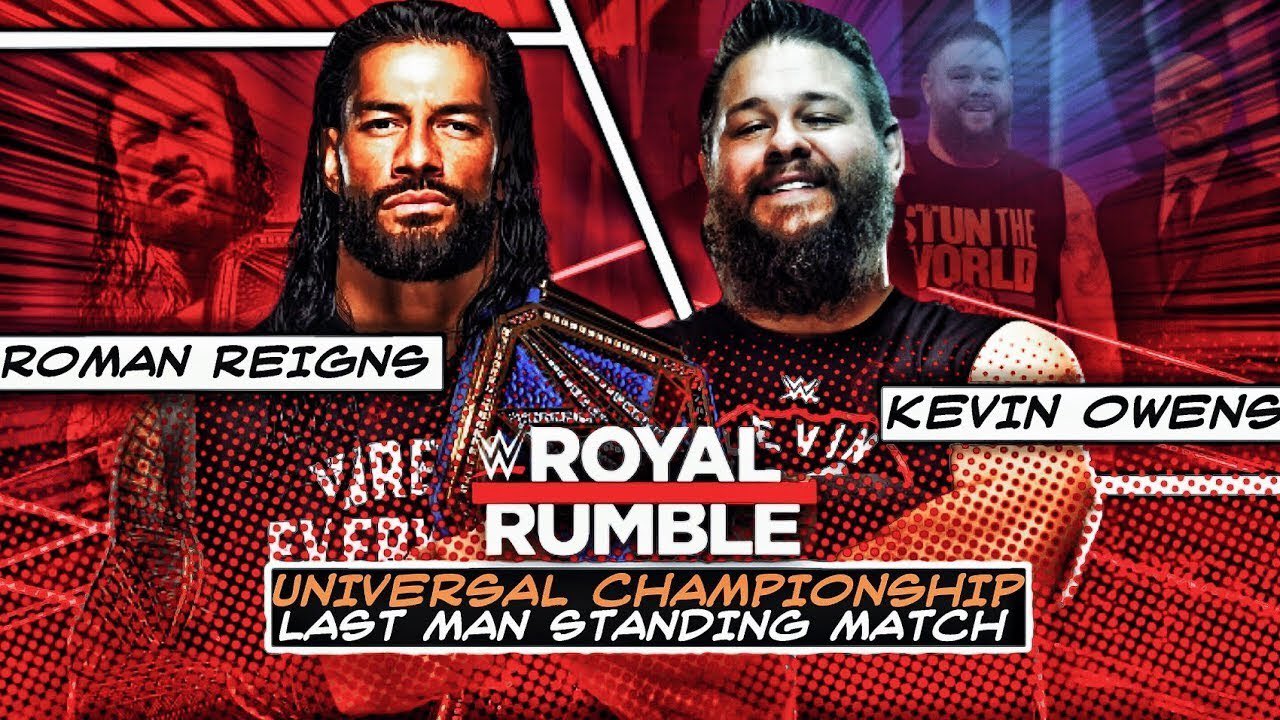 Last Man Standing Universal Championship Match, Roman Reigns (c) vs Kevin Owens:
Well, who saw that coming hey?! At first, we thought that WWE official Adam Pearce was destined for a title match against the head of the table & reigning, defending Universal Champion but we get Kevin Owens again and deservedly so. This feud has been one of the many highlights over on Friday nights and if this match follows the trend of being a fantastic clash and gets anywhere near the title match a few years back at the same PPV then the WWE Universe is in for a treat! But who walks out with the strap you ask? Surely Roman retains so close to Mania right?!
Don't put your house on it. We have seen WWE time and time again add stipulations to matches to allow a dominate Challenger or Champion lose a match but remain strong and this could follow suit, especially seeing as we have 3 PPVS before the show of shows in April, but Roman for me retains here. KO looks strong as he enters WrestleMania season and searches for an ally to take on… The Uso's. Could we see KO & Zayn team together at Wrestlemania to continue this story? Roman may have to wait a little longer until he finds out who he faces in April. Maybe as long as the Men's rumble match.
Winner: and still…..Roman Reigns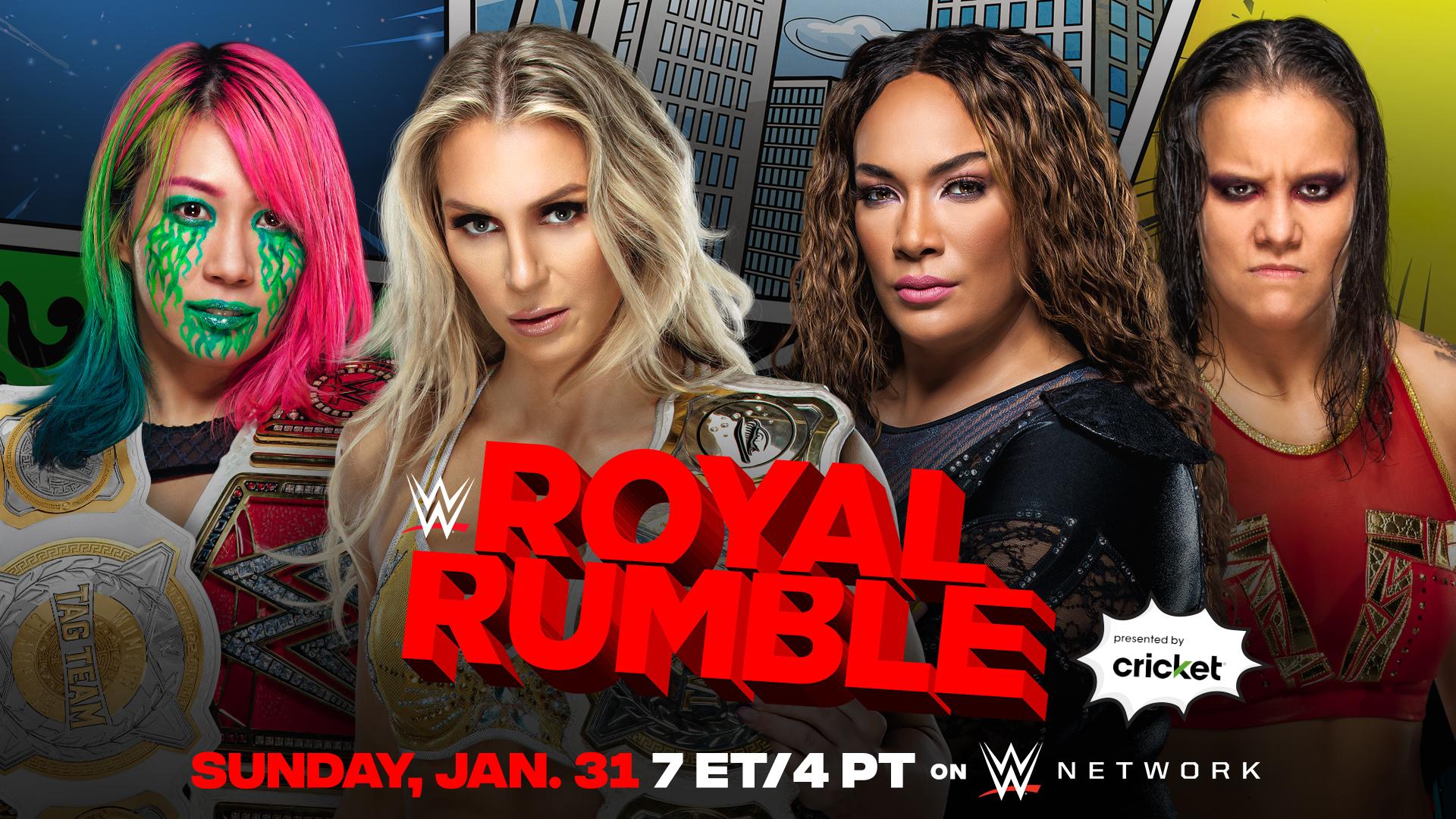 Woman's Tag Team Championships, Charlotte Flair & Asuka (c) vs Nia Tax & Shayna Baszler:
This match, for me, Is the toughest to call simply because I wonder where on the card this will be positioned. The Woman's rumble could well open the show so these 4 women would have already competed which makes it a tough call. Does Charlotte get injured during the rumble and leave Asuka to fend for herself in handicap rules? Does Charlotte win the rumble and set up another feud with Asuka which we lead to a clash here? So many possible outcomes in this one.
Let's say that this match is positioned early in the card with Jax & Baszler with regaining the gold here as both Charlotte & Asuka have eyes on new feuds heading into mania. At least then the world can get off of Charlotte's back as she won't have a clear road to Mania… at this point anyway.
Winners: And New… Shayna Baszler & Nia Jax
WWE Championship Drew Mcintyre (c) vs Goldberg:
Oh WWE Universe, here is the challenger that you did NOT ask for, but lets roll with it! Drew Mcintyre has been a tremendous champion throughout the COVID era and that's one hell of a tough job, especially when you are the top draw on Monday night's. Giving Drew a solid match with a legend to re-ignite that fire on the Road to WrestleMania is just what he needed and I enjoyed the RAW segment this past week, but what if this is the start of the Drew Mcintyre WrestleMania moment that he never really got last year?
Is it so bad to have Goldberg win on Sunday and then bulldoze through talent before facing Drew Mcintyre one more time at Wrestlemania?! Personally, I don't think that would be too bad but we have to get to April first and a huge section of the WWE universe would not agree with Goldberg becoming a New WWE Champion on Sunday.
WWE will more than make-up with it with the Rumble matches though, won't they?!
Winner: Bill Goldberg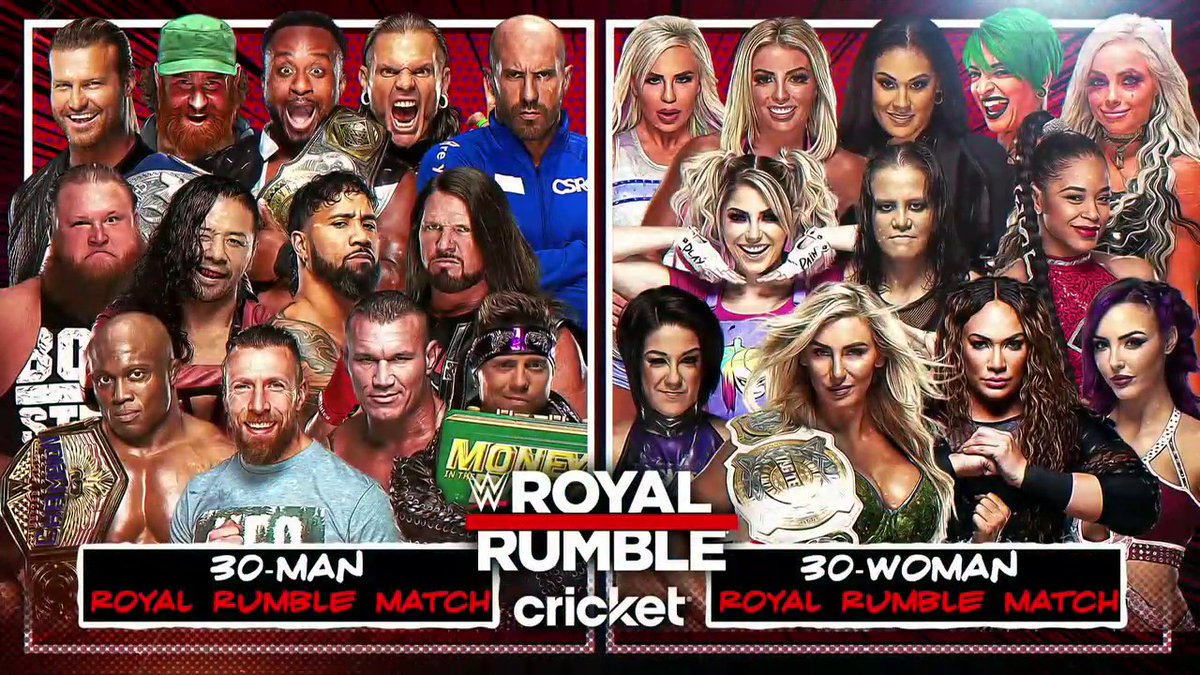 30 Woman Royal Rumble:
With a tag team title match earlier in the night and (according to me) the new Woman's Tag Champs are heading into this on a role as Charlotte enters without any gold and no clear route to Wrestlemania. So many people are also talking about Bianca Belair & Rhea Ripley as the favourites here and its so easy to see why but let's use this match to fill up 2 nights of Wrestlemania and get fans from all over-excited about potential feuds heading to the show of shows shall we…
Rhea Ripley starts the rumble and will remain until the final four (we will get there soon I promise) she will share the ring Bianca Belair, Lacey Evans & Charlotte Flair as the last woman standing. During the match, we see Nikki Cross aggressively eliminate several women leading to a showdown and double elimination with Alexa Bliss. Lana will return to eliminate Nia Jax. Several legends will rise up for some cool spots but nothing of note. But the talking point here will be the return of Ronda Rousey at number 20 she will dominate until Number 29….The returning Becky Lynch.
Becky heads straight for Rousey and eliminates Ronda but is caught off guard by Charlotte Flair. This gets the Ronda Rousey vs Becky Lynch feud going for Wrestlemania. Lacey eliminates Charlotte soon after and then sees Rhea eliminated by Bianca Belair which leads to Lacey and Bianca with Bianca becoming the last woman standing and cashes her ticket to Wrestlemania…! This won't be the last we see of Rhea for now as she heads to RAW and begins a feud with Charlotte which leads to Asuka vs Charlotte vs Rhea Ripley at Mania along with Bianca vs Sasha on Smackdown. Becky Lynch vs Ronda Rousey. So many women but so little slots for WrestleMania.
30 Man Royal Rumble:
How do the men follow the above? Or do they follow it? Let's say that the men's rumble opens the show. I like that idea so let's roll with it for now. Notable returns include Seth Rollins who is eliminated by Edge. Andrade who has a stellar run but comes up short (notable new attitude and due to a push) but the big one is Samoa Joe who would be a formidable and believable challenger to the head of the table Roman Reigns at WrestleMania.
Joe has been forced to sit back and watch Roman run Friday nights and enough is finally enough. We will also see Brock Lesnar return but is soon eliminated by Keith Lee thus setting up a WrestleMania angle for the 2. Lesnar can also cost Keith lee at the Elimination Chamber PPV. Also during the Rumble, we see Edge eliminated by Randy Orton but Orton then caught off guard by a returning (but not in the rumble) Bray Wyatt/Fiend character. The final competitors will include Shinsuke Nakamura, Cesaro, AJ Styles & Daniel Bryan. I can see Nakamura & cesura heading to Mania to face each other in what could be a 5-star class thus leaving Bryan & Styles as the final 2 where Bryan betters AJ and heads to Mania where he will challenge Roman Reigns.
At the end of the evening, we will all but 2 and a half months away from WrestleMania with 2 PPVs in between and a lot of big storms heading to the 2 night April spectacular and as we are led to believe WWE will have around 25,000 fans in attendance on both nights and this will be the first live fan interaction for over a year and WWE will be looking to blow our minds with 16 matches at least across the 2 nights. So get ready for the amazing journey.