In 1987, the WWF created the Survivor Series PPV event as a way to counteract the NWA's Starrcade event that same year. An act of sabotage, this WWF event featured the concept of a multi-man tag bout with an elimination format – with Vince McMahon forcing providers hands in the showing of the event or else they would get no access to WrestleMania; the PPV providers largely went with the WWF.

Welcome, to the Survivor Series 1987!
The inaugural event took place at the now-defunct Richfield Coliseum in Ohio on November 26th and featured 4 Survivor Series tag team matches with 50 different wrestlers and an additional 7 managers as the talent for the night. So for these many competitors, let's see where they all are today.
Before we start, this event 34 years ago as of writing has seen 23 of the 56 managers and wrestlers on the card pass away. This is 41%, a death for every so about a death per ~2.5 wrestlers. This is the equivalent of the opening 2 matches or the women's and main event match.
---
Brutus Beefcake, Jake Roberts, Jim Duggan, Randy Savage & Ricky Steamboat defeat Danny Davis, Harley Race, Hercules, Honky Tonk Man & Ron Bass
---
Jim Duggan
The first elimination in Survivor Series history, and Survivor Series 1987, was very 80s indeed. Yes, this came in the form of an undecisive fall with a double count-out before the 5-minute mark between arch-rivals Jim Duggan and Harley Race.
"Hacksaw" Jim Duggan has recently had a few health scares, going under emergency operation and then undergoing successful surgery on the American patriot's prostate cancer but he seemingly had recovered well.
---
Brutus Beefcake
Brutus Beefcake would be the only man pinned on his team in the opening 5-on-5 tag team bout. "The Barber" would eliminate future heated rival "Outlaw" Ron Bass before himself falling foul of a pinfall at the hands of then-reigning Intercontinental champion The Honky Tonk Man. With Honky scoring this pin over Beefcake, it was a way to keep the champion strong – with the titleholder using his signature Shake, Rattle and Roll to get the job done.
Brutus Beefcake was inducted into the 2019 Hall of Fame by real-life friend Hulk Hogan. He is still a popular name on the signing circuit as a big draw on any wrestling convention.
---
Jake Roberts
"The Snake" was one of the 3 survivors in the opening match of Survivor Series 1987. Roberts was one of the many men in the bout who had a score to settle with The Honky Tonk Man, with the duo feuding earlier in the year – resulting in the famous Snake Pit segment and WrestleMania 3 match. Over the duration of the match, Roberts scored an elimination, hitting his patented DDT on crooked referee-turned-wrestler "Dangerous" Danny Davis.
Roberts is currently signed to a multi-year deal with All Elite Wrestling, where he manages Lance Archer although he has been off TV recently due to ill health. He – and the whole Smith family as a whole – was the subject of an episode on the third series of Dark Side Of The Ring.
---
Ricky Steamboat
Whilst "The Dragon" scored no falls in the bout, he was still an important part of the story. Ricky was the Intercontinental champion until it was won off of him by Honky Tonk Man and not being able to avenge his loss. The reason for the sudden title switch after Ricky spent so long fighting for it was a departure to be with his wife during the birth of their son.
Steamboat is still an ambassador for the WWE, having son Richie compete there for a short while. The former NWA world champion also crops up on WWE TV on occasion, such as the 70th birthday celebration of legendary rival Ric Flair in 2019.
---
Randy Savage
The last surviving member of the team was Randy Savage. The "Macho Man" had been the victim of a savage attack on him on an edition of Saturday night's Main Event, causing a face turn. One of the most significant moments of the year – it turned Savage face, created The Mega Powers and further gave heat to Honky. Now oddly on the same time as blood rival just earlier that year Steamboat, Savage pinned a penultimate man on the heel squadron, Hercules, with the Diving Elbow.
Randy Savage would pass away in 2011, having died from heart disease, doing so whilst driving his Jeep Wrangler. He was only 58 years old.
---
Miss Elizabeth
Elizabeth was the first lady of wrestling in the 1980s. With her husband just turned face, Randy started showing less paranoia and force over her and more love – sparking one of the most memorable romances in WWE history.
Unfortunately, Liz's life was never as glamourous off-screen. She would pass away in 2003 when in a relationship with Lex Luger, succumbing at the age of 42 to a deadly mix of painkillers and vodka with the death being ruled an accident.
---
Harley Race
A real wrestler's wrestler, Harley Race never really got his fair dues in the WWF. Although a member of The Heenan Family and a King Of The Ring winner, a lack of the promotion's recognition of other wrestling companies and a career-altering hernia did not aid in the success of the 8-time NWA champion up north.
Eliminated early in the match via count-out alongside Duggan, he would pass away in 2019 from lung cancer. This was announced by Dustin Rhodes, with Race being 76 at the time of his death.
---
Ron Bass
Not so well known in the annals of WWE history but "Outlaw" Ron Bass was a substantial name in NWA territories such as Florida. Bass would become the first-ever wrestler pinned in a Survivor Series match when ejected from the bout following a High Knee at the hands of Brutus Beefcake.
The southern cowboy would have success in various fields outside the WWF such as golfing and sales and even earned a bachelor's degree from Arkansas State University. Unfortunately, however, he would pass away in March 2017 due to complications from a surgery relating to a burst appendix.
---
Danny Davis
For many years, Danny Davis was a simple referee before his heel-favouring antics barred him from being a referee for "life plus 10 years". After run-ins with Tito Santana and The British Bulldogs, he settled into a singles role in the lower mid-card. He would last about 15 minutes in this match before elimination.
"Dangerous" Danny would appear at WrestleMania XXX in a backstage segment. Now with a book out documenting his life, Davis is a public speaker.  
---
Hercules
One of Bobby Heenan's clients, Hercules was one of those potential dominant heels whose constant losses always prevented them from reaching that top-level, similar to the likes of The Barbarian, The Warlord or Haku. In this, Hercules would be pinned by Randy Savage following a Diving Elbow Drop in the final decisive fall of the match.
The performer of the Full Nelson is also no longer with us, having passed away in his sleep in 2004 reportedly from heart disease.
---
Honky Tonk Man
The reigning Intercontinental champion for around 6 months at this point, Honky would stay strong by scoring an elimination when pinning Brutus Beefcake around the 11-minute mark. Seeing the writing on the wall when 3-1 down against Roberts, Steamboat and Savage – the faux Elvis impersonator chose to get himself counted out by running off with Jimmy Hart and his IC title belt.
Inducted into the WWE Hall Of Fame in 2019, Honky has since become a popular name on the wrestling convention circuit.
---
Jimmy Hart
"The Mouth Of The South" Jimmy Hart was at ringside watching on as his primary client Honky Tonk Man competed in the bout. Watching from afar, Jimmy soon aided Honky in fleeing from the ring in a quick getaway from the ring filled with revenge-plotting combatants. He would also be at ringside in the next two matches, managing The Glamour Girls and The Hart Foundation (no relation) – thus being a part of all except the main event.
Hart still makes occasionally WWE appearances as well as on the convention circuit whilst also running other businesses such as his own and Hulk Hogan's beach shops.
---
Bobby Heenan
Bobby "The Brain" Heenan will likely be forever cited as the greatest manager in professional wrestling history. The man who could do it all was here serving as the manager to Hercules and Harley Race as well as making appearances in the 10-team tag match and main event bout.
From 2002 onwards, the former on-screen personality was diagnosed with throat cancer. Battling valiantly for 15 years, it would eventually take his life in 2017 with Heenan's condition worsening to the point he was unable to speak for years before his death.
---
Fabulous Moolah, Jumping Bomb Angels (Itsuki Yamazaki & Noriyo Tateno), Rockin' Robin & Velvet McIntyre
defeated
Dawn Marie, Donna Christanello, Glamour Girls (Leilani Kai & Judy Martin) and Sherri Martel
Rockin' Robin
Future WWF Women's champion (holding it for over 500 days) and the final champion for many years, Rockin' Robin was the first member of the winning face team to be eliminated in the second match of the night – the women's tag bout. She was pinned in the match after being hit with a vertical suplex from "Sensational" Sherri Martel.
Robin now owns a real estate business in Hammond, Louisianna. Additionally, as the brother of Jake Roberts, she appeared in the Dark Side Of The Ring episode documenting the lives of the Smith family.
---
Fabulous Moolah
Although in actuality not a champion for 30 years as WWF claim, Moolah was the pillar of the women's division in wrestling. After the Mildred Burke era, there was the Moolah era – a polarising run where she had a stranglehold on the division with never really more than one or two opponents until the 1980s. Rather surprisingly, she took the pin in this match (still wrestling in her mid-60s) following a double team clothesline from The Glamour Girls.
Moolah has a far shadier legacy now. Moolah was the first woman to enter into the WWE HOF before passing away in 2007 aged 84 before her legacy had time to be shattered by the various accusations against her.
---
Velvet McIntyre
Competing at the 2nd WrestleMania, Velvet McIntyre mostly worked in Canada throughout her wrestling tenure but was also a common face in the women's division in the WWF, called on when needed. An ex-Women's and World Tag Team champion, she went on to eliminate both Donna Christanello and Sherri Martel, both with a victory roll roll-up.
Barefoot wrestler McIntyre would retire in 1998 upon discovering her pregnancy. She is now living with twins and is said to enjoy arts and crafts in her spare time.
---
Itsuki Yamazaki
Even back in the 1980s, the division for women's wrestling in Japan was far more innovative and progressive than in the US. In the western world, there were few trainers beyond Moolah and so wrestling was very much one style that even then felt passé. It was with a Diving Crossbody that The Jumping Bomb Angels' Itsuki managed to score an elimination in this when pinning Leilani Kai.
Yamazaki owned a restaurant – GO Sushi! – until 2003 alongside her husband. At the age of 55, she currently resides in Bergen County, New Jersey.
---
Noriyo Tateno
Fellow Jumping Bomb Angels tag partner Tateno would get the fall for the match when pinning surviving member Judy Martin – doing so with a Diving Clothesline. Noriyo and Itsuki would be the surviving members of their team. This would be a continuation of the feud between The Jumping Bomb Angels and The Glamour Girls.
Since having retired in 2010, there is little known about the 55-year-old Japanese wrestler with little trace of any recent activity.
---
Donna Christanello
An unfamiliar face to many watching, Christanello was never a top star of the women's division but was another face around the WWF in the mid-80s, wrestling the likes of Wendi Richter and Winona (then spelt 'Wenona') Little Heart. Donna made a return in 1987, wrestling her only WWF match that year in which she teamed with Sherri only to be eliminated after about 2 minutes via roll-up.
Finding work outside of wrestling, she joined the accounting department for a Wal-Mart store. Unfortunately, she passed away in 2011 from COPD (Chronic Obstructive Pulmonary Disease) at the age of 69.
---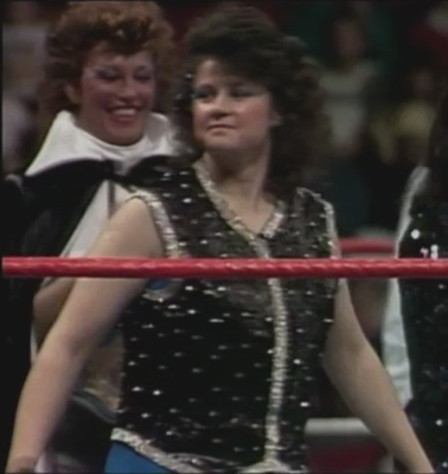 Dawn Marie
No, not that one.
It should be no shock the WWF's women's division was shoddy and makeshift, with only 3, 2 or even just 1 star in the division aiding it. So, the WWF used wrestler Dawn Marie Johnson, a little-known wrestler operating in Japan as well as the NWF and LPWA. She would be pinned by Rockin' Robin following a crossbody.
Of course, similar to the likes of "Mr Electricity" Steve Regal and "The Professional" Doug Gilbert, a subsequent namesake wrestler has overshadowed their work.
Dawn Marie Johnson's whereabouts today are unknown but what she is definitely not doing is managing The Impact Players, marrying Dawn Marie's husband or being released from WWE when pregnant.
---
Sensational Sherri
Today, Sherri Martel is primarily remembered as a valet, managing the likes of Shawn Michaels, Randy Savage and The Honky Tonk Man (as Peggy Sue) as well as Ric Flair and Harlem Heat in WCW, Shane Douglas in ECW and the Buddy Rose & Doug Somers tag team in the AWA. Yet she was also an accomplished wrestler as a year-long WWF Women's champion. The reigning titleholder at the time, she was pinned by Velvet McIntyre.
The iconic "manageress" (as she insisted she be called in the AWA) would sadly pass away in 2007 at the age of 49 at her mother's house. Her death was determined to be via an overdose of various drugs such as oxycodone.
---
Leilani Kai
The Glamour Girls member was accompanied by Jimmy Hart in this match and was quite successful. Kai would score an elimination hitting a Slingshot Electric Chair Drop and subsequently pinning Velvet McIntyre before falling to a beautiful Diving Crossbody from Yamazaki. Kai would stay around with the company as a reliable top face of the division, being the only wrestler to compete at both WrestleMania 1 and 10 (both times losing, to Wendi Richter and Alundra Blayze respectively).
Kai is a popular name on the wrestling signing circuit, capitalising on her name value from years gone by.
---
Judy Martin
Like Kai, Martin too was a trustworthy, reputable name to bring out when needed. In a tag team with Leilani, Martin would manage to eliminate The Fabulous Moolah in a huge turn of events before being the last remaining member of Sherri Martel's team when pinned by Tateno by a Diving Clothesline following Jimmy Hart being decked by Itsuki Yamazaki.
In 1999, Martin would retire from professional wrestling. She moved from a job in law enforcement to transcribing medical reports, whilst elsewhere being a part of the class-action lawsuit filed against the WWE over neglect and concealment of injury – although this has been dismissed with an appeal rejected.
---
British Bulldogs (Davey Boy Smith & Dynamite Kid), Killer Bees (B. Brian Blair & Jim Brunzell), Fabulous Rougeau Brothers (Jacques Rougeau & Raymond Rougeau), Strike Force (Rick Martel & Tito Santana) & Young Stallions (Jim Powers & Paul Roma)
defeated
Bolsheviks (Boris Zhukov & Nikolai Volkoff), Demolition (Ax & Smash), Hart Foundation (Bret Hart & Jim Neidhart), Islanders (Haku & Tama) & New Dream Team (Dino Bravo & Greg Valentine)
---
Jacques Rougeau
The future Mountie's team alongside brother Raymond were the first eliminated on the face contingent of the Survivor Series 1987 bout. Jacques was pinned following a failed Diving Crossbody attempt, pinned by Ax of Demolition.
Now a legend in his home town of Quebec, his family officially ended their family wrestling legacy in 2018. In the years since, the French-Canadian has become a motivational speaker, preaching against drugs, bullying and smoking.
---
Raymond Rougeau
Jacques brother Raymond would be eliminated via virtue of his brother's exit. The rules stated when a member of a team was out, so had to be their tag team partner.
Raymond was a French-language commentator for the WWF for many years and returned after a hiatus in 2017. He left in 2021 after the WWE Network joined Peacock and a reshuffle left them absent from needed talent. He has since gone into politics with his name value helping him become mayor of Rawdon in Quebec, Canada.
---
Tito Santana
Rather surprisingly, the next tag team out on the face side were the World Tag Team champions: Strike Force. Santana had earlier made an elimination, quickly pinning Boris Zhukov with a Flying Forearm. However, the former 2-time Intercontinental champion would be eliminated about 10 minutes later. Tito was pinned by Jim Neidhart after some interference by Bret – the two teams had the most heated feud going into this match as Strike Force beat The Hart Foundation for the belts.
Santana is now both a Spanish teacher and the basketball coach at a New Jersey high school. Even now, nearing his 70s, Tito will still get in the ring to perform on occasion.
---
Rick Martel
The young Martel's tag team with Tom Zenk in The Can-Am Connection had fallen through yet he would find more success alongside Tito Santana in Strike Force. Martel's team would be eliminated but would prevail in the end. Martel would find his best success when ditching Tito at WrestleMania 5 and going on to create "The Model" character.
Martel now works in real estate, with his wrestling days long behind him. The 65-year-old still will pop up for a public appearance here and there.
---
Dynamite Kid
There is little doubt about the in-ring credentials of Dynamite Kid aka Tom Billington. Cited by Bret Hart as "Dynamite truly was the best wrestler ever, pound-for-pound", Dynamite Kid did not really get to show off any of the skills he was known for in this match, getting eliminated before any chance of their ow elimination at the hands (or foot) or Haku as The Islander hit a Thrust Kick to the throat of the Lancashire-native, being enough to keep him down for the 3-count.
By all accounts a pretty vile person outside of the ring, Billington passed away in 2018 whilst still being wheelchair-bound as a result of an accumulation of injuries inside the ring. His nephews are now trained wrestlers in their own right. Kid was the focus of a 2021 episode of Dark Side Of The Ring in which the more taboo actions of Dynamite Kid were detailed by friends, family and colleagues.
---
Davey Boy Smith
Now likely better known as The British Bulldog – a name originally given to the Smith/Kid tag team – Davey Boy Smith was a more successful wrestler to a commercial audience, having a successful solo WWF run in the 1990s. Whilst The Bulldogs had a foot out of the door by 1987 and set their eyes upon Japan, they still competed in this bout and lasted 20 minutes. The former WWF Tag Team champions were out of the WWF by 1988 shortly after a notorious run-in between Kid and Jacques Rougeau.
At the age of just 39, Smith passed away from a heart attack just as he was training alongside his son for a return to the ring. This was due to an enlarged heart, two funeral services were held – both attended by brother-in-law Bret Hart.
---
B. Brian Blair
Despite being a lower-card team now best remembered for their garish attire, The Killer Bees were one of two surviving teams in this multi-team match. B. Brian Blair of the tandem would get the pinfall to conclude the match when he pinned Tama of The Islanders following a bait-and-switch between the members of The Bees. This use of 'twin magic' went unnoticed by the referee despite Blair adorning a mask until partner Brunzell.
An ex-politician, Blair has grown in popularity due to a number of insults thrown his way by the always-crazy Iron Sheik on Twitter. In sadder news, a long-time friend and wrestler Steve Keirn (Skinner, in the WWF) announced Blair's 29-year-old son had been murdered in June 2021.
---
Jim Brunzell
"Jumpin'" Jim Brunzell was one of the famous purges of talent from the fledgling AWA promotion which failed to keep up with the WWF or NWA. In this match alone, the ex-tag partner of Greg Gagne and then-current partner of B. Brian Blair would manage to eliminate Bret Hart of The Hart Foundation in arguably the biggest shock of the night. Brunzell and Blair hung on for the rest of the match and became survivors on the face team.
Outside of the ring, Brunzell now works in sales for a failed-owned company. As of 2017, The Killer Bees have had a comic book namesake. "Jumpin'" Jim was another who would be involved in the 50-person strong lawsuit against WWE for their lack of action towards wrestler injuries.
---
Jim Powers
Considering the later jobber status of The Young Stallions, their survival in this match will seem quite odd. The team were actually getting a push at the time, having gotten big wins over heel tag teams and been title contenders. Yet when the team broke up, Powers went back to his career occupation of enhancement talent – losing out to the bigger stars the WWF were keener on pushing.
Jim would go on to become one of the wrestlers involved in the aforementioned lawsuit against the WWE that was dismissed in 2018 with a 2020 appeal rejected. Powers resides in Rutherford, New Jersey alongside his wife, settling down after decades of work across the wrestling circuit.
---
Paul Roma
A future forgotten Fourth Horseman that would survive to the end. In the bout he surprisingly scooped a pinfall over Greg Valentine, eliminating both members of The New Dream Team after a Sunset Flip on "The Hammer". Roma would find success even after ending relations with Jim Powers when forming Power & Glory alongside Hercules and managed by Slick.
Roma runs the Paradise Alley Pro Wrestling School in Connecticut and as of 2013 would make regular visits and speaks to children in St. Jude's Hospital – a non-profit organisation that cares for children ill with cancer and has seen the likes of Jim Carrey, Tim Allen and Michelle Obama as visitors over the years.
---
Boris Zhukov
An ex-AWA star brought into the WWF, Zhukov remained in the lower mid-card during his stint there. He would play a character similar to his AWA moniker of an evil Russian alongside his new partner Nikolai Volkoff. In this Survivor Series 1987 tag bout, Zhukov would be eliminated in quick fashion when pinned by one-half of the reigning World Tag Team champions: Tito Santana.
Actually born in Virginia, James Harrell was also involved in the WWE lawsuit that was dismissed in September 2018.
---
Nikolai Volkoff
A faux Russian menace for 20 years off-and-on, Nikolai Volkoff was now in the twilight of his career, no longer being a top threat to world champions Hulk Hogan, Bob Backlund or Bruno Sammartino. A largely passé performer by this point, he would be quickly ousted from this match. Volkoff would turn face in 1991, leave for Eastern Championship Wrestling (the precursor to ECW) and join the WWF again in the mid-90s, working for "Million Dollar Man" Ted DiBiase.
Born in Croatia, which was then Yugoslavia, this Canadian immigrant who played an evil Russian was a clear candidate for the Maryland Republican Primary for State Delegate of Maryland. Running for this position in 2006, he was unsuccessful, only getting 6% of the vote. He supported Donald Trump in the 2016 election, before his own death aged 70 in 2018.
---
Ax
Still largely unbeaten and built as monster heels, Demolition were only eliminated via a BS finish that would protect them. Whilst Ax was in the ring, Smash interfered and got physical with the referee, leading to a disqualification and the subsequent exit of Demolition.
Even in his old age, he still occasionally gets in the ring – wrestling through his 60s. In early January 2021, Eadie was reported to have severe symptoms of Covid-19 but has thankfully made a recovery from the illness.
In June the same year, he was taken to hospital due to a bad reaction to the Covid vaccine as revealed by Lanny Poffo. He seems to have thankfully recovered since.
---
Sma

sh
Barry "Smash" Darsow would wind up disqualifying his team after shoving the referee down. This would not hinder the team who would beat Strike Force for the tag belts at WrestleMania and a year on from this match perform a double turn as the heel Demolition team were turned on at the hands of devious manager Mr Fuji and the face team of The Powers Of Pain would turn heel and align with the deceitful Fuji.
Still occasionally donning his wrestling boots, Darsow – alongside partner Bill Eadie – was involved in the mass class-action lawsuit filed against the WWE. The former holder of the WWF World Tag Team titles also owns and runs Added Value Printing as well as working in real estate.
In addition, Darsow enjoys golfing and fishing in his time outside the squared circle.
---
Greg Valentine
A former Intercontinental and World Tag Team champion in his own right, Valentine would break up from Brutus Beefcake in 1987 to form a new duo The New Dream Team alongside Dino Bravo and flanked by Jimmy Hart. In this match, the team would score no eliminations before Greg was pinned following a Diving Sunset Flip from Paul Roma.
Valentine is now a born-again Christian and often holds speeches alongside ordained minister Ted DiBiase. In the wrestling world, he is still present at conventions and in 2019 appeared at ringside on the October 2020 Chris Jericho's 30th Anniversary Celebration to observe the Cody Rhodes versus Brodie Lee Dog Collar Match, in what would be Brodie Lee's final ever match (Greg was present due to popularising the stipulation after a particularly painful-looking encounter against Roddy Piper at Starrcade 1983).
---
Dino Bravo
A hero in his native Canada, Bravo perceived his reinvention in the WWF as a joke with them forcing him to dye his hair blonde and turn heel, much to the dismay of Dino. Bravo's alliance with Valentine was blink-and-you'll-miss-it and like most of his WWE run, was buried in the undercard and unmemorable. Bravo would find little success with Valentine, soon going solo and going under the management of French Martin.
In 1993, he was found dead in his home in Quebec. Purportedly involved with the mafia, it is believed his trade in illegal cigarette imports was the reason for the homicide. This controversial and unsolved death has caused many theories and struck many conversations over the decades yet drawn no official conclusion.
His death was documented in Vice's Dark Side of the Ring (series 2, episode 6).
---
Bret Hart
From one legendary Canadian to another, Bret Hart was a World Tag champion weeks before but he and Neidhart had dropped them to Strike Force in late October. In the match spoken about, Bret would effectively cause the elimination of Tito Santana – the two men not involved in the decision of the title switch. Bret would be the penultimate member of the heel contingent eliminated when a miscue led to Jim Brunzell scoring a huge win. Although a great team, Bret's position around this time was commonly putting those below or less skilled than him over, way before he became a solo megastar.
Having recently overcome cancer, his legacy is further spread through family relatives who are in the industry. At the 2019 Hall of Fame ceremony, he was tackled by an invading fan during The Hart Foundation's induction. In addition to cropping up in WWE, with whom he has since reconciled, he has appeared more recently in AEW and Impact! Wrestling. He made waves earlier in 2021 as well for dubbing the current WWE championship as a "piece of crap".
---
Jim Neidhart
The powerhouse of the Hart Foundation, 'The Anvil' was the more explosive and charismatic half of the duo with his shrieking laughter and a distinctive pointy ginger beard. After getting the pin over the tag champions, Neidhart would be forced to leave when partner Bret was pinned. Not long after, The Hart Foundation would turn face.
Unfortunately, on August 18th 2018, Neidhart sustained a head injury caused by a seizure resulting in a fall. This would ultimately take his life, aged just 63. Natalya Neidhart is today keeping the family name strong as a trusted veteran of the current women's WWE roster.
---
Tama
Having found little success as a face duo, The Islanders would turn heel and famously kidnap The British Bulldog's dog, Matilda. At Survivor Series 1987, Tama would be pinned from a Slingshot Sunset Flip by B. Brian Blair despite the latter being illegal but without the referee's knowledge (as he was distracted when attending to the eliminated Bret Hart).
Tama would appear in the April 2020 Dark Side Of The Ring documentary revolving around Nancy Argentino – the allegedly murdered wife of former kayfabe cousin Jimmy Snuka, yet never proven due to "Superfly"'s mental state had deteriorated too much to competently stand trial.
Elsewhere, Tama is still connected to wrestling through being a member of the Anoa'i family. This contains currently prominent wrestlers such as The Usos and Roman Reigns.
---
Haku
Generally regarded as the toughest wrestler of all time, Haku would manage to eliminate ex-rival Dynamite Kid with a Thrust Kick. In the end, partner Tama would be pinned and leave both The Killer Bees and The Young Stallions remaining as the survivors.
Haku stays connected to wrestling, closely associated with New Japan Pro Wrestling's Bullet Club as it contains his son Tama Tonga. He still gets in the ring today at 62 years old as of writing. In addition, he runs a car detailing shop in Kissimmee, Florida called David Maus Toyota.
---
Mr Fuji
Fuji was present for this match to manage his clients: Ax and Smash of Demolition. Whilst he would go on to lead them to tag gold and then turn on them, his duo was less successful here, being disqualified early on for physicality with the referee.
The devious, Oddjob-inspired character put down his cane in 1996, leaving the wrestling industry. He would pass away in 2016 at the age of 82, dying from natural causes. His daughter would get involved in the lawsuit against the WWE, claiming their neglect of (specifically) head injuries.
---
Johnny Valiant
"Luscious" Johnny V. was an accomplished wrestler in his heyday, especially in the tag scene alongside brother kayfabe Jimmy. In 1987, Valiant became the assigned manager of The New Dream Team of Greg Valentine and Dino Bravo.
Survivor Series 1987 saw one of the last appearances of Johnny Valiant in the WWF. In 2018, Valiant faced a grizzly death when struck and killed by a pick-up truck in Pittsburg. He was pronounced dead in hospital and the driver of the truck was not held accountable or responsible for the accident.
---
Slick
Manager Slick was gifted various wrestlers' contracts when an ageing "Classy" Freddie Blassie became less featured on WWF TV. Slick managed The Bolsheviks in the 1980s, having managed Nikolai Volkoff back to his alliance with The Iron Sheik earlier in 1987. He would have been disappointed to have seen his team get eliminated in such a quick fashion as they were ousted in short order after less than 2 minutes.
He graduated from Campbellsville University in the years after, getting a master's and bachelor's degree. In a showing of his gimmick reflecting real life, Kenneth 'Slick' Johnson is now an ordained minister in Louisville, Kentucky. He has made sporadic WWE appearances in the last few years. Additionally, he was one of many names involved in the class-action lawsuit against ill-handled injuries, having expressed no regret for taking part in the case.
---
Andre The Giant, Butch Reed, King Kong Bundy, One Man Gang & Rick Rude
defeated
Bam Bam Bigelow, Don Muraco, Hulk Hogan, Ken Patera & Paul Orndorff
---
Butch Reed
Next up, it is the main event with a red-hot crowd going electric for pretty much every move.
Accompanied by manager Slick, "The Natural" Butch Reed would be the first man in the match eliminated as he would get virtually no offence in, dominated by the face team led by Hulk Hogan. After all this double-teaming and offence dished out upon him, Reed was eliminated after about 3 minutes following Hogan's Atomic Legdrop.
After having been a member involved in the mass lawsuit versus the WWE, it was announced through his Instagram account in February 2020 that Butch Reed had passed away at the age of 66 from the complication of 2 heart attacks although some attribute his passing to Covid-19, which he was tested positive for in January.
---
Rick Rude
"Ravishing" Rick Rude was barely in the door by the time he participated in this match. Having recently left Jim Crockett, Rude went under Bobby Heenan's management and promptly started a feud with the previous Heenan muscle, Paul Orndorff. The former NWA World Tag Team champion would eliminate "Mr Wonderful" after a roll-up, grabbing the tights before being pinned by Don Muraco following a Scoop Powerslam.
Due to heart failure, Rude would pass away at the age of 40 in 1999 – the autopsy announced a mix of medications caused an overdose. Having been out of action for 5 years, he had still gotten roles in wrestling in the WWF, WCW and ECW but without being physically alive yet he was training to return at the time of his death.
---
King Kong Bundy
It is fair to say "The Walking Condominium" had cooled off by 1987 as though he was still in top matches against the likes of Hulk Hogan and The Ultimate Warrior, he did not have the dominance he had the year previous. The mountain hoss would score no eliminations, further illustrating his relegation over the years. Bundy would be ejected from the match after Bam Bam Bigelow delivered his Greetings In Asbury Park Slingshot Splash. A few months later, Bundy left the WWF.
Bundy had quite the portfolio outside the ring including acting roles in TV and film such as Boy Meets World and Married…With Children as well as a career in stand-up comedy. He too would be yet another name in the sea filing the lawsuit against the WWE, the verdict of which was given in 2018. The next year, Bundy died at 63 from complications of diabetes.
---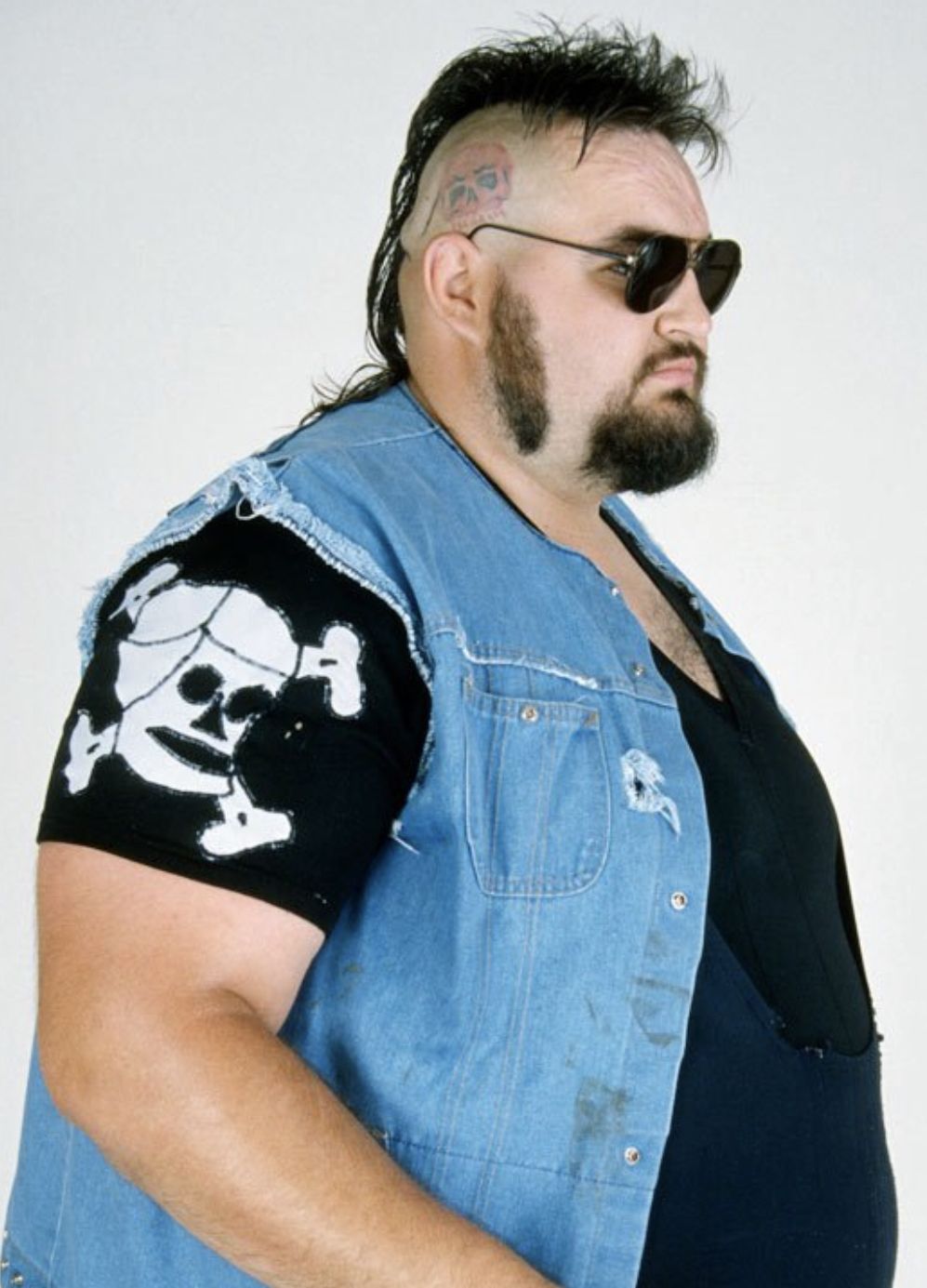 One Man Gan

g
As displayed in the match, one of the stars more keenly pushed at the time was The One Man Gang. The leather-clad, 400lbs biker scored the first pinfall for the heel team by covering Ken Patera following a Falling Clothesline manoeuvre. He would subsequently eliminate Don Muraco with a Big Splash. He would eventually be pinned by Bigelow after OMG came up on the worse end of an attempted top rope move.
One Man Gang became a correctional officer – like one-time tag partner The Big Boss Man – after his time in the ring. Gang too would join the aforementioned class-action lawsuit. He would set up a GoFundMe to cover damages to his house from a flood in Louisiana in 2016.
---
André The Giant
The leader of the heel team was André The Giant, who had only earlier that year fought Hulk Hogan in the iconic WrestleMania 3 main event. "The Eighth Wonder Of The World" was the only sole survivor of the night, managing to eliminate an exhausted Bam Bam Bigelow with minimal effort. This would ensure André was booked strong, with retribution for his 'Mania 3 loss.
At 7-foot, André would inevitably face many real-life struggles behind the scenes. In January 1993, the Frenchman would die in his sleep of congestive heart failure aged 46. Ironically, he was there to attend his father's funeral. To honour the truly mammoth legacy left by one of wrestling's biggest draws, he was the first and sole inductee into the first class of the WWE Hall Of Fame later that same year.
---
Ken Patera
As referenced in the article detailing failed face turns of career heels in the WWE, Ken Patera would return to the WWF after being released from prison in the mid-late 1980s. The ex-Olympian would initially score some big wins but quickly slide down the card. Here, Patera was eliminated by One Man Gang with relative ease. Patera was adorning a brace on his arm during this period due to a previous bicep tendon rupture.
Now nearing 80, Patera was one of many involved in the large class-action lawsuit dismissed in 2018 with an appeal dismissed by a federal court in September 2020. The ex-Olympian has opened up a number of businesses after wrestling such as a limousine service and a tanning salon.
An avid animal lover, he enjoys spending time with his animals as well as with his children.
---
Paul Orndorff
Paul Orndorff's career throughout the mid-late 80s is a sea of face and heel turns. At this stage, he was fighting against The Heenan Family – especially new-arrival Rick Rude. Orndorff was about to potentially dispatch Rude with his signature Piledriver before Bundy interfered and "Ravishing" Rick took advantage with a sneaky and illegal roll-up.
Orndorff was in a class-action lawsuit against the WWE in 2018 which I'm pretty sure we haven't mentioned yet(!). Orndorff had been in ill health for the last few months of his life, suffering from dementia, perhaps caused by CTE. He would pass away at 71 on July 12th in Georgia.
---
Don Muraco
Muraco would be a rather last-minute entry, taking over from mentor "Superstar" Billy Graham, whose career had just been ended by an attack from One Man Gang. Don "The Rock" Muraco would garner a rather surprising pin over Rick Rude at Survivor Series 1987, to force him to leave the match after a Powerslam. Muraco would then be pinned after a Headbutt from an illegal André followed by a Big Splash from The One Man Gang. Now a face after more-or-less being a career heel, Muraco would be gone from the WWF within a year largely feuding with Dino Bravo in this era.
A 2007 Hall of Fame inductee, he now resides alongside his wife and children in Honolulu, Hawaii. He has a weekly FaceBook podcast called "Making Waves" that takes place every Thursday.
---
Hulk Hogan
The whole blockbuster, the star-packed main event of Survivor Series 1987 was built around the Hulk Hogan/André The Giant rivalry. Hogan would get the first elimination, ousting Reed. When down 2-to-3, Hogan would shockingly get counted out. This left Bam Bam Bigelow down 1-to-3 in the match.
The biggest name in wrestling is not hard to find today, with his signature red and yellow attire, handlebar moustache and bandana cropping up for WWE returns. With his merchandise instantly recognisable, Hogan still appears at his beach shop as well as on WWE Network specials and on WWE TV. He has appeared on screens in 2021 on Legend's Raw and as the swash-buckling co-host of WrestleMania 37.
---
Bam Bam Bigelow
Although built on the Hogan versus André premise, Bigelow was the most career-enhanced by this match at Survivor Series 1987, whittling the 3 remaining men down to 2 by beating both Bundy and Gang despite the huge odds stacked against him. A worn-out Bigelow was picked off by "The Eighth Wonder Of The World" but nonetheless had proven himself as a star of the future in this gutsy performance.
The flame-tattooed heavyweight was found dead at 45 in 2007. Various drugs were found in his system at the time but were ruled an accident. Prior to this, he was battling a plethora of issues such as severe back problems, OxyContin addiction and diabetes amongst others.
---
Oliver Humperdink
Bam Bam Bigelow would turn face by choosing "Sir" Oliver Humperdink over the other heel managers fighting over him. He was also managing Paul Orndorff which he did for a short and forgotten time. At the age of 62, Humperdink (real name John Sutton) would pass away from pneumonia in 2011 having never married or had children.