WrestleMania is a landmark in a lot of our wrestling calendars each year. Some of us keep up to date with the statistics to see which wrestlers will make it, some like to be as up to date as possible with the storylines…then there are people like me!
I love the whole over-the-top spectacle of WrestleMania, from the crazy storylines to the over-the-top fireworks, and most of all I love the outfits. Oh the outfits, some of my biggest dreams have come from the bright colours and beautiful designs.
So let us see who had the best WrestleMania looks and then we get to look at the WTF outfits people thought were good ideas through the years…
---
Brutus Beefcake – WrestleMania 2
Brutus Beefcake's yellow tiger print outfit seems to have been inspired by Siegfried and Roy, those tiger-loving magicians. It is bright, bold, and honestly stands out in a way that many did not in this WrestleMania. I think this look was very much underrated and needs to be remembered for just how fabulous it truly is.
---
Tori – WrestleMania 15
I have honestly seen nothing but hate for this outfit because for a lot of people it didn't make sense. However, I do not care if it makes sense or not. I care about how much detail and design has been put into this catsuit. It is beautiful and made Tori stand out, isn't that the point?
---
Rey Mysterio – WrestleMania 22
Rey Mysterio dresses up for WrestleMania, but for this year he went all out! The headpiece alone would be spectacular but the design on the outfit takes this to another level. It is intricate, showcases his heritage, and is just so damn beautiful. This is how you elevate your look for WrestleMania, the longer you look the more detail you see. This is spectacular!
---
The Kabuki Warriors – WrestleMania 36
Quite honestly the only reason this tag team is not higher on my list is that they don't have a cohesive look. Beyond that though… WOW! There are feathers, pirate hats, glamorous coats, glitter, and an explosion of colour. These outfits are fabulous and I cannot wait to see what both of these wrestlers bring to the stage this year! I need both of these outfits… for research.
---
Boogeyman – WrestleMania 22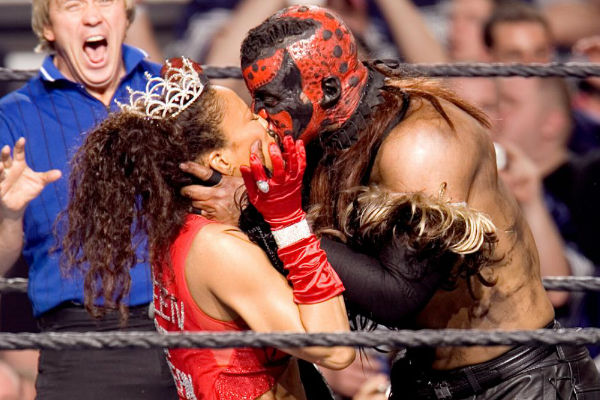 What is not to love with this getup? Seriously! There is foam, face painting, hair hanging from neck and arms, and accessories… it truly is something to behold. This outfit is iconic, whether you like the character or not. You cannot deny that it is something you will always recognise.
Queen 'Sensational' Sherri – WrestleMania 7
This look is everything I want and need in my life, not just for WrestleMania. The makeup is dramatic, the monochromatic colours made from sequins and jewels is just the outfit of dreams. It is a perfect mix of regal, spectacle, and evil all wrapped into one. The look from head to toe is just absolutely glorious.
---
The New Day – WrestleMania 32
How could I do a list of top outfits and not bring the New Day in? This group knows how to bring the fun and extraness from the cosplay community and bring it to WrestleMania. Is it over the top? Yes. Is it somewhat ridiculous? Abso-freaking-lutely. But it is also memorable, bright, colourful, and brings something new and different to the arena. Anime inspired outfits are always a big win.
---
Macho Man Randy Savage – WrestleMania 6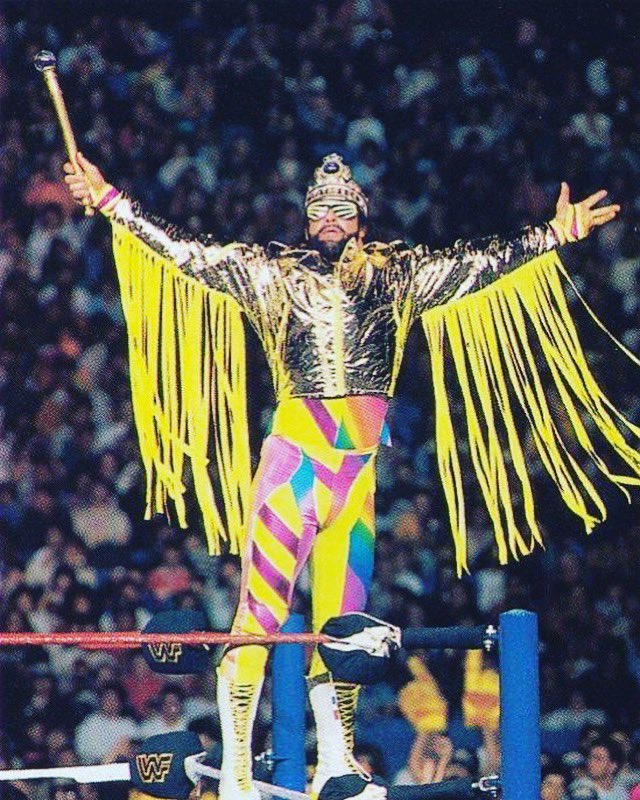 How could I ever do a list of top outfits and not add Randy Savage, I don't think it is even possible. This man understood how to bring it to a bigger stage. This is my favourite of all Macho Man's looks, not only because of the shiny jacket, but because it was just a brilliant clash of things that should never work together, but do for him. The whole outfit is bright, but the patterns make it jarring and pop even more. Then you add the tinfoil jacket with streamers on the sleeves. Then to top it off you have the striped sunglasses (classic) and a crown. Just top-notch all the way and a great way to stand out in any crowd.
OOOOOOOOHHHH YEEEEEEEEAAAAAAAAAHHHHHHHHHHHH!
---
Charlotte Flair – WrestleMania 33
This might be a controversial one for the list but I truly believe that Charlotte Flair's outfit here is one of the most iconic outfits to ever be seen on WrestleMania. It is an extension of what her Father Ric Flair did, but she has made it her own and added something to this elaborate style. This outfit on its own, showing yourself off as a peacock would be gorgeous on its own, but the attention to detail on the coat just takes it to another level. The sleeves are dramatic, the peacock feather design on the front hem, and the colour combination on the whole outfit just makes this one of the ultimate WrestleMania outfits for me.
---
The Undertaker – WrestleMania 14
This look, oh my… it truly is my favourite. The Undertaker has had many iconic outfits over the years, but primarily it was thought more because of the whole entrance than the actual outfit itself. Whereas with this look, it is beautifully designed and crafted. It is unique and it is stunning. From the metal studded, oversized shoulders, to the clean design: from the old cross in the middle of the chest to the over-the-top collar. This look is absolutely the top of the top and I will happily die on that hill knowing I will join the Deadman and get to try on his clothes.