It has been just over a year since WWE presented the grandest stage of them all, Wrestlemania 36 over two nights – it was a smart move considering they had a stacked card with a whopping sixteen matches.
Wrestlemania is undoubtedly the biggest event of the year and it is used as a platform to not only give a grand conclusion to some of the hottest storylines going in but also push forth interesting narratives as the calendar refreshes.
---
For many young WWE professional wrestlers, Wrestlemania is the defining moment of their career as it sows the seeds for what's to come with many examples of wrestlers making massive breakthroughs in the industry due to their performances at this event such as Edge and Jeff Hardy smashing through the imaginary glass ceiling after the triple threat tag team ladder match at Wrestlemania X7, Roddy Piper passing the torch to Bret Hart at Wrestlemania 8 paving the way for The Hitman to become one of the greatest wrestlers to ever perform and Daniel Bryan fighting his way through the flawed system of WWE to prove that the crowd still gets what they want (from time to time).
All these moments are truly amazing but let's not forget that Wrestlemania has often been used to develop new rivalries and stories such as Undertaker defeating Michaels at Wrestlemania 25 only to make Shawn even more desperate to beat the streak and what followed was an amazing story of determination and the lengths a man can go to when he wants something that badly. However, sometimes the events of Wrestlemania don't exactly follow up due to bad booking and poor character handling with Wrestlers like Fandango and Ryder going over big at mania but they still weren't able to escape the midcard.
Wrestlemania is surely an important event, but the way I see it is that the months following mania are even more important as it provides WWE with a medium to prove that they made the right decisions at "the biggest spectacle of sports entertainment" and keep the fans engaged in the product.
I will be taking a look at 10 ways in which Wrestlemania did or didn't impact what we are watching now.
---
Smackdown's Tag Division
What was promoted as a Triple Threat Tag Team ladder match ended up being a normal triple threat match with one member of each of the Uso's, Miz and Morrison, and the New Day. The fact that the tag team belts were being defended in a non-tag team match should have been a sign of what's to come. The match was a good one nonetheless but like a few other entries on this list, in retrospect, the outcome of the match didn't really have a point, nor did it play into any story.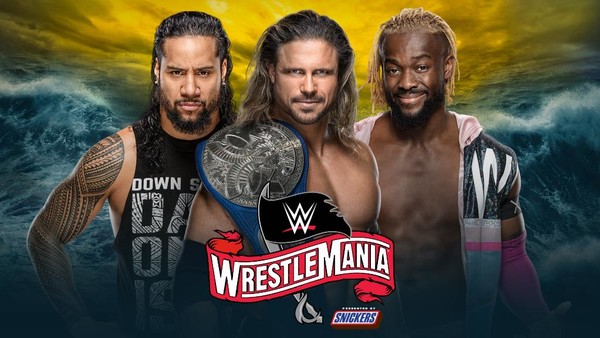 Moreover, Miz dropped the titles to Big E in another NON-TAG TEAM triple threat match for the TAG TEAM championship only two weeks later on an episode of Smackdown. At Wrestlemania, many were expecting WWE to take the initiative to elevate the status of the tag titles and make them more significant but it didn't take long for WWE to show how much they valued their tag team division as Braun squashed both Miz and Morrison in a handicap match for the Universal Championship at Backlash.
Furthermore, after Morrison won the belts at mania, many viewers, including me, believed that it had provided WWE with an opportunity to create a storyline where Morrison realizes that he was carrying the team and turns on The Miz and goes solo just like Miz turned on Morrison 11 years ago, but we didn't get that did we?
Since then, they've moved to RAW and it's been completely forgotten about. Miz won the WWE Championship for a brief spell and John Morrison is still stuck in the middle of the card when he's allowed to wrestle on his own. Surprisingly, the RAW Tag Team Champions are The New Day (again) and the Smackdown Champions are Ziggler & Roode (As of March 16th)
---
Kevin Owens won at Wrestlemania, right?
Yep, that's the question I have been asking myself ever since Wrestlemania 36. A win at Wrestlemania is supposed to have an impact on a wrestler's arc especially when the whole feud going into mania was Owens wanting that moment which would raise him as a WWE Superstar. Well, he did get that moment and then the exact opposite happened. I'm going, to be honest, the booking really confuses me and I'll just put it as it is. Kevin Owens beats a guy at Wrestlemania and then the guy he beat gets a WWE Championship match on the next Pay Per View. It made me scratch my head in confusion, still does.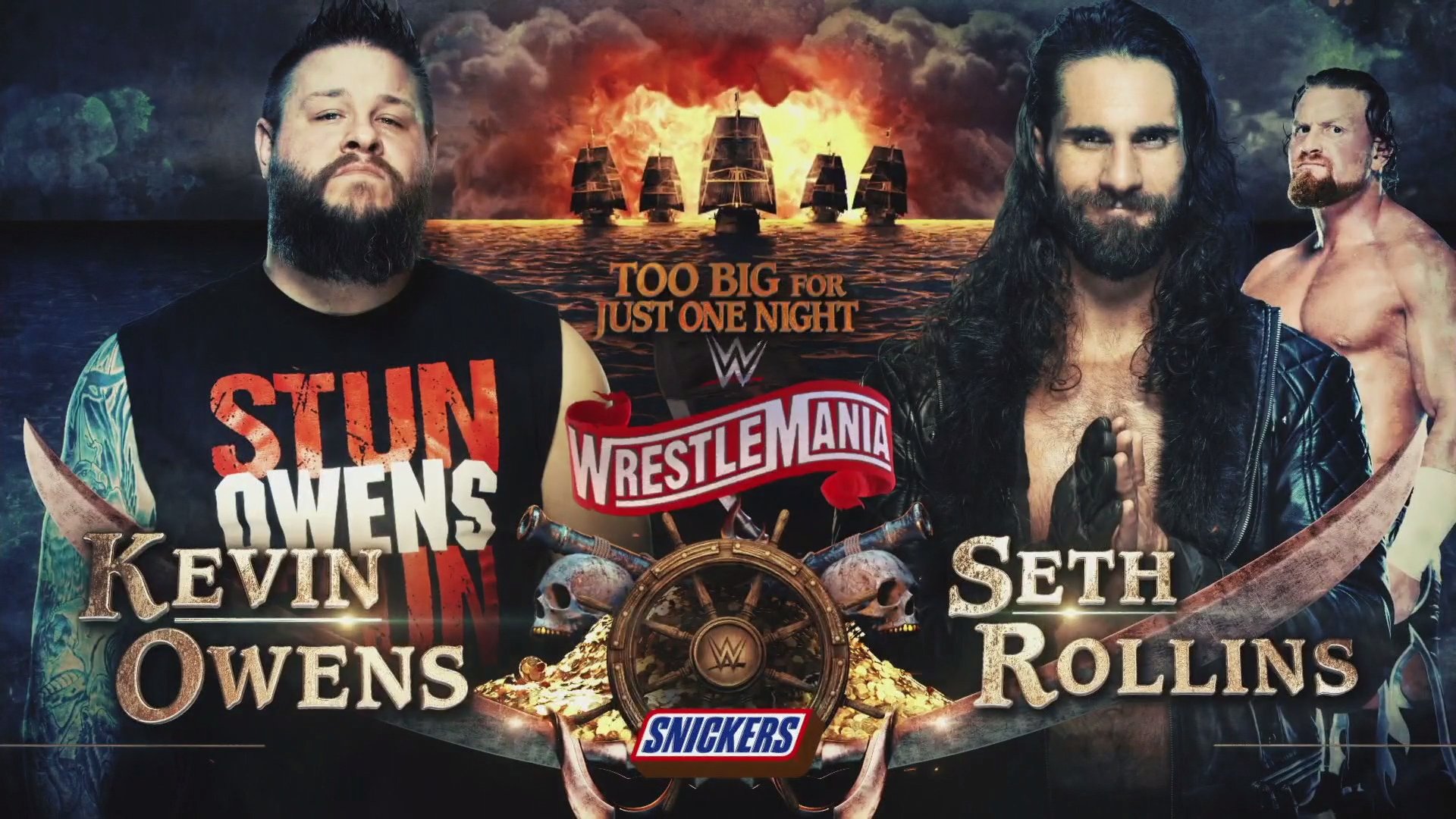 Kevin Owens was used once again as a plucky babyface against Roman Reigns' Heel Persona but lost over and over again. Don't get me wrong, Owens is an amazing professional wrestler and he has done some of his best work for WWE but the fact that all that creative has for him is to be Dr Phil of WWE just sucks. Even after his WWE Universal Championship matches, he was back to just hosting segments as of last week on Smackdown.
Rollins has reinvented himself a little, embracing the Messiah character even more and he has done some good heel work overtime. Put aside that eye for an eye angle for a moment and just look over his work after Mania; it has been entertaining. That loss against Owens has helped his character to drop some of his weaknesses and just become a more brutal and version of The Monday Night Messiah. Seth returned after some paternity leave on Smackdown and continued the gimmick, wrestling the likes of Cesaro.
---
It was reported a few months ago that Paul Heyman was very high on some of the stars on Raw and he was behind their upcoming pushes. Notable names were Aleister Black, Andrade, Angel Garza, Apollo Crews and Austin Theory. However, that didn't pan out very well in hindsight with Paul Heyman getting relieved of his duties as the executive director of Raw only a few weeks later with these wrestlers left hanging for their spotlight. The wrestler that many people wanted to see that spotlight shone on was Aleister Black. Coming off of an amazing run in NXT, Black was never really given something solid to work with but he was well protected.
Black was squashing enhancement talent and at mania, with absolutely no story or build-up, he defeated Bobby Lashley (The current WWE Champion). It was expected that after his win, Black would finally find himself in a proper feud and/or an introduction to the main event picture but to summarise, this is what has happened to the examples; (Lots of A's)
Aleister Black: Missing since 12th October 2020. Girlfriend Zelina Vega was released since.
Andrade: Released March 22nd 2021. Dating Charlotte Flair.
Angel Garza: Last seen on WWE Main Event, jobbing to Humberto.
Apollo Crews: Now a Heel, with a bad Nigerian accent
Austin Theory: Back in NXT with Johnny Gargano.
---
Cinematic Matches
The Firefly Funhouse match at Wrestlemania was a unique one. Something we hadn't seen before. A David Lynch-esque looks back at John Cena's career as Bray dissected every turning point of his life presenting an alternative to what could have been with the Fiend appearing at the very end to finish the match. The Fiend is a well developed and extremely engaging character. His run was near perfect until Super Showdown where he faced Goldberg and well, we all know what happened there. It was horrific and it's only gone downhill since. He was recently burned alive by Randy Orton and Orton is feuding with Alexa Bliss instead of him because of it.
The Firefly Funhouse match was one of two cinematic matches with the other one being The Boneyard match. Many viewers didn't expect much going in but were blown away once they saw the spectacle that this match was. It was nothing less than a fight taken out of an action movie but with a touch of professional wrestling.
We saw the man behind the character Undertaker compete in what was revealed later to be his last match as his gimmick took the night off making room for Mark Callaway to (ironically enough) make his debut against possibly the best wrestler on the roster right now, AJ Styles. The match went back and forth with some mind-blowing spots as The Undertaker won his final match by burying Styles in the end.
WWE very cleverly took advantage of the situation and continued giving us cinematic matches which is probably the best thing to come out of the pandemic era. These matches laid the foundation for other cinematic matches such as the ladder match at Money in the Bank and the bar fight between Sheamus and Jeff Hardy. We had seen glimpses of such matches before but when the opportunity presented itself WWE sure did take full advantage of the situation and improvised accordingly.
---
Becky Lynch going over at Wrestlemania
When she won in the main event of Wrestlemania 35, Becky was probably the most
over WWE superstar. Her win was well deserved and long-awaited and she carried
one of the two belts she won last year into Wrestlemania 36 where she faced the
former MMA fighter Shayna Baszler who was being heavily pushed, becoming the
fire wrestler ever to eliminate all of the other competitors in the elimination chamber.
Heading into mania, she was portrayed as this dominant unstoppable force and was
well booked up until that point. However, her push came to a stop when she lost at
Wrestlemania because of a surprise roll-up.
The decision for Becky going over was questionable considering that it was time for
a new champion because Becky had already faced all possible challengers for her
belt and what better stage to crown one than Wrestlemania. Becky taking the loss
would have done less damage to her character than it did to Shayna. Becky was
already a bona fide star at that point and putting over young talent would do her
harm. Little did anybody know, she would be leaving soon after too to have a child. Meanwhile, Shayna is now teaming with Nia Jax and having a run with the WWE Women's Tag Team Championships.
---
Drew McIntyre: WWE Champion
First things first: Seeing Drew McIntyre as the face of WWE has been a breath of fresh air. At Royal Rumble 2020, they made a star in Drew and ever since, he has been a delight to see on screen. Him beating Brock at mania was the icing on the cake and I think that building Drew as a solid main event star was one of the best decisions WWE has ever made. His win at mania was superb with an amazing spot of him kicking out of the F-5 at one count to the shock of all the viewers at home. Ever since then Drew has become this overpowered champion that no one can touch and I have absolutely nothing against it. Nobody questions him being the top star but there is some criticism about his time so far as the champion because of the feuds that he has been a part of.
After WrestleMania, the roster was stacked with possible contenders for Drew's WWE Championship but WWE made some wrong decisions as to who Drew faced. With the likes of Black and Owens benched on the sidelines in non-engaging stories, Drew faced weaker opponents which never really posed a threat to his belt until now. Keep in mind that we could have gotten AJ Styles vs Drew as he was still on Raw for a while before jumping ship.
Drew's win over Brock has turned out to be quite fruitful as he has now, in a way, become the King of the Ring. He is all in one: A fighting champion, a well-liked babyface, a good promo, ratings draw and most importantly (from Vince's perspective) a big strong meaty bulldozer of a man. His winning the Championship was great for the company and he was the right choice as the new face. Bobby Lashley is the current WWE Champion after some shenanigans with Sheamus, The Miz and more messed with McIntyre. Lashley will face McIntyre at WrestleMania but it could be turned into a multiple person match at a drop of a kilt.
---
The WrestleMania Effect : NXT
When Charlotte won the Royal Rumble in January 2020, rumours were circulating that she would be challenging for the NXT Women's championship and we learned the next night on Raw that there was truth to the rumours as Rhea Ripley came to the red brand and dared The Queen to challenge for the belt around the Nightmare's waist and so we got a WrestleMania match. The clash of these two women turned out to be quite a good match, having a quite surprising end as Rhea tapped out to the figure eight.
It was an odd decision as many were expecting Rhea to win over Flair to elevate the status of NXT stars considering that WWE hasn't held back in the past to show that the wrestlers of the black and yellow brand can easily go head to head with the main roster stars; The weeks leading up to Survivor Series, Survivor Series itself and the Royal Rumble have been a few examples. So why hold back now at the grandest stage of them all, after all, what better place to put over the stars from the formerly called "developmental show" than WrestleMania? Well, I think that the decision was influenced mainly due to a business point of view. NXT has been in a "rating war" with AEW's Dynamite and both promotions are going all out to edge ahead of the other brand.
Giving Charlotte Flair an NXT belt would mean that she would show up on NXT every now and then and that in turn would boost the ratings. This technique in a way did work for WWE as it attracted more viewers and NXT actually beat AEW three weeks in a row. Moreover, NXT's women's division is booming with Io Shirai as their top star putting on spectacular matches week in week out. So it's a win-win situation, right? Wrong. It wasn't.
Rhea Ripley was on a roll going into WrestleMania- she was well-liked by the fans and her talent was being appreciated by the higher-ups. However, ever since her loss at mania, her character was on a downward spiral as she took the fall again in a triple threat match for the NXT Women's Championship at NXT Takeover: In Your House. Rhea is now on RAW, whilst Charlotte remains the go-to girl when a Champion needs a Challenger. The more things change, the more they stay the same…
---
The Bluniversal Title Fiasco
Where do I start? Super Showdown took place in Riyadh, Saudi Arabia where Goldberg beat the undefeated Fiend with a SUPLEX for the Universal Championship. It was not a Jackhammer. It was a suplex. After burying the Fiend, Goldberg went on to drop the title to Braun Strowman at Mania in a match that I don't think anyone would rewatch. We can't blame WWE for that though since the original plans were for Roman to take the strap off of Goldberg but because of the virus Roman made the right decision and took some time off.
Strowman's championship reign was very stale, to say the least. Thankfully, Roman Reigns did return and quickly won the Championship and adopted a new heel persona as the "Head of the Table" in the Samoan Dynasty. Flanked by Jey Uso and Paul Heyman. His reign was a much-needed pick-me-up for the Blue Belt and he'll face Daniel Bryan at Fastlane 2021, with the winner going to WrestleMania to face Edge, Royal Rumble 2021 winner.
---
Two Woman Power Trip
Bayley and Sasha Banks had been sensational since WrestleMania. Everyone thought that their partnership was going to be dismantled in the Fatal Five-Way match but they fought through it and I just love the small teases and the slow build towards their potential break up. If their friendship had collapsed at WrestleMania we would have been deprived of the last three to four months of good T.V. These two have put on phenomenal matches on all three brands and have managed to capture all of the main roster women's belts there are, to become Bayley Dos Straps and Two Belts Banks.
When Bayley turned heel many people doubted that the purest babyface in the industry could become the vilest heel and right now I don't think I would be reaching in saying that Bayley's heelwork is right next to the likes of Jericho and Eddie Guererro. Sasha Banks isn't too far behind when it comes to character work given that she just so very casually drops hints of her confound resentment towards her best friend now and then.
Although these two have been a joy to watch, putting all the titles on these two women took away potential storylines and opportunities from other members of the roster like Shayna Baszler, Naomi and Bianca Belair. WWE did pull the trigger eventually on the Sasha/Bayley feud, and now both are split up and don't interact. Sasha Banks faces Bianca Belair at WrestleMania 37, whilst Bayley is doing talk show segments and, much like Kevin Owens, is seemingly not allowed to wrestle.
---
Edge & Randy Orton
The best thing to come out of WrestleMania was the continuation of the Edge vs Orton feud. WWE has so far perfected Edge's in-ring return after nine years. These two have been wonderful on the mic and we got to see some of the best promo work in recent times with Edge taking full advantage of his acting experience and Orton just playing off of the situation to create some magical moments. On top of that Orton bringing back his Legend Killer persona was a home run.
Although their mania match under-delivered, in the weeks leading up to their clash, we saw some amazing performances on the mic from both legends. After Edge outlasted Orton in their last man standing bout, Orton challenged Edge to a one-on-one match which was billed as the Greatest Wrestling Match Ever before it even happened which handicapped the two performers because the expectations going in would be extremely high but again it was a money-oriented move to get more people to watch Backlash.
Even though it wasn't the greatest wrestling match ever. The two wrestlers did the best they could under the given circumstances and put on an incredible match, unfortunately injuring Edge's tricep in the process which means that he missed any follow up to the match.
He returned at Royal Rumble 2021, with Randy Orton as #1 and #2. Edge eliminated Orton and seemingly the feud was over, whilst Orton locked horns (and matches) with the Fiend Bray Wyatt (With Alexa Bliss). Edge set his crosshairs on Roman Reigns and Smackdown, and he'll face the Universal Champion at WrestleMania 37.
So, guys, this was my take on the various effects (or the lack thereof) of WrestleMania on different narratives.